10 Brilliant Facts about Basse-Terre
Although "Basseterre" may sound like a French military position, it is actually one of the most beautiful places in the world you'll ever hope to visit. But don't judge on appearance, as there is more to this island than just its beauty. With that in clear mind, here are some fun facts about Basse-Terre!
1. What is Basse-Terre?
Basse-Terre is both the name of an island and its capital city. Both are located in Guadeloupe, an overseas department and region of France.
2. And where is it, exactly?
The city of Basse-Terre sits on the western coast of the island of Basse-Terre. And, just in case you didn't know, Guadeloupe is located along the east of the Caribbean Sea! Guadeloupe is technically an archipelago, and Basse-Terre is known as its "official" capital.
3. It's got a fairly descriptive name.
The island and the city get their name from the French words "basse," which means "low," and "terre," which means "land." The name was well-chosen as it refers to the city's location on the lower part of the island.
4. Watch out for Soufrière!
Basse-Terre is home to the Soufrière volcano, one of the most active and sensitive volcanoes in the Lesser Antilles! It also holds an impressive honor of being the highest mountainous peak in the Lesser Antilles, reaching an incredible 1,467 meters (around 4,812 feet) high!
5. There's charm all around.
The city of Basse-Terre features a charming historic center with colonial architecture. One of Basse-Terre's most famous buildings is the Cathedral of Saint-Pierre-et-Saint-Paul, which dates all the way back to the 18th century!
6. Guadeloupe depends on Basse-Terre!
So, you know that Basse-Terre is the capital of Guadeloupe. Therefore, it may not surprise you that Basse-Terre serves as Guadeloupe's main administrative and economic center. It is home to government offices, businesses, and a bustling market!
7. Stop and smell the roses!
If you're looking for a sweet diversion while visiting Basse-Terre, head straight over to the Jardin Botanique de Deshaies! It is a famous botanical garden located near the heart of the city, and it appeals to visitors from all over with its diverse collection of tropical flora! It's certainly a recommended vacation spot if you're fond of plant life.
8. And that's not all…
In fact, discovering nature is a big attraction for tourists coming to Basse-Terre and Guadeloupe in general! The area boasts multiple possible outdoor activities and attractions, such as hiking trails through rainforests, waterfalls, hot springs, and stunning coastal views. We'd recommend you check out some of the wonderful photos and videos people have taken here on Instagram before you visit.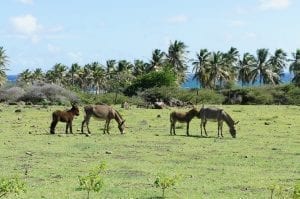 9. Shorts and skirt, or…?
Basse-Terre has a tropical rainforest climate. This means it gets extremely humid and experiences abundant rainfall throughout the year! It's wise to bring an umbrella, but also be ready to wear loose clothing to beat the heat. The temperatures here rarely dip below 66 degrees F and peak at around 90. No wonder everything is so green!
10. It's festival time!
No need to worry about getting bored with physical activities and adventures, as Basse-Terre has plenty of festivals for you to celebrate when you next visit! These include the Fête des Saintes, a religious celebration, and the Carnaval de Guadeloupe, a vibrant carnival held in February! Better grab some colorful clothes and get ready to party…
FAQs about Basse-Terre
When is the best time of year to visit Basse-Terre?
Basse-Terre is beautiful at almost any point during the year; however, if you plan on diving in particular, then it is best to visit between December and May. This is because it is the drier part of the year and will therefore provide better diving conditions.
What is Basse-Terre famous for?
Basse-Terre is known for having stunning views of the sea and volcanic land, fantastic snorkeling and diving opportunities, festivals, and quaint streets. Despite its location in North America, it's also well-known for its links to France.
Further reading:
https://factcity.com/tag/Caribbean
https://www.tripadvisor.co.uk/Tourism-g3686100-Basse_Terre_Island_Guadeloupe-Vacations.html
https://www.france-voyage.com/tourism/basse-terre-2385.htm
Do you know any fun facts about Basse-Terre?  Share them in the comments below!
This page was last modified on July 26, 2023. Suggest an edit