12 Captivating Facts about Beijing
 Beijing is the capital city of China and home to numerous UNESCO world heritage sites. You could spend years learning about this extraordinary city, but here are 12 interesting facts about Beijing to get you started…
The history of Beijing can be traced back as far as 3,000 years and is, therefore, one of the oldest cities in the world. It's six times older than New York and about as old as London. The Great Wall and the Forbidden City are some of the many historical sites in the city.
Beijing had numerous names before it was named Beijing. This included Jicheng, Nanjing, Yanjing, Zhongdu, Beiping, Peking and Dadu.
The city of Beijing has a unique collection of arts, architecture and cuisine due to its extensive history and deep cultural roots.
The Chinese rose and the chrysanthemum are the two official flowers of Beijing.
Mandarin, derived from the Beijing dialect, is the official language of China.
During the Ming and Qing Dynasties (1368 to 1911), the Forbidden City served as an imperial palace for 24 emperors. Construction took 14 years.
Beijing is the second-largest city in China, despite being the capital. This is no surprise as Shanghai, the largest city in China, is also the largest city in the world by population. This isn't to say that the population of Beijing is small, as it is home to over 22 million people!
The Beijing roast duck is one of the most popular dishes in the city, although most people will know it as Peking duck.
Beijing is known worldwide for its excellent calligraphy which is a form of visual art related to writing.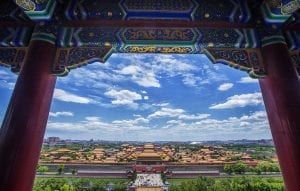 Beijing will become the first city in the world to host both the Summer and Winter Olympics in 2022.
In terms of temperature, Beijing is a city of extremes. The lowest temperature of Beijing can drop as low as -27°C, while the highest can rise up to 42°C. If you are planning on visiting Beijing, right before or just after the Summer (e.g. April, May, September and October) is the best time of the year to visit the city.
The Beijing Capital International Airport is the 2nd busiest airport on the planet. It services more than 90 million travellers annually. The airport even has its own fire department!
Do you know any strange, fun or interesting facts about Beijing that we've missed? Share them here in the comments section below!
This page was last modified on February 9, 2021. Suggest an edit