26 Brilliant Facts about BMW
BMW is one of the most recognizable car brands in the world! Founded in 1916, the company has become a pioneer of the automobile industry. The name of the company is synonymous with high-performance vehicles that are sophisticated in both appearance and performance.
Thanks to its rich history and heritage, today BMW needs little introduction.
Let's take a walk through history lane with these fun facts about BMW and how it became the brand we love and admire today!
1. BMW hasn't always been big on cars!
BMW started off building planes, not cars.
The automaker's predecessor was known as Bayerische Flugzeugwerke (BFW). Founded in 1916, the company's main purpose was to build aircraft in Munich, Germany. BFW eventually went on to build engines.
2. They were originally called BFW.
Originally named Bayerische Flugzeugwerke or "BFW," meaning Bavarian plane manufacturing, the company changed its name to Bayerische Motoren Werke (BMW) in 1917.
3. BMWs have helped to set records.
In 1919, a BMW engine was found in an aircraft piloted by Bavarian flight pioneer Franz Zeno Diemer who set an (unofficial) world altitude record of 9,760 meters (32,021 feet).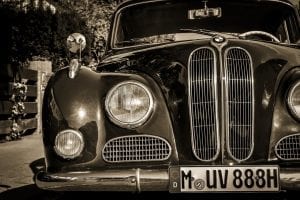 4. However, they weren't allowed to build aircraft engines for much longer.
In June 1919, BMW was outlawed from building aircraft engines due to the Treaty of Versailles, a post-World War I peace settlement between Germany and the Allied Powers. The German manufacturer went on to build motorcycles as a result.
5. They've built bikes, too.
In 1923, BMW unveiled the R32 bike equipped with a horizontally opposed boxer engine and shaft drive (instead of a chain drive).
6. There's some confusion over the logo.
Contrary to popular belief, the blue, white, and black BMW's logo doesn't represent a propeller spinning against a blue sky. The logo actually pays tribute to the Bavarian flag and its blue and white state colors.
7. What was the first BMW car ever produced?
The company's first car was the English Dixi 3/15 PS.
8. They started making cars in the late 1920s.
BMW acquired a license to build a vehicle from the Austin Motor Company and started manufacturing cars in 1929.
9. 1933 was a big year for BMW.
BMW introduced two important features in 1933 – an inline six-cylinder engine and a distinctive kidney-shaped grille. A few years later, the company introduced the BMW 328 roadster sporting these two elements. The vehicle was meant for racing and therefore came equipped with light-alloy cylinder heads and triple carburetors.
10. Their bikes are record holders, too.
In 1937 BMW manufactured the world's fastest motorbike which could achieve speeds as high as 278km/h.
11. They're even gotten into kitchenwares!
At one point, the German automaker produced kitchen supplies. The Allies banned BMW from producing motorized vehicles until the end of the 1940s, forcing the company to find another way to sustain itself after the Second World War.
12. They were almost swallowed up in the 50s.
The 1950s was a turbulent time for BMW, as Mercedes almost took over the company. Shareholders of BMW prevented the takeover with the help of an aggressive counter-attack, involving the re-purchase of shares.
13. The BMW 501 was a sleeper hit of sorts.
The BMW 501 was the company's first post-war vehicle. It wasn't successful, but it served an important purpose: it helped re-establish the automaker's reputation for creating high-quality and performance-oriented cars.
14. The BMW 1500 was a big deal.
The BMW 1500 sedan introduced at the 1961 Frankfurt Motor Show, turned a pretty profit for the German manufacturer with the production of almost 340,000 units by 1972.
15. BMW's main slogan didn't debut until around the mid 60s.
The iconic slogan, "Sheer driving pleasure," was created together with the originally designed BMW 02 Series compact car back in 1966.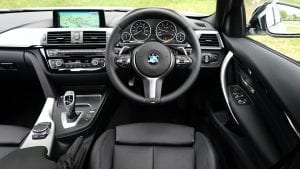 16. The company's always been big on electric cars.
BMW had its hand in the production of electric vehicles as far back as the 1970s. The automaker created two electrified cars based on its 1602 model in order to transport officials for the 1972 Olympic Games in Munich, Germany.
17. BMW HQ is shaped a certain way for a reason.
Did you ever notice that BMW's main headquarters are shaped like car parts? In 1973, the manufacturer opened its distinctive new "four-cylinder" building in Munich, Germany. It is considered to be among the most notable examples of architecture in the city.
18. One of their big slogans was a fan creation.
A car enthusiast coined BMW's popular "The Ultimate Driving Machine" phrase.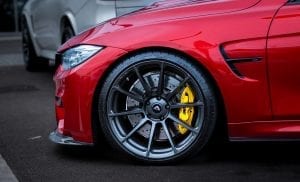 19. BMW has produced some championship-winning engines.
BMW designed the engine that went into Nelson Piquet's 1983 World Championship-Winning Brabham car.
20. BMW eventually swallowed up RR.
BMW and Volkswagen had their eye on Rolls-Royce when its assets were up for grabs in 1998. VW bought the manufacturing business and assumed all was well in the world only to discover that BMW obtained the Rolls-Royce brand and naming rights.
21. RR isn't the only big brand that BMW owns.
BMW owns MINI and Rolls-Royce! Each of them has an authentic design and unique features and is produced for different categories of customers.
MINI and Rolls-Royce are two iconic British car brands and it's great that BMW managed to preserve their heritage.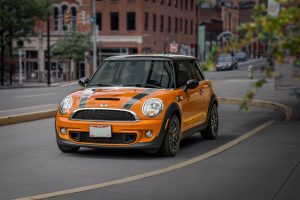 22. They've dabbled back in airplanes again.
While we all know BMW as a car manufacturer, there is so much more they actually do. For example, there is a whole separate 'Designworks' company under the BMW Group umbrella.
The company to date designs airplane interiors. They are renowned for designing the interiors of Singapore Airlines.
23. Check out the grille!
The signature grille is called a kidney grille. It's one of the most distinctive features of the BMW.
24. They have classic car fans' backs.
BMW has made life easier for classic car enthusiasts, as it still manufactures parts of vehicles made as far back as during World War 2.
To build those classic parts, BMW bought back its old motorcycle factory in Munich.
BMW invested $2 billion in research and development towards its new electric i-brand models between 2013 and 2014.
25. BMW is striding ahead in EV production.
BMW hopes that by 2026 around 25% of cars they sell will be electric and hybrid vehicles. That's why the development of these models is now their key focus.
26. Bond swapped his Aston Martin for a BMW.
"Goldeneye" was a small revolution in Bond movies in several aspects. It was the first appearance as the legendary spy for Pierce Brosnan and the first time the classic Aston Martin was swapped for BMW Z3. Fans can also spot different BMW models in later "Tomorrow Never Dies" and "The World Is Not Enough".
FAQs about BMW
Are BMWs expensive?
That all depends on the type of BMW you run, as well as its age! However, some experts believe that BMW cars are some of the most expensive to maintain.
How long should a BMW last?
BMWs will generally last at least 150,000 miles, from new, providing you look after them properly.
What's more reliable - BMWs or Mercedes?
In various tests, BMWs inch ahead in terms of reliability - they are seen as above average cars, while expensive to maintain.
Do you know any fun facts about BMW cars? Share them in the comments below!
This page was last modified on July 31, 2023. Suggest an edit