10 Brilliant Facts about Bratislava
While you may not know much about Bratislava, this incredible city boasts an impressive culture, incredible beer, and a long history that is worth getting to know! Today, Bratislava is known for being the capital of Slovakia and an economic hub for the country. So, let's get to know this wonderful city better together. Here are some fun facts about Bratislava!
1. It's Slovakia's most famous city.
Bratislava is the capital of Slovakia. However, it has always played a critical role in the country, as it has been the economic and administrative hub of the country even back when it was a kingdom!
2. It's the coronation capital.
In fact, Bratislava is so important to the country that multiple coronations took place in the city. It was also chosen for such important events due to its incredible beauty!
3. The Little Big City!
You may have heard some people refer to Bratislava as the 'Little Big City'. This is because, while it is one of the smallest capitals in Europe, it's still the biggest city in Slovakia! The city covers an area of 367.6 km2.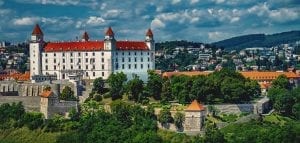 4. A capital here, a capital there, a capital everywhere!
Bratislava was not always just the capital of Slovakia. In fact, from 1968 to 1992, it was the capital of the Slovak Socialist Republic of Czechoslovakia. It became the capital of the Slovak Republic on the 1st of January 1993.
5. Borders all around!
As the capital city, you may imagine Bratislava as being in the center, or at least well inland, of Slovakia. As it happens, it borders other countries, specifically Hungary and Austria. It is the only capital city in all of Europe to border two other countries!
6. Want a quick trip to Vienna?
If you fancy seeing two capitals on the same day, then why not take a train to Vienna? The two capitals are only 60km away from one another! Using public transport, it should only take you an hour and 15 minutes to get from one to the other! Bratislava and Vienna are the two closest capitals in all of Europe.
7. Ready for a meal that's out of this world?
If dinner with a view is your kind of thing, then why not have a meal in a UFO? On the UFO Bridge in Bratislava, you will find a famous restaurant with exquisite food and fantastic views of the city!
8. What's the population of Bratislava?
There are more than 424,000 people living in Bratislava. Interestingly enough, the city gets over a million tourists every year, more than twice the number of people living there! And, we can see why everyone should see this city!
9. Bratislava has twin rivers.
There are two rivers that run through this beautiful city! The world-famous Danube River runs through Bratislava, as does the Morava River.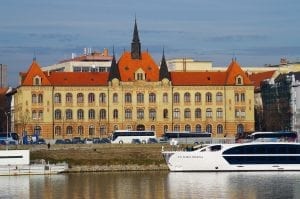 10. Dive into history!
Bratislava is known for its rich history, but do you know how far it dates back? There is proof that the area was one of the oldest settlements in all of Europe! In fact, the first known colonization in the area was the Linear Pottery Culture, around 5000 BC!
FAQs about Bratislava
Is Bratislava worth visiting?
Bratislava is definitely worth visiting! Whether you enjoy rich cultures and fascinating history or vibrant city life and excellent food and beer, Bratislava should definitely be on your bucket list - there's a near endless variety of activities to explore. Its history alone is well worth learning more about up close.
Why is Bratislava famous?
Bratislava is known for its incredible history, beautiful architecture, stunning views, museums, theaters, restaurants, breweries, and galleries. There's definitely a lot to see in this small city, and the fact it's been a capital city for multiple areas speaks volumes!
What language do people speak in Bratislava?
The official language in Bratislava is Slovak. Many of the older generation in the area also speak German, while many of the younger people tend to know some English.
EXTERNAL LINKS
https://www.visitbratislava.com/
https://www.britannica.com/place/Bratislava
Do you know fun facts about Bratislava? Share them in the comments below!
This page was last modified on August 3, 2023. Suggest an edit