11 Brilliant Facts about Burkina Faso
Burkina Faso is one of the most historically interesting countries in Africa – it's well-known for its gold reserves and its links to France. But how much do you really know about this West African country? Here are 11 fun facts about Burkina Faso!
1. Location, location, location…
Burkina Faso is completely landlocked, and you'll find it towards the north-west of Africa. This means that it is surrounded by other countries – and more specifically, it can be found south of Mali, north-west of Benin, west of Niger, north-east of Cote d'Ivoire, and north of Togo and Ghana.
2. How big is Burkina Faso?
Burkina Faso covers an area of about 274,400 km squared. It is Africa's 29th biggest country!
3. Millions of people call Burkina Faso home.
As of 2021, about 22.1 million people were living in Burkina Faso. The people of Burkina Faso are known as Burkinabé. And that word is both in the single and the plural form!
4. Ever been to Ouagadougou?
The capital city of Burkina Faso is Ouagadougou. It covers an area of 219.3 square km, and, as of 2019, it has a population of about 2.453 million people. That means just over 10% of Burkina Faso's population lives in the capital!
5. Where did "Burkina Faso" come from?
The name Burkina Faso came from President Thomas Sankara, who changed the country's title from the Republic of Upper Volta. The name "Burkina Faso" is said to mean the "land of honest people", or the "land of Incorruptible People". Either way, that's a pretty impressive title to lead with!
6. They never forget!
Burkina Faso is known for its elephants! The country has the largest elephant population in all of West Africa. So, get your binoculars out and admire these massive beauties in their natural habitat!
7. It's a bright country to say the least!
If you're looking for some sunlight, Burkina Faso is a great place to go! This country has a tropical climate. This means it enjoys warm, dry winters and generally hot and wet summers!
8. Burkina Faso is very ethnically diverse.
There are 66 different ethnic groups in Burkina Faso! These include indigenous peoples such as the M'bororo Fulani and the Tuareg. And each group has their own beliefs, traditions, and even music – making the country one of the richest in terms of cultural diversity.
9. What do people speak in Burkina Faso?
The official language in Burkina Faso is French. However, there are also multiple local languages, including Dioula, Tamasheq, Gourma, and Mooré.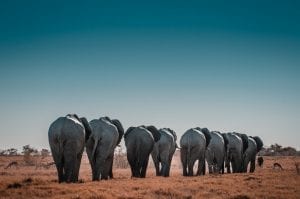 10. Here are some industry facts…
Burkina Faso is known for growing peanuts, shea nuts, sesame, and cotton. Their main exports include cotton, gold, and various livestock.
The main industries in Burkina Faso include beverages, soap, agricultural processing, etc. But, above all else, the biggest industry and export for the country is cotton.
11. Better change up those coins!
The currency used in Burkina Faso is the CFA franc. This is the case for all member states of the West African Economic and Monetary Union (UEMOA). Despite the country's historic links with France, no – you won't be able to spend Euros here.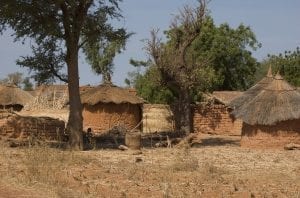 FAQs about Burkina Faso
What religion is followed the most in Burkina Faso?
There are multiple religions in Burkina Faso. Many people follow Islam and Christianity, as well as other traditional and animist religious beliefs.
Is it safe to visit Burkina Faso?
Sadly, it is still considered quite dangerous to travel to Burkina Faso. There remains a high-level threat of terrorism in the country. In fact, Burkina Faso is believed to be the third most terrorism-affected country in the world. There is also currently a political instability that raises the risks of visiting.
Is Burkina Faso French?
While Burkina Faso was indeed once a French colony, it now stands as an independent country. It was colonized by the French in 1896. In 1958, it became a self-governing French Colony. And it was only in 1960 that the area became a fully independent country, with Maurice Yaméogo as the president at the time.
Further reading:
https://factcity.com/tag/Africa/
https://www.britannica.com/place/Burkina-Faso
https://en.wikivoyage.org/wiki/Burkina_Faso
Do you know any fun facts about Gabon? Share them in the comments below!
This page was last modified on July 26, 2023. Suggest an edit