12 Cool Facts about Chișinău
Chișinău is the capital city of Moldova. Despite having a fairly turbulent history, the city has made huge strides and achievements in the sciences, horticulture and engineering! A university city, Chișinău has earned a fantastic reputation for education and innovation. It's gorgeous to behold, too – here are some fun facts about Chișinău to clue up on.
1. Where is Chișinău, anyway?
Chișinău is located on the River Bac, and is the official capital city of Moldova. The Bac river is a tributary of the larger Dniester.
2. It's a big melting pot of different cultures!
Many people settle in Chișinău from all over eastern Europe. At the last census, the most prominent ethnic group in the city is Moldovan at 75% – but it's also home to Romanian (7%), Ukrainian (6.6%), Gagauz (4.6%), Russian (4.1%) and Bulgarian (1.9%) people.
3. What do people speak in Chișinău?
The official language of Chișinău is Moldovan, though thanks to its melting pot of nationalities, many other eastern European languages are spoken here, too.
4. Influenced by major empires!
Chișinău bears witness to influences from Russia and the Ottoman Empire. Its statues and historic buildings provide visual reminders of the city's amazing history! Neoclassical architecture, beautiful domes, and imposing statues all tell the story of how Chișinău evolved to become a bustling capital.
5. What is the Cathedral Park?
To celebrate Russia's19th century victory over the Ottomans, the Cathedral Park in Chișinău is home to the Plaza and Triumphal Arch. These are regularly used as meeting places. The arch is seriously imposing – and has a clock in the middle!
6. Visit Stephen's Park!
Ştefan cel Mare Park is beautiful to behold – and remains immensely popular all year round. Covering seven hectares, it is the oldest park in Moldova. It is also affectionately referred to as the 'Park of Lovers' – as it's a prime spot for romantic days out. Why not visit it and see for yourself?
7. It's pretty sizeable as cities go!
Chișinău is a fairly large city, measuring around 47 square miles in area, or roughly 123 square km. This makes it a little larger than Leicester, a city in the UK. However, it's around 1.5x times as dense as Leicester, with a population of more than 725,000 people across the region.
8. The weather's lovely!
Chișinău haș a fairly enviable climate that tends to be rather humid during the sunnier months. However, it's also known to get fairly windy and cold when the winter rolls around. The average temperature in the city generally reaches 59 F.
9. Moldovan money is made en masse here.
Moldova relies on Chișinău aș far aș the economy is concerned. Did you know that it brings in up to 60% of the country's GDP, for example?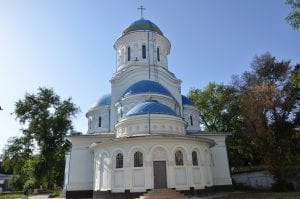 10. Chișinău is a big draw for Moldova.
Chișinău remains one of Moldova's biggest 'selling points' and is considered something of a tourist hotspot. Each year, Moldova generally brings in more than 11,000 tourists – and many of those head straight for Chișinău.
11. Wine time!
Chișinău is, impressively, home to the biggest wine collection on the planet. This collection belongs to the local Milestii Mici, where wine is made and stored in huge cellars. At present, the plant there is said to be home to more than 1.5 million wine bottles – that's a lot of recycling to do!
12. Be careful of unsteady ground!
There has been seismic activity in the region including earthquakes, floods and landslides. It's, therefore, a good idea to check the weather before departing for Chișinău!
FAQs about Chișinău
Is it safe to visit Chișinău?
Ranking in terms of crime rates, Chișinău falls into the category of small to medium risk. Petty theft and vandalism are the most frequently recurring issues, but you can generally expect a safe trip providing you keep an eye on your valuables.
How do you pronounce Chișinău?
Chișinău - while difficult to spell for some - is also pronounced a little differently to how it looks! It's pronounced kee-shee-now.
What are the coordinates for Chișinău?
To visit the capital of Moldova by plane or boat (with a compass), you'll need to follow the coordinates 47.0000° N, 28.9167° E.
Do you know any interesting facts about Chișinău? Share them in the comments below!
This page was last modified on August 3, 2023. Suggest an edit