40 Fun Facts about Cornwall
Rugged, rural and crammed with history, Cornwall is one of the most popular holiday resorts in the whole of the UK.  But how much do we really know about the county?
Before you go on a rambling holiday or tuck into any of the famous local ice cream, be sure to make room for these fun facts about Cornwall…
1. Cornwall is a coastal haven.
Cornwall has the honor of boasting Great Britain's longest coastline. Its beaches and bays are colossal, adding up to more than 430 miles in total length!
In fact, there are over 300 different beaches in the county. Time to grab your deckchairs – there's a lot of ground to cover!
2. Who counted them?!
It's assessed that Perranporth Beach in Cornwall has 7,000,000,000,000,000 grains of sand.
3. We're jealous of them all!
The population of Cornwall is just over half a million.
4. It feels like there's more people here, though…
More than five million people flock to the beaches each year – who said the British holiday was a thing of the past?
5. There's no better place in Britain for getting some rays.
The effects of the Gulf Stream mean that Cornwall has the sunniest climate in the UK.
6. The temperature is never too extreme.
Cornwall also has the mildest climate in the United Kingdom.
7. No snow for the Cornish!
Warm ocean currents ensure that snow and frost are rare in Cornwall even during the winter months.
8. Darkness occurs at a minimum.
Cornwall experiences some of the longest hours of sunlight in the UK with 1541 hours per year.
9. The climate is truly unique.
Cornwall's south-west coast has the only sub-tropical climate in the UK with palm trees being found in the area.
10. What's Cornwall's flag?
The Cornish flag is the flag of the Cornish patron saint, St. Piran. The flag has a black background and a white cross in the center.
11. It is a surfing paradise.
Cornwall is extremely popular with British surfers. That amount of beach and access to the sea proves fantastic fun for wave catchers – and towns such as Newquay are surfer hubs.
12. Beer lovers, rejoice!
The area is also extremely popular for its unique ales and beers. For example, you may have sampled a delicious Doom Bar ale on tap elsewhere – but it all comes from Cornish barrels and taps.
13. Walking in Cornwall is absolutely recommended.
It's an absolutely gorgeous region. So much so, that around 220 acres of Truro, one of the county's capitals, are designated Areas of Outstanding Natural Beauty.  That means there are miles upon miles of unspoilt countryside.
14. Truro is a unique spot in the county.
Truro is, in fact, Cornwall's only city. For a county this size, that's something of an achievement in and of itself!
15. Lots of history took place here.
Cornwall has many famous towns, such as Falmouth, where it is said that news of Admiral Horatio Nelson's death first arose. It's been an important harbor and naval base over the decades.
16. Foodies, get flocking!
Recently Cornwall has become known for a food scene to rival London and beyond.
Cornwall has plenty of award-winning local food producers and celebrity chefs putting the region on the gourmet map.
17. One Cornish delight stands above all others.
The county is, of course, world-famous for the pasty. A Cornish Pasty is a thick-crusted savory snack filled with mincemeat.  It was originally created for Cornish tin miners to enjoy while working down the pits.
18. It's been with us for more than 140 years.
The earliest known reference to the Cornish pasty dates back to 1877.
19. Tuck in!!
Bodmin, Cornwall is where the largest ever Cornish Pasty was made. It was 15 feet long, weighed 1900lb, and contained a staggering 1,750,000 calories.
20. The recipe's no secret.
The traditional Cornish pasty consists of a pasty case, beef skirt, potato, swede, and onion.
21. The tourists love them!
Approximately 120 million Cornish pasties are made each year.
22. Keep your eyes out for big chompers!
You might spot a shark in Cornish waters! Believe it or not, a blue shark once popped up near St Ives, and the area is said to play host to basking sharks every once in a while.  You'll even see grey seals and bottlenose dolphins bobbing around, too.
23. Cornish independence?
Believe it or not, there are countries in the United Nations which are smaller than Cornwall's total area. Could Cornwall secede from the UK?  They have their own flag – so it's a start!
24. It's not exactly got many neighbors.
Cornwall is the only county in England to only have one bordering county, Devon.
25. It's truly massive.
Cornwall is the 9th largest county in the UK covering an area of 1376 sq. miles with over 25% of this designated as "Areas of Outstanding Natural Beauty".
26. Scale the heights!
The highest point of the county is Brown Willy which is found on the Bodmin Moor standing at 420m above sea level.
27. It's very popular with TV fans.
The filming of the British historical drama series "Poldark" has attracted more tourists visiting Cornish filming and set locations.
28. It truly is magnificent to look at.
Cornwall is known for its dramatic coastline, captivating fishing harbors, spectacular beaches, and the pounding surf that provide a natural playground for a variety of water sports.
29. There's a naming theme.
Most Cornish place names are derived from the Kernewek language and are of Celtic Origin.
30. The Cornish have a lot to be proud of.
Cornwall boasts of its captivating granite moorland, Bodmin Moor with its view, fascinating prehistoric remains, great walking trails, and more than its fair share of local legends.
31. It's heavily into art, too.
The county has a dynamic art scene found mainly in West Cornwall, inspired by the naturally spectacular landscape.
32. Ever had a Cornish cone?
Cornwall, of course, is also famous for its ice cream. There's nothing quite like it!  One of the main reasons for this is the fact that there are so many cows in the region – more than 75,000 at last count, but who's keeping track?  Someone has to!
33. People have been here since ancient times.
It is believed that humans first started visiting Cornwall between 400,000 BC and 200,000 BC.
Settlements began to appear around the newly formed coastline in around 10,000 BC.
34. The Cornish were well-established by the time the Romans rolled in.
During pre-Roman times Cornwall developed its language and had close ties to the Celtic nations.
35. It eventually joined England.
Cornwall finally became part of England around the time of the Norman Conquest but kept powers over their most valuable exports namely tin.
36. What's the thing about tin?
In the story of the formation of Cornwall's flag, tin plays a key part, with the white representing tin metal against black tin ore which is the black section of the flag.
37. The Cornish and Welsh are closely linked.
It's thought that Cornish and Welsh people all descend from ancestors dating back 6,000 years.
38. Sadly, Cornish hasn't been widely spoken for a long time.
It's believed that the last speaker of Cornish as a first language died in 1777.
In the 18th-century Cornwall became a part of Great Britain, marking the start of a steep decline in the use of the Cornish language.
39. There's probably safer routes to sainthood!
The patron saint of Cornwall and Tin Miners is St. Piran, an Irish Catholic who was pushed off a cliff tied to a millstone and carried safely by the tide to Cornwall.
This Cornish patron saint is celebrated each year on Saint Piran's Day, which falls on the 5th of March.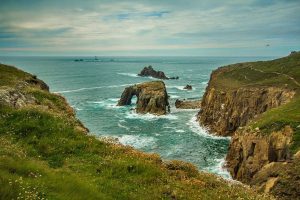 40. What's in a name?
The origin of the county's name comes from the words "Cornovii" and "Waelas" meaning hill dwellers and strangers.
FAQs about Cornwall
When is it best to visit Cornwall?
Generally, you should try and visit in June - the weather's lovely, and tourists won't be ascending just yet.
What are some must-see spots in Cornwall?
Many people recommend you try and visit the Lost Gardens of Heligan, Kynance Cove and Bodmin Moor if you're planning a visit!.
Do you know any fun facts about Cornwall?  Share them in the comments below!
This page was last modified on September 22, 2021. Suggest an edit