12 Captivating Facts about Cruise Ships
Cruise ships have become a popular way to travel and explore the world's oceans and seas. With luxurious accommodations, endless entertainment, and exotic destinations, cruise holidays offer a unique and exciting experience for travelers of all ages.
Let's get you in the mood to cruise with these 12 fun facts about cruise ships and cruise vacations:
1. The World's Largest Cruise Ship
As of January 2022, the world's largest cruise ship is Royal Caribbean's Wonder of the Seas, which weighs over 236,850 tons and can accommodate up to 6,988 passengers and 2,300 crew members. It is 362m long and 64m wide. That makes the ship longer than the Eiffel Tower is tall!
2. Postage from the Middle of the Ocean
Did you know, cruise ships have their own post offices, so passengers can send mail from the middle of the ocean?!
3. The First Floating Swimming Pool
Of course, most cruise liners have swimming pools these days, but the first to feature a swimming pool was the Titanic.  It measured 30ft long, 14ft wide, and had a maximum depth of 6ft which by modern standards, is a bit small.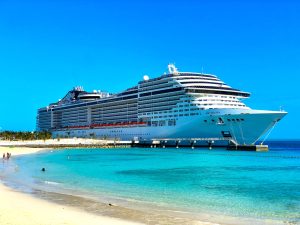 4. Flushed Away…
The average cruise ship produces around 140,000 gallons of sewage per day, which is treated and discharged into the ocean.
5. Where's Wilson?!
Disney Cruise Line has its own private island in the Bahamas called Castaway Cay, which is exclusively available to its passengers.
6. A Power Trip
The power produced by a cruise ship engine can vary greatly depending on the size and type of the ship. However, it is not uncommon for a single cruise ship engine to produce anywhere from 25,000 to 100,000 horsepower!
7. Energy Hungry
Lots of power means lots of energy! Cruise ships consume around 3,000 to 7,000 gallons of fuel per hour, depending on their size and speed.
8. The First Ever
The first-ever purpose-built cruise ship was a German steamship, the Prinzessin Victoria Luise, which set sail in 1900. She ran aground in unchartered waters in Jamaica in December 1906 and sank in 1907.
9. Let's-a-go!
Norwegian Cruise Line has a go-kart track on its ship, the Norwegian Joy.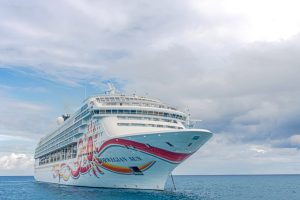 10. Ultimate Luxury
The Allure of the Seas is the world's most expensive cruise ship.  It is reported to have cost around $1.4 Billion to build and features luxurious suites costing $20,000 a week!
11. Another First Ever
The first-ever water slide at sea was introduced by Royal Caribbean in 2006.
12. Another Largest Ever
The world's largest cruise company is Carnival Corporation, which owns several popular cruise lines including Carnival Cruise Line, Princess Cruises, and Holland America Line.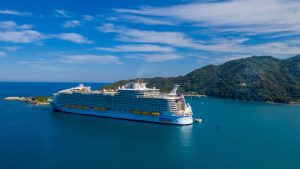 FAQs about Cruise Ship Vacations
What are some popular cruise destinations?
Some popular cruise destinations include the Caribbean, the Mediterranean, Alaska, and the Norwegian fjords.
What is included in a typical cruise package?
A typical cruise package includes accommodations, meals, entertainment, and access to on-board facilities such as swimming pools, gyms, and spas. Some packages may also include excursions or other activities at ports of call.
How do cruise ships dispose of waste?
Cruise ships have waste management systems that treat and dispose of different types of waste, including sewage, garbage, and wastewater. These systems are subject to strict environmental regulations to ensure that waste is handled in a responsible and sustainable way.
Do you know any fun facts about cruise ships? Share them in the comments below!
This page was last modified on July 31, 2023. Suggest an edit