Who says that the Americans should have all the fun?  Disney's landmark venue, Disneyland Paris, remains an incredible tourist attraction for millions of couples and families to visit year after year.  Once referred to as EuroDisney, there is an awful lot of work that goes into keeping the magic alive at the park, across its various rides, attractions and character experiences.
Here are 12 fun facts about Disneyland Paris you may not be aware of.
Disneyland Paris is truly enormous. It spans a total of 140 acres!
If you've ever been on the Space Mountain ride at other Disney resort locations, you're going to want to check out the Paris park's twist. That's because it's officially the fastest, and no other Space Mountain ride will spin you upside down!
'EuroDisney' was the original name of the resort, though this was eventually dropped in favour of a more family-friendly and less 'economic' name.
While you may find that there are sometimes multiple characters in attendance at the park, there is only ever one Mickey Mouse. Appropriately so, in fact!
Walt Disney never intended for any of his parks to finish growing. That certainly applies to Disneyland Paris, too.  In his own words, "Disneyland will never be completed.  It will continue to grow as long as there is imagination left in the world."
Discoveryland is a section of the park which oversees all kinds of contraptions and gizmos. But, did you know how far the cars travel per day in this section?  Up to 2,000km!
Main Street USA is one of the most popular sections of the park. It's home to around 225,000 light bulbs, each one of them working to keep the street lit up.
What's more, Main Street is actually home to a real barbershop. This is thought to be in tribute to Walt Disney's father – who was a barber by trade.  The original barbershop was set up with authentic furniture from a Chicago salon.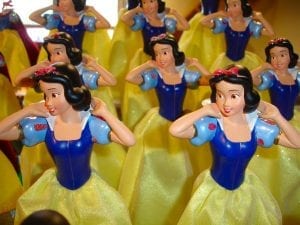 Do you know any interesting or fun facts about Disneyland Paris that we've missed?  Share them here in the comments section below!