10 Dynamic Facts about Dominica
Found in the eastern Caribbean sea, Dominica is a tiny island nation, nestled between the islands of Guadeloupe, Martinique, and Marie Galante. This tropical paradise is the dream destination of many an intrepid adventurer thanks to its pristine forests, warm waters, and impressive volcanic scenery! These fun facts about Dominica are sure to enchant you with wanderlust.
1. Who are the indigenous people of Dominica?
The Island Caribs, or Kalinago people as they are known today, were the first inhabitants of the island of Dominica. They named their island Wait'tukubuli, meaning 'tall is her body'.
It's possible to visit their model village Kalinago Barana Aute where visitors are able to learn about the history of the native people, as well as observe traditional festivals, rituals, and dances.
2. An explosive landscape!
There are nine volcanoes in Dominica. Morne Diablotins is the highest mountain on the island – from the summit, it's possible to see the islands of Guadeloupe and Martinique.
The volcanoes don't stop on land, either – as divers and marine life alike love the volcanic springs rising from the ocean floor! The warm currents and telltale bubbles make this a unique experience.
3. Ever seen a mountain chicken?
Misleadingly named the 'mountain chicken' – this weirdly-named beast is actually one of the largest frogs on the planet! Unfortunately, these not-so-feathery frogs are on the critically endangered list. Despite a small number of wild frogs still protected on Dominica, the survival of the species relies heavily on a captive breeding program.
4. Try a volcano-heated bath!
With all the geothermal activity, in the area, Dominica is scattered with dozens of hot pools and thermal springs. In fact, it is home to the second-largest boiling lake in the world.
The Boiling Lake is actually a flooded fumarole – and is about 200 ft (63m) across, second in size to the Frying Pan Lake, located in Waimangu Valley, New Zealand.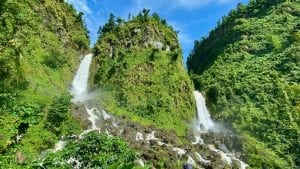 5. A deserving nickname.
Thanks to its incredible ecosystem, Dominica has earned itself the mantle of 'The Nature Island of the Caribbean'. There are three national parks in Dominica, including UNESCO World Heritage Site Morne Trois Pitons National Park.
These parks, along with the forest reserves and the Syndicate Parrot Preserve, contribute to the efforts to protect the island's plant and animal life.
Just to give you a small idea of the variety of life on Dominica, there are nearly 200 recorded species of fern and over 170 types of bird!
6. Arrrr, matey!
Film buffs might be interested to learn that Dominica has been used as an on-site filming location for two installments of Disney's Pirates of the Caribbean movies. Fans may recognize locations from the 'Cannibal Island' scenes in particular.
The climactic scene where Orlando Bloom's character and his crewmates race their cages to the top of a cliff was filmed in Titou Gorge, in Morne Trois Pitons National Park.
7. Try some bush medicine.
The Kalinago people developed an understanding of plants and herbs used for healing. Passed down through the generations, much of the knowledge has been successfully preserved and 'bush medicine' is still very much in use today.
Bush teas make up a cherished tradition in Dominica. These medicinal teas are often made from native plants, roots, bark, and flowers. Each tea is carefully selected and made to treat a particular ailment. There are teas for vitamin deficiencies, some for stomach issues, and there's even a tea made from Caribbean Albizia bark to soothe scorpion stings.
8. Water, water everywhere!
There are over 365 rivers in Dominica. Many run clear, while some are transformed into pale milky blue due to the minerals in the terrain. With all these rivers and the mountainous landscapes, it's not surprising that there are also dozens of impressive waterfalls throughout the country.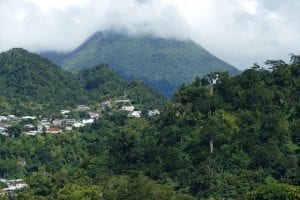 9. A whale of a time!
There's only one place in the world where sperm whales live all year long, and it's here in Dominica. In fact – with over 20 species of whales and dolphins spotted around the island – Dominica is known as the whale-watching capital of the Caribbean.
10. What is Dominica's industry like?
Thanks to the rich volcanic soil, around 20% of Dominica's land is farmed. Agriculture has long been one of the primary industries with one of the biggest exports for decades being bananas. Another huge industry in Dominica is tourism – split primarily into cruise ship tourists who tend to visit only for a few hours, and eco-tourists who visit for the wildlife and scenery.
FAQs about Dominica
How do I get to Dominica?
There's no international airport! That means you need to first fly to another Caribbean island and catch a connecting flight. Alternatively, many cruise ships stop in Dominica, offering the perfect chance for a quick visit.
Is Dominica the same as the Dominican Republic?
No, The official name of the island is the Commonwealth of Dominica. It's a single small island in the West Indies with a population of around 70,000.
What kind of food is eaten in Dominica?
Like many other Caribbean islands, the cuisine is rooted in creole with local produce and spices.
Do you know any fun facts about Dominica? Share them in the comments below!
This page was last modified on July 30, 2023. Suggest an edit