12 Flamboyant Facts about Elton John
Elton John is easily one of the most famous musical performers of all time. A born showman, Elton's responsible for some of the biggest hits of the past 50 years, and having bowed out his final shows on stage in 2023, his flamboyant presence on the live circuit will be greatly missed. Let's honor the bespectacled "Rocketman" with some fun facts about Elton John.
1. He goes by "Reg" in private.
Elton John was actually born Reginald Kenneth Dwight! He was born March 25, 1947, in the town of Pinner, Middlesex, England.
2. He got his stage name from two friends.
Elton John adopted the stage name "Elton John" in 1967. He used two of his bandmates' names: Elton Dean and Long John Baldry, the latter of whom reportedly helped Elton on his way to superstardom.
3. Elton was a child prodigy.
Elton John showed musical talent from a young age. He started piano lessons at the age of three, and even won a scholarship to the Royal Academy of Music at 11!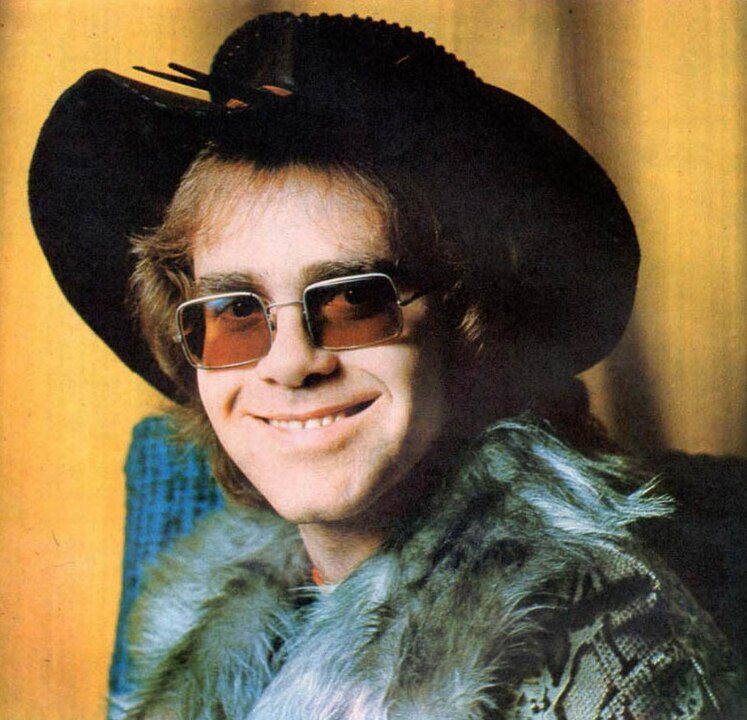 4. Many of his biggest hits were co-written.
Elton John famously teamed up with lyricist Bernie Taupin. Elton would write the music, and Bernie, the words. Their collaboration led to numerous hit songs and albums.
5. His self-titled album rocketed him to stardom almost straight away.
Elton's self-titled album, "Elton John" was released in 1970. It marked his commercial breakthrough with some of his most famous hits such as "Your Song."
6. He's always been a feast for the eyes as well as the ears.
Elton John is just as well known for his music as he is for his stage persona! He has always stood out with his flamboyant and unique stage costumes, which have included elaborate glasses, sequined outfits, and vibrant suits.
7. Elton has proved a smash hitter in the US.
Elton John has achieved over 50 Top 40 hits in the United States alone! He has also sold more than 300 million records all over the world!
8. He has multiple critically acclaimed albums.
Some of Elton John's best-loved albums, such as "Goodbye Yellow Brick Road" (1973) and "Captain Fantastic and the Brown Dirt Cowboy" (1975), are considered some of his finest works.
9. You really couldn't have an Elton hit without his piano.
Some of Elton John's best songs are accompanied by his incredible piano skills. He is a classically trained pianist and often incorporates complex piano arrangements into his music, which is part of what makes them so popular.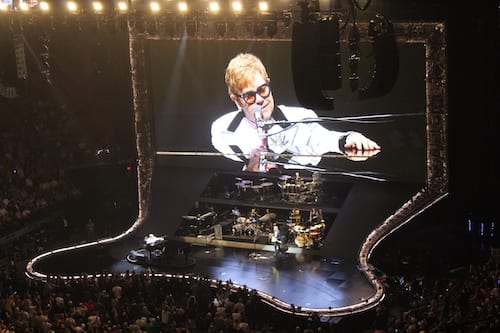 10. He has received a long list of awards.
Given his talent and popularity, it should come as no surprise that Elton John has received multiple awards throughout his career! These include multiple Grammy Awards and Academy Awards, and he was even honoured with a knighthood from then-Queen Elizabeth II for his services to music and charitable work!
11. He has done much to support people living with HIV and AIDS.
He is a dedicated philanthropist and has been particularly involved in the fight against HIV/AIDS through the Elton John AIDS Foundation.
12. He is now completely sober.
Elton John struggled with substance abuse and underwent treatment for addiction in the 1980s. He has now been sober for over three decades, and much of his struggles are documented in the movie of his life, "Rocketman," starring Taron Egerton.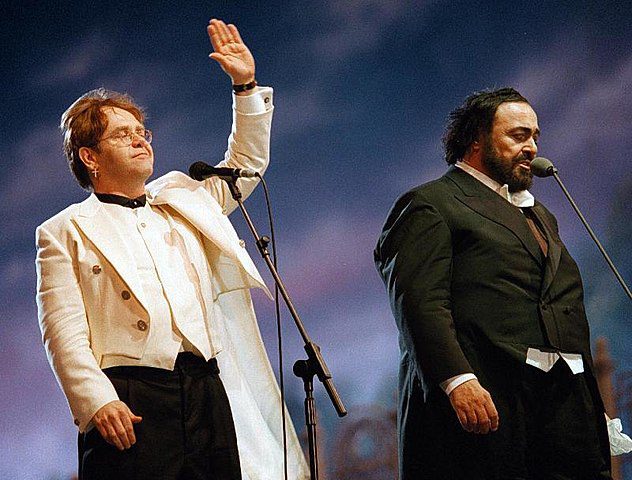 FAQs about Elton John
Did Elton John have a baby with his wife?
While Elton John was for a time married to Renate Blauel, they do not have any children together. However, he does have children with his husband, David Furnish.
How old is Elton John's husband?
Elton John's husband, Canadian filmmaker David James Furnish, was born in 1962. At the time of writing, this makes him 60 years old.
Did Elton John love his wife?
Although their marriage had to come to an end, and Elton John did reveal that he was, in fact, homosexual, he has also long said he did and does love his former wife, Renate Blauel. It is believed that they are friends now.
Further reading
https://factcity.com/tag/Music/
https://www.eltonjohn.com/
https://www.eltonjohnaidsfoundation.org/
Do you know any interesting facts about Elton John? Share them in the comments below!
This page was last modified on September 18, 2023. Suggest an edit