Yes – Essex is a county which may be best-known for a certain reality TV series in recent years, but there's actually a lot of history and heritage lurking behind those cameras. It's got an amazingly long coastline and is home to some record-breaking statistics. Therefore, before you leap into thinking that all the county is good for is producing slightly guilty TV pleasures, it's worth reading into a few facts that might fascinate you.
In fact, that's what we are about to do! We're going to fill you in with 13 interesting facts about Essex which you might not already know. Ever wondered if Southern Essex has anything over the Spanish coastlines? You're about to find out.
Let's get the elephant in the room out of the way – The Only Way Is Essex has, of course, helped to change the way that some people feel about the county. In fact, a supposed 'TOWIE effect' is thought to have encouraged some people to avoid living and working in the area. It's a shame – as only a very small portion of the community is ever shown on TV!
Essex's original name was thought to be Eastseaxe, referring to East Saxons. Of course, if you're joining the dots here, you'll have worked out that this name derives from Anglo-Saxon times.
Essex is actually home to some of the richest districts in the UK, heading up several affluent area lists each year. Both Brentwood and Ingatestone are thought to be some of the most expensive areas to live in the UK, meaning that they go against some of the 'lower-class' accusations levelled at the county in general.
The longest-running local competition has a home in Great Dunmow, Essex. Specifically, we are referring to the Flitch Trials, a series of games and contents where couples show that they are still devoted and in love with each other after a year of marriage. They'll need to show judges that they've not regretted their marriage at all in the past 12 months – and they'll win a flitch of bacon! This competition has taken places every four years since 1104!
There are many famous people who hail from the county of Essex. For example, Harry Potter stars Dame Maggie Smith and Rupert Grint hail from Essex, as do The Apprentice's Alan Sugar, ex-Eastender and documentary hardman Ross Kemp, champion boxer Frank Bruno, legendary athlete Fatima Whitbread and late, great Young Ones comedian Rik Mayall.
Southend has something seriously impressive to shout about – it's home to the longest pier in the world, at least one used for entertainment. It's a Grade II listed building – technically – and the first version of this 1.34 mile pier first opened in 1830.
Essex was once much bigger. In fact, back in the 6th century, it played host to areas and communities which are now technically in Hertfordshire and Surrey. It's interesting to see that so many areas split off and became their own entities!
Essex is home to the longest coastline in the whole of the UK. If you actually measured it – and for time's sake, you probably shouldn't – you'd find that there are 350 miles of wonderful coastline here. No wonder so many people stay at home for their holidays!
Essex is also home to another record-breaker – the biggest turf maze on the planet. Specifically, you'll find it in Saffron Walden, and it's thought to have been a part of the landscape since the 15th Century.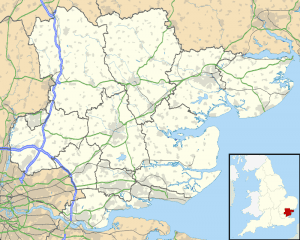 Do you have any interesting or fun facts about Essex that we've missed?  Share them here in the comments section below!