10 Excellent Facts about Eurovision
The Eurovision Song Contest is an annual event that celebrates the best in amateur songwriting and performance! Broadcast across five continents, hundreds of millions of people tune in to watch this massive event – and it's been entertaining viewers since the mid-1950s. Read on for some fun facts about Eurovision.
1. Globalvision?
The Eurovision Song Contest began as an inter-European country competition – but, in 1973, the contest opened entries to non-European countries and included Israel. Ever since then, the contest has continued to expand its horizons with Australia being one of the more recent additions to the performing roster, despite being over 8,000 miles from Europe!
2. The big five!
The so-named 'big five' were the founding countries participating in Eurovision. They include France, the United Kingdom, Spain, Italy, and Germany. Thanks to their financial contributions over the years, the big five now boast the privilege of automatically qualifying for the finals, meaning they don't participate in the semi-finals.
3. Russia were banned in 2022.
Despite having performed in Eurovision since 1994, Russia was excluded from the prestigious contest in 2022 due to its invasion of Ukraine. Ukraine would go onto win the contest for that year, with the UK and Spain close behind.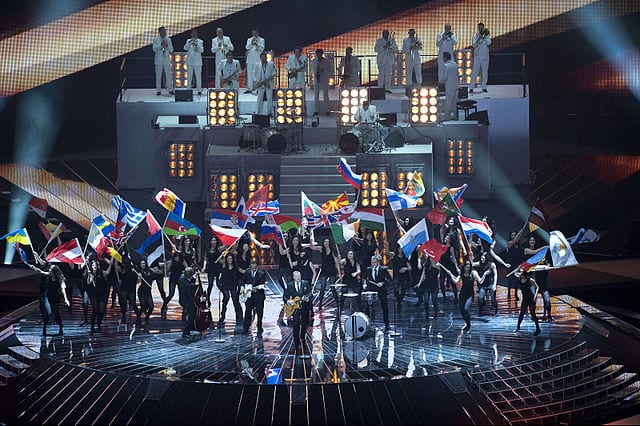 4. Rules are rules!
Even though the Eurovision Song Contest enjoys a fun and somewhat extravagant reputation, like any contest it also has several pretty stringent rules – number one being that all performers must sing live!
Naturally, as a songwriting contest, the words are very important, too – and each competing song must have lyrics, meaning purely instrumental pieces are not allowed. The lyrics don't even have to be in a real language, as Belgium showed us with their performances in 2003 and 2008!
5. It's all about art!
Each year, the country hosting the event must produce artwork and logos to help celebrate the arrival of the contest, based on a chosen theme. In 2022, the theme was 'the sound of beauty'. The artwork chosen for Turin, Italy included displays of the study of sound wave phenomena known as cymatics – chosen to represent the symmetry of patterns in sound waves.
6. Breaking records!
In 2017 Portugal took the record for gaining the most points in a grand final. The song was 'Amal Pelos Dois', performed by Salvador Sobral, which earned a total of 758 points from the jury and viewers voting from home!
7. Not native? No worries!
You don't have to be a citizen of a country to compete on their behalf. Take Luxembourg for example – despite being winners five times, none of the performers came from there! One singer came from Greece, and four performers were citizens of France.
8. Unlucky for hosts?
Since 1994, no host nation has won the competition. That might be a relief for some countries considering the time, effort, and money spent hosting a memorable Eurovision! However, it's massive pull for tourism!
9. Unlucky UK!
There's been something of a running joke over the years that the UK – despite having won the Eurovision Song Contest five times – doesn't fare too well in the contest. They've finished at the bottom with 'nul points', or zero votes, twice in the space of 20 years. However, TikTok sensation Sam Ryder broke the country's unlucky combo with his smash 'Space Man' in 2022, earning the country second place – their best performance since winning the contest back in 1997.
10. Eurovision earworms!
Some songs seem to just stick in our minds – and many big songs from Eurovision have made for massive hits long after performing. Those old enough may recall Cliff Richard coming in second place singing 'Congratulations' in 1968, for example.
Lulu sang 'Boom Bang a Bang' in 1969, while Abba performed their timeless classic 'Waterloo' in 1973. More recently, big Eurovision hits have included Lordi's 'Hard Rock Hallelujah' in 2006, Maneskin performed the viral sensation 'Zitti e Buoni' in 2021, and Dadi Freyr brought us the unforgettable 'Think About Things' – which didn't get performed due to the contest being postponed in 2020.
FAQs about Eurovision
Who invented Eurovision?
Marcel Bezencon of EBU had the original idea for the Eurovision Song Contest, basing his plan on a music festival held in San Remo Italy. His idea has exceeded even his broad imagination to become globally known and immensely successful.
How are points assigned at Eurovision?
Televotes are registered and then a jury is formed by two people from each country who proceed to calculate points. People vote for songs and performers, many of whom are at the outset of their musical career.
References:
https://eurovision.tv/
https://eurovisionworld.com/
Do you know any fun facts about Eurovision? Share them in the comments below!
This page was last modified on July 28, 2023. Suggest an edit