♫ 45 Excellent Facts about Eurovision ♫
Every year Europe's best take out their finest outfits, easy to remember song lyrics, and sometimes slightly weird dance moves to compete in the Eurovision Song Contest.
To keep you in a jolly mood we've prepared some fun facts about Eurovision that'll make you sing your all-time favourite tunes looking forward to the new ones…
The Eurovision song contest always begins with the music "Prelude to Te Deum" by composer Marc-Antoine Charpentier, which has become known as a Eurovision Anthem.
The first Eurovision contest took place way back in 1956.
Traditionally the previous year's winner performs at some point of the contest. This has only been common since Johnny Logan reprised his second win in Dublin in 1988.
Before 1988 the Eurovision contest orchestra performed the preceding winner in an overture before the compere took to the stage.
Often the reigning champion has been able to promote their latest, post-Eurovision song.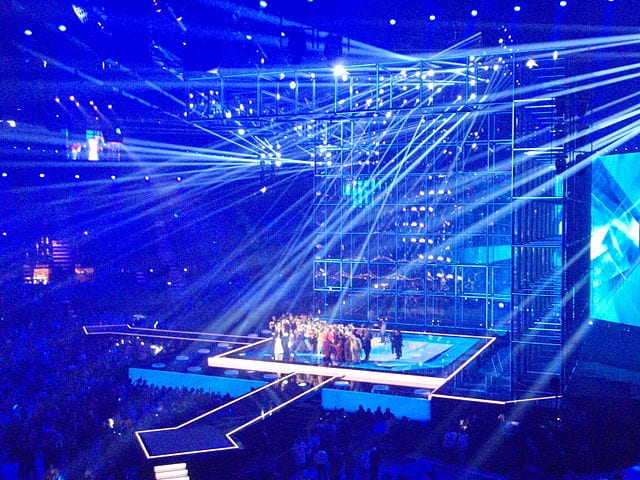 In 2014 Emmelie de Forest's new song was not only performed at the contest final but was also on the official CD.
All Eurovision songs mustn't be longer than 3 minutes.
Every Eurovision up to 1998 had a live orchestra. Since then it has been optional, and never applied, due to economic and logistical reasons.
When Eurovision had a live orchestra each country would send a conductor to the contest along with their artists.
The rules regarding nationality have always been rather tolerant, and it's generally down to each country to make their rules.
The performers can come from anywhere, while the songwriter(s) have to be native, but not always.
None of Luxembourg's 5 winners came from the Grand Duchy. Four were French and one Greek.
In 1966 a rule was introduced that a song must be performed in one of the official languages of the participating country.
There have been 67 winners over 64 contests because there was a four-way tie in 1969.
Groups of more than 3 were not allowed into Eurovision until 1971.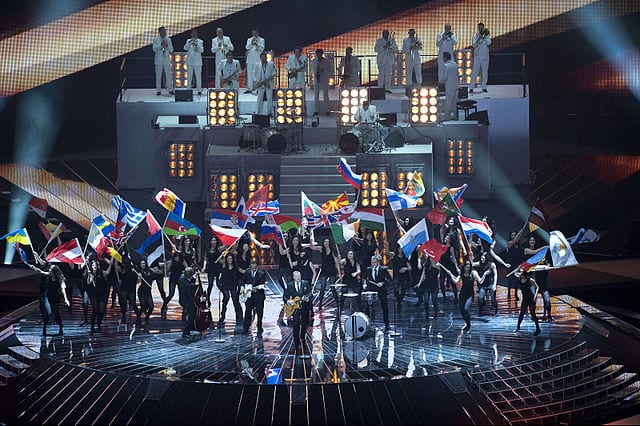 Even now, no more than 6 people are permitted on stage.
In recent years backup singers have been allowed to be "invisible", sing backstage, out of the camera shot.
Overall, a total of 52 nations have competed in the Eurovision song contest.
In 1964 Portugal, and 1994 Lithuania are the only countries to score "Null Points" on their debut.
After Portugal's win in 2017, the country waiting longest for its first win is now Malta, competing since 1971, followed by Cyprus (1981) and Iceland (1986).
In 1968, Spain's song titled "La La La" contained no less than 138 La's, and it won.
Four countries tied for 1st place in 1969, and as there was no tie-breaker they all shared the prize.
Since 1969 the rules for a tie have altered.
Israel has been competing at Eurovision since 1973 despite obviously not being part of Europe.
The Eurovision contest is open to active members of the European Broadcasting Union, which involves several North African countries, some of whom would no doubt compete if Israel didn't.
Morocco took the Eurovision chance in 1980 and Lebanon chose an entry in 2005 but both countries were thrown out after their TV suggested they would blank out the Israeli song.
In 1974, the United Kingdom gave ABBA "null points" for their winning performance.
In every Eurovision from 2001 to 2008 the winning country had never won the contest before.
In 2001, almost 38000 people attended the Eurovision at Copenhagen's Parken Stadium to witness the first-ever Estonian victory.
The Ukrainian singer Ruslana was rewarded with a seat in Parliament for her Eurovision triumph in 2004.
In 2015 Australia was invited as a "guest" at Eurovision but their participation now seems on-going.
Ireland leads the medal table with 7 wins but the 2015 contest saw Sweden creep up to just one win behind, followed by the UK, France, Luxembourg, and the Netherlands on 5 each.
The most frequent predictable vote is the Greece/Cyprus twelve points vote exchange.
The contest is broadcasted on five different continents.
The countries performing second on the final Eurovision night has never won the contest.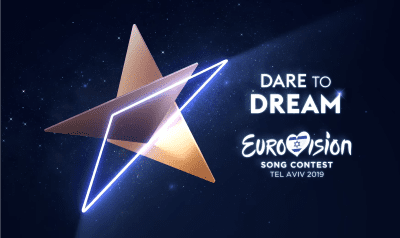 The Eurovision has been running since 1956, making it the longest-running international television contest and the world's biggest live music event with 186 million viewers internationally in 2018.
41 countries were participating in Expo Tel Aviv at Eurovision 2019.
The 2019 contest saw an 8 consecutive win for a solo singer, the longest stretch without a group or duo winning the Grand Prix since 1973.
The contest has been held in the UK no less than 8 times, despite them only winning 5 times.
The Eurovision venues were London (1960, 1963, 1968, 1977), Edinburgh (1972), Brighton (1974), Harrogate (1982), and Birmingham (1998).
The UK only finished outside the top 4 twice in 20 contests up to, and including 1977.
Sir Cliff Richard sang twice at the Eurovision song contest for the UK.
Ronnie Carroll also represented the UK twice consecutively in 1963 and 1964.
In the UK, the late great Sir Terry Wogan was synonymous with Eurovision commentary.
Let us remind you about some weird songs and performances on Eurovision: Lordi — "Hard Rock Hallelujah" (Finland, 2006) with their monster masks and horror elements, Verka Serduchka — "Dancing Lasha Tumbai" (Ukraine, 2007) with the catchy tune and aluminium outfits, Dustin the Turkey — "Irelande Douze Points" (Ireland, 2008) with the cringe-worthy performance that didn't make it past the semi-finals, and Buranovskiye Babushki — "Party For Everybody" (Russia, 2012) the cute grannies from Buranovo.
Do you know any fun facts about Eurovision? Share them in the comments below!
This page was last modified on July 28, 2021. Suggest an edit