35 Genuine Facts about Guinness World Records
There is a very good chance you know at least something of the Guinness World Records organisation. In many countries around the world, competitive folks like to set a new record on all sorts of tasks, under all sorts of conditions. At some point, you will likely have read and enjoyed the Guinness World Records annual, or at least be aware of it in some form. You could have enjoyed watching one of the various Guinness World Record presentations that have appeared on TV over the years, or maybe you are a record holder yourself!
In this fact file, we're featuring some interesting records featured in the book as well as a selection of other interesting facts about Guinness World Records and  this legendary brand.
There's a world record for the most toothpicks held in a single beard – and as of July 2018, US beard-wielder Joel Strasser took on the challenge as well as the mantle. He's thought to have inserted 3,500 different toothpicks into his beard, which took him over three hours.
The world's shortest bull, it seems, was Humphrey – a miniature zebu who measure just over two feet in height. Sadly, Humphrey is no longer with us, but he leaves a bizarre legacy measuring just 26.6 inches.
The title for tallest building on Earth has changed hands a few times, but at the time of writing, the Burj Khalifa in Dubai, United Arab Emirates, is an incredible structure measuring a staggering 828m in height.
To this day, Guinness World Records still recognises Robert Wadlow as the tallest man to have ever lived. He is thought to have been an unbelievable 8 foot 11 inches tall. While plenty of people have challenged Wadlow to the title over the years, this record has stayed in place since 1940.
Pakistan activist Malala Yousafzai remains the youngest person to ever win the Nobel Peace Prize. She famously survived an attempt on her life which could have left her brain-damaged or worse – and since that time, she has continued to push for educational rights across her nation. At the time of writing, she is only 23 years old – she was 17 when she won the Nobel Prize!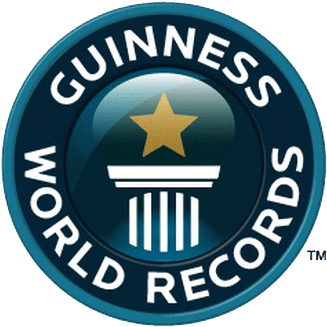 Marawa Ibrahim managed to spin an astonishing 200 hula hoops at the same time. All of the hoops had to perform at least three rotations to hold a valued record. Marawa has attempted and smashed this record three other times!
Did you know, not all records have to be centred around humans?! A group of 1,007 robots became the largest number of robots dancing at one time at a festival in China. To qualify the robots had to dance for one whole minute.
Guinness World Records was founded in 1955. In 2000 the organisation rebranded themselves as The Guinness Book of Records.
Guinness World Records is the brainchild of Sir Hugh Beaver. The book was also co-founded by twin brothers Norris and Ross McWhirter in Fleet Street, London, back in 1954.
Ironically, the book itself holds a record! It is the best-selling non-copyrighted book of all time.
At the time of writing, in 2020, there have been 65 publications of the book.
The Guinness World Records book is published in 100 countries and 23 languages.
Guinness employ official record adjudicators to verify the authenticity of setting and breaking records.
In 2012 Warner Bros announced the development of a live-action film version of Guinness World Records! Sounds interesting but we are now in 2020 and nothing has been heard of this project in a long time… If it ever goes ahead, the plan was to use the heroic achievements of record holders as the basis for its narrative.
Ok so you think a film would have been an interesting move, what about a video game? And this one came out! It was called Guinness World Records: The Video Game and was developed by TT Fusion. The game was released in November of 2008 on the Nintendo DS, Wii and iOS systems.
The franchise has seen spin-off entries such as the Guinness Book of British Hit Singles and Albums. This book was first published in 2003 and ran up to 2006. This short-lived series was based on two earlier, unrelated HIT (who went on to own the rights of the book, taking them over from Guinness) publications British Hit Singles and British Hit Albums.
Another spin off and one that has lasted longer than the above and is still being published today is the Guinness World Records: Gamer Edition. Here all the records contained within the book are all video games related. Categories include high scores, console sales and 'longest time spent playing'.
Every year about 50,000 people will apply to have their achievement featured in the record collection-but only around 1,000 people make it in!
The Guinness World Records has had many different TV shows, aired in many different countries. They may all have different titles and are presented by different personalities, but they all serve the similar platform of giving members of the public (and sometimes famous faces) the chance to break some records! As well as the shows exclusively about Guinness World Records, the brand often appears on magazine shows in the event of someone attempting a world record.
Since 1976 there has been a Guinness World Records museum in the Empire State Building. Exhibits have included the world's largest earthworm, a statue of the world's tallest man (at the time Robert Wadlow) and an X-ray photo of a sword swallower.
In 2015 Caitlyn Jenner took part in a cover shoot for Vanity Fair helping her to reach the record of being the fastest ever person to reach one million followers on Twitter in an amazing 4 hours and 3 minutes!
GWR have had to step in and decline some categories that members of the public have wanted to compete in. This is usually due to their difficulty in working out the actual outcome of some categories. For context, on the official Guinness World Records website it states 'We do not accept any claims for beauty as it is not objectively measurable'.
At one point people could have their impressive currency collections featured but as of 1984 this was halted after the U.S. Mint requested that GWR no longer accepted claims of this kind.
No records relating to chain letters are allowed, be it postal or email. It's probably to avoid encouraging spam!
As you would hope, Guinness World Records will not allow some types of records on ethical reasoning, such as anything related to killing or harming animals.
Ashrita Furman remains the most prolific record-breaker of all time. At the time of writing, Furman has managed to break more than 600 unique records and is thought to still hold more than 200 of them. At 62 years old, he doesn't seem to show any sign of slowing down.
Some of Furman's bizarre records include the longest amount of time taken to balance a chainsaw on one's chin – which, weirdly enough, has been broken. He's also attempted to head up Mount Fuji via pogo stick. Don't try this at home!
Setting and breaking records is, naturally, an extremely competitive process. Guinness World Records states that it receives many different applications for new records, and that they have to reject around 60% of them on average. However, that means 40% is tipping in your favour – could there be a strange record you're desperate to set?
Guinness World Records requires all record applicants to take their attempts extremely seriously, regardless of how silly their actual records may be. They must make sure to take clear evidence of their record-breaking attempt and must ensure they have an independent witness and record representative on hand.
Many Guinness World Records have been attempted and broken on TV. In fact, over the past few years, a few entrants into shows such as Britain's Got Talent have broken records of their own!
Guinness World Records' attempt verification is notoriously strict. You're going to need to make sure you provide plenty of evidence if you think you've broken or set a record! The organisation states that they will reject up to 50% of applications based on the fact that there is not enough evidence submitted. You must be extremely precise with your application!
With some world records, bigger is better – you'll find records belonging to the biggest hula hoop ever spun, as well as the tallest hat – and the world's biggest guitar amp, a record broken by Full Sail University in 2017. The Fender amp was 10 x 8 x 4 feet large!
If a record is framed around large food in some form, from 2011 a required guideline was put in place that meant the foodstuff has to be fully edible to qualify for inclusion. The item must also be distributed to the public for their consumption to help prevent food wastage.
The first issue of GWR took 13 and a half 90-hour weeks to complete, it contained 198 pages.
The original plan by Guinness was to offer free copies of their book to around 80,000 Irish and British pubs. But the book was such a hit and the demand so high it skipped out that stage and went straight to best seller status!
Do you know any Guinness World Record facts that we've missed out?  Share them here in the comments section below!