Ever been a fan of Downton Abbey? The massively popular ITV series really took a life on its own over the past decade or so, and if you visit the imposing Highclere Castle in Hampshire, you'll soon find that the grounds are rather familiar. Highclere Castle is known to most nowadays as the main filming location for the popular series, though it actually has a fantastic and deep history which is well worth tapping into.
Have you ever visited Highclere Castle? If you've ever toured the Wessex Downs before, it's worth taking a look around the grounds for yourself – but before you do embark on any kind of visit here, do make a point of reading the following interesting facts about Highclere Castle to help you get better acquainted.
The land at Highclere Castle is truly stunning, and it's thought to occupy over 6,000 acres of it. The Castle itself is grandiose, making up at least 30,000 square feet of the immense space.
Despite having around 300 rooms in total, it's thought that at least 50 of them are no longer in use.
There have been a number of different buildings and locations set up at the Castle and in the grounds over the years. For example, it's thought the site was once home to a medieval palace of sorts, and that there was once a traditional Tudor property.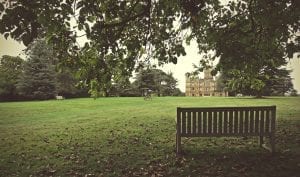 In fact, the current Castle is likely to be younger than many people imagine. It's only been up in its current form since 1842 and is built to mimic property stylings of two or three centuries prior.
Highclere Castle remains a household for the Eighth Earl of Carnarvon and his family. It's thought that the Carnarvons have lived at the site of Carnarvon Castle since the mid-17th Century.
The Castle's status as the site of Downton likely came about thanks to creator Julian Fellowes' connections to the Carnarvons, as a close family friend. In fact, Fellowes is said to have based Downton on the Castle, meaning that it became the perfect filming location.
However, it's not the first time that Highclere Castle has been seen on screen. It made a popular appearance in the TV series Jeeves and Wooster, based on PG Wodehouse's series of books, and starring Stephen Fry and Hugh Laurie as butler and master, respectively.
The property has a massive second floor gallery, which has, over the years, served as something of a music hub. It's here where attending musicians would be able to set up and play in their own arcade nook, allowing their tunes to flow down and fill the rooms and venue below. The acoustics are reportedly remarkable.
The Castle has actually served as a military hospital, albeit for a temporary period during the First World War. It was the Fifth Countess of Carnarvon who set up a temporary hospital location for soldiers wounded. The Countess even helped aiding the staff of nurses on call.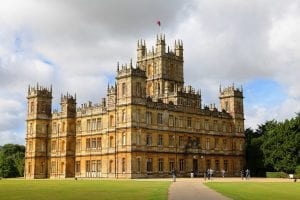 It's perfectly possible to visit and explore parts of Highclere Castle, though it is generally only open for two months each year. Generally, it opens up for special events across the milder months.
Highclere Castle once had a rather odd fire evacuation process. As the Castle is so tall, procedures in place stated that staff at the Castle would need to escape via chutes and slides from the windows. It's somewhat like an airline evacuation.
Believe it or not, many of the props and pieces you see on Downton Abbey actually have plenty of history to them. Some, such as the iconic kitchen bells, as direct replicas of those you'd see at Highclere. It's thought that each bell has a different chime that corresponds to a different member of staff.
Believe it or not, the desk in Lord Grantham's living room in the TV series is an actual historic artefact. It was once used by the French Emperor Napoleon.
And another believe it or not fact, Lady Carnarvon isn't even sure how many rooms there are in the whole of the estate – 300 is just an estimate, and as stated, it's not clear how many of them are actually in use!
Do you have any interesting or fun facts about Highclere Castle that we've missed? Share them here in the comments section below!