38 Interesting Facts about Howard Hughes
Howard Hughes remains one of the most fascinating people of the 20th century. A multi-billionaire, playboy, inventor, investor and record-breaker, Hughes did more in his lifetime than many will ever hope to! Linked to multiple famous women and having been responsible for retooling hospital beds and multiple aircraft, the likes of Hughes may never really be known again.
However, there was more to Hughes than his latter years of paranoia and OCD – here are some interesting facts about Howard Hughes, the marvelous man who is well worth remembering. Who knows – you might even find him inspiring!
Howard Hughes was born in a town called Humble in the state of Texas, USA, on December 24th, 1905.
Two birth certificates exist, one for a few months prior – but it is believed the latter date is the correct one!
Hughes dropped out of Wisconsin University in 1924 – and went on to become a qualified and accomplished pilot, film producer and director, business entrepreneur, philanthropist, and a multi-billionaire.
Hughes produced several controversial films, starting in the 1920s. These which 'The Racket' (1928), 'Hell's Angels' (1930), and 'Scarface' (1932).
Developing his interest in film and with a keen eye on a business opportunity, Hughes took over control of the RKO Studio.
Costing him $24 million, Hughes became the first sole owner of a top Hollywood studio since the era of silent films.
With a passion for flying, Hughes started the Hughes Aircraft Company in 1932.
Hughes set many records in aviation and was as competitive in the air as he was in business. He set many world air speed records.
Together with his own designers and engineers, he built the 'Spruce Goose', the 'H-4 Hercules' and the 'H-1 Racer'.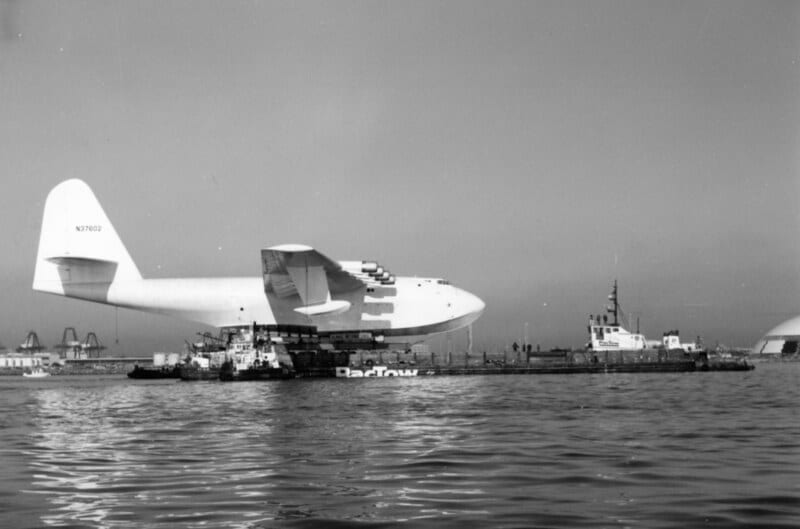 Hughes was honored by Flying Magazine, ranked 25th in their list of  'Aviation Heroes'.
Howard Hughes' father, Howard H. Hughes, was a wealthy businessman and inventor.
In 1909, Hughes Sr patented the design of his 'two cone roller blade' which facilitated the extraction of petroleum from places previously too difficult to work. Instead of selling his machinery, he made a fortune leasing it!
Hughes' uncle, Rupert, was also famous as a film director, screen writer and novelist.
Following the sudden deaths of his parents, in 1922, Hughes set up a medical research laboratory – he was only 18.
At 11 years old, Hughes built Houston's first wireless radio transmitter.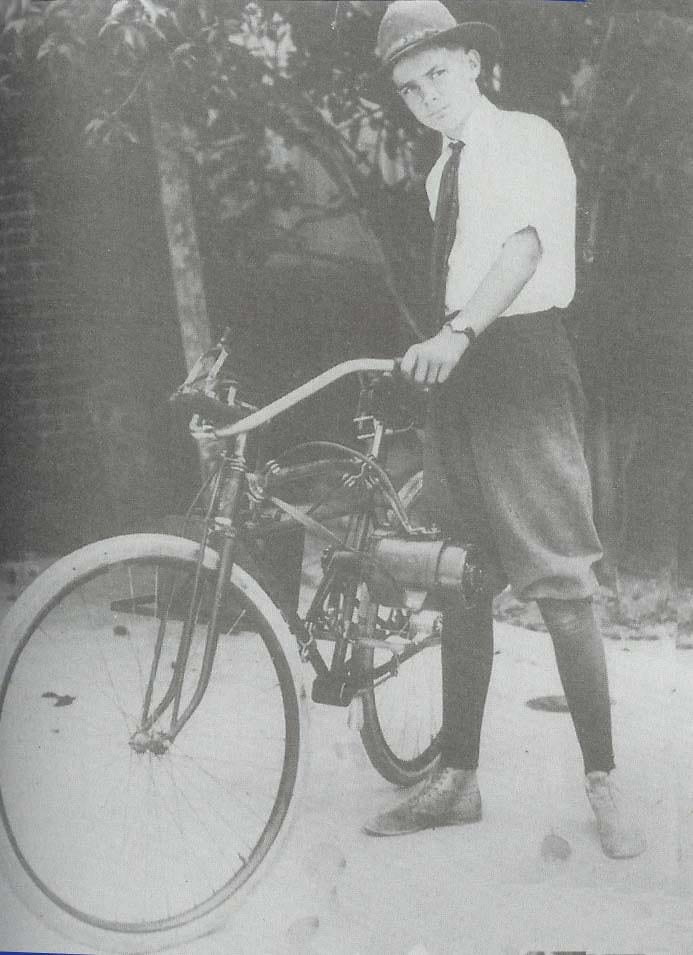 At 12 years old, Hughes used spare parts from an old steam engine belonging to his father to motorize his bicycle. For his 'inventive success' his photograph appeared in a local newspaper, where he was praised for ingenuity.
At 14 years old, Hughes had his first flying lesson and was immediately smitten with aviation.
Hughes was a keen golfer in his twenties, with a handicap of 2-3. In Los Angeles – until his flying career stopped him, he would play golf every afternoon.
Following the crash of his F-11Aircraft,he was left unable to play golf again.
Hughes had four crashes in airplanes. In 1946,the crash in an XF-11 almost killed him and he lived the remainder of his life suffering after-effects.
In 1935, Hughes set a landplane airspeed record of 352 mph over a test course.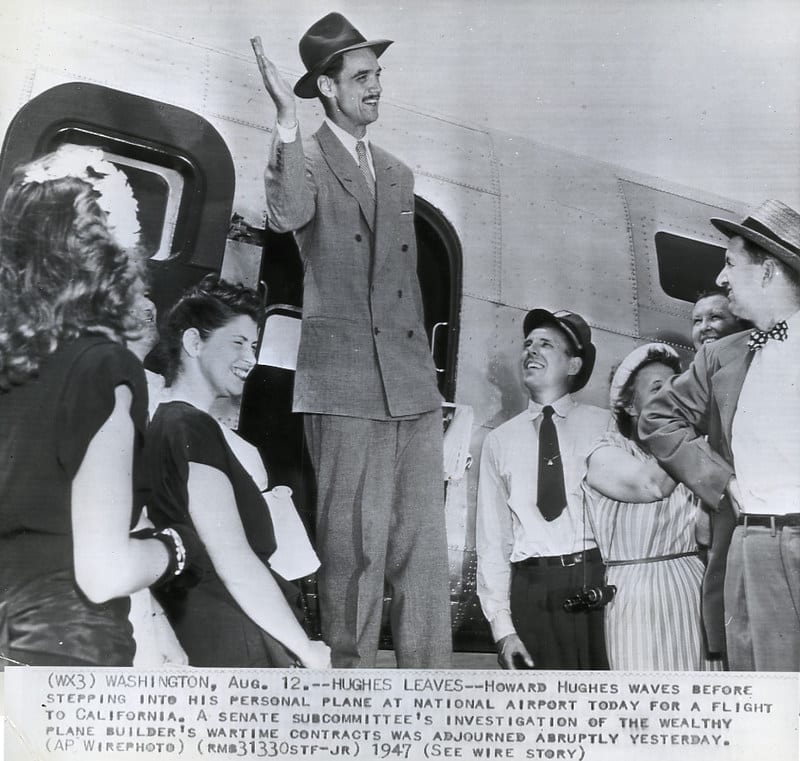 He also set record speeds in sea planes in 1929 and 1931, of 362 mph and 407 mph, respectively.
In 1937, flying non-stop from Los Angeles to Newark, Hughes set another world record. Beating his own previous record of 9 hours 27 minutes, he took 7 hours 28 minutes and 25 seconds to complete the race at an average speed of 322 mph.
In 1938, another world record was set by Hughes when he flew around the world in three days, 19 hours and 17 minutes!
In 1946, Hughes flew the prototype XF-11, a reconnaissance aircraft for the military. However, an oil leak caused problems with the propellers. Dropping altitude, Hughes fought controls aiming to land at the Los Angeles golf club.
Further complications made his target impossible. He crashed, destroyed three houses, and the aircraft burst into flames.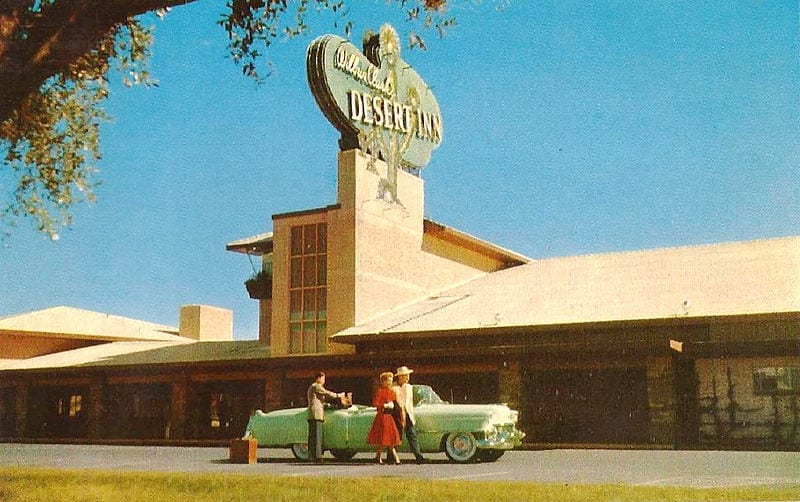 Whilst recovering in hospital, he redesigned the hospital bed! His innovative design had six sections and 30 motors to gently move the position of injured/burnt patients.
Hughes bought huge swathes of land in Arizona and Nevada. He bought a famous hotel on the 'Strip' in Las Vegas called the 'Desert Inn Hotel'.
Hughes became the single largest land owner in Nevada – and with 8,000 people on his payroll, he was also the largest employer.
Hughes was reportedly good friends with Donald Nixon, the brother of US President Richard Nixon.
In 1972, a friend and former business partner of Hughes approached him on behalf of the CIA to ask for help recovering a Soviet Submarine which had sunk near Hawaii.
Two nuclear-tipped missiles, hidden information, and the bodies of six Russian Submariners were recovered. The Russian personnel were given a burial at sea, which was filmed.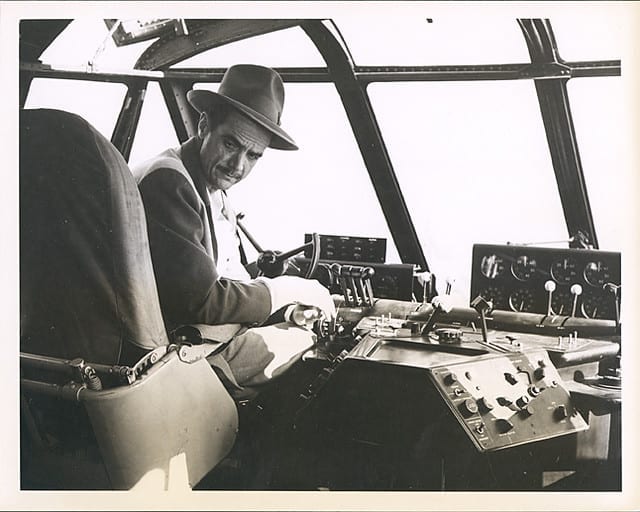 Howard Hughes was still creating news long after his death when in 1984, Terry Moore came forward stating she and Hughes had been married on a yacht in international waters by Mexican officials in 1949.
Moore claimed that, as they never divorced, she was entitled to a chunk of the Hughes estate! A private financial arrangement saw her drop her claim.
Howard Hughes died on April 5th, 1976. He had lived as a recluse for many years, though continuing to work behind the scenes.
Hughes became wildly obsessive during his later years, before dying of a heart attack at the age of 70.
Tony Stark, aka Iron Man, is said to have been loosely based on Howard Hughes. Both maverick inventors able to turn their minds to anything – the likeness fits!
Do you have any interesting or fun facts about Howard Hughes that we've missed? Share them here in the comments section below!
This page was last modified on April 15, 2021. Suggest an edit