Located in the Balearics, Ibiza is a well known summer holiday destination and party island just off the coast of Spain.  Here's some fun facts about Ibiza!
1. Ibiza is probably smaller than you think.
Ibiza has a total area of 220 square miles (571 square kilometers), which is 0.4 square miles (1 square kilometer) smaller than the Isle of Man.
2. Ibiza's really grown in terms of population.
In 2010, Ibiza had a population of 132,637 – a boom considering that in 1991 it was believed there were only around 76,000 inhabitants!
3. It's one of three very popular Spanish resorts.
The third largest of the Balearic Islands, Ibiza is situated just off the coast of Spain, in the Mediterranean Sea, along with Majorca and Menorca.
4. There's still plenty of beach to cover here.
It has a coastline that is 130 miles (210 kilometers) long.
5. It wasn't always called Ibiza.
Ibiza was first called 'Ibozzim' by the Phoenician settlers who founded it in 654BC; they dedicated the island to Bes, the god of music and dance.
6. Only a quarter of Ibiza's trade ISN'T from holidaymakers.
Unsurprisingly, Ibiza's main industry is tourism; 75% of the population get their income directly or indirectly from this industry.
The picturesque island is visited by approximately 2.8 million tourists a year and the airport handles 26,000 flights!
7. UNESCO recognises Ibiza.
Although the island is a well-known clubber's paradise, it's actually a World Heritage Site due to its architecture, coastline and sea life.
8. Not all politicians are boring!
Ex-British prime minister, David Cameron holidayed in Ibiza.
9. There's more than just dance music that links to the island.
Sex Pistols punk, Sid Vicious, lived on Ibiza as a child for a short time and the music video for Wham's 'Club Tropicana' was filmed at the famous Pikes Hotel on Ibiza.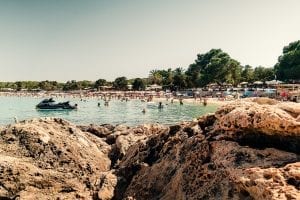 10. Ibizan sand is an interesting shade!
The soil in Ibiza is of an orange color, thanks to tannin in the pine needles that fall from the island's many pine trees.
11. Ibiza has been hot property for many forces!
In the past, Ibiza has been claimed by Spanish, French and Greek and Roman Empires. The Norwegians also invaded the island on their Crusade to Jerusalem, as did the British as they sailed between their two British colonies, Gibraltar and Menorca.
12. Every hotel in Ibiza is a must-stay.
In 2007, the island's government decreed that all new hotels in Ibiza must be five-star. Sounds perfect – we're booking our flights!
13. It's easy to call Ibiza.
Want to call your friends in Ibiza?  You'll need to use the International dialling code  +34.
FAQs about Ibiza
Is Ibiza really expensive?
Thanks to the sheer popularity of the resort, Ibiza has become more expensive to visit over the years - that's coming from professional DJs, too!
Is Ibiza good for families?
Yes! Ibiza isn't just for young holidayers - there are waterparks, walking trails and more to keep the whole family happy.
Do you know any fun facts about Ibiza?  Share them in the comments below!
This page was last modified on August 3, 2023. Suggest an edit