15 Jubilant Facts about Jerusalem
Jerusalem is an important city with an intensive history behind it – and to this day, it remains territory which is hotly disputed. The city remains one of the oldest on the planet, though both Israel and Palestine lay claim to it as their capital. Internationally, however, there is no consensus over who has the legitimate rights to call it their main hub.
Despite controversy, there is much for you to learn about this wonderful and vibrant city, and we've put together a variety of interesting facts about Jerusalem for you to help clue you in on its ancient majesty!
1. It's seriously old!
Jerusalem, as mentioned, remains one of the oldest cities on the planet. So much so, that it is thought to date back to more than 4,500 BC. It's therefore claimed to have been home to people of the Jewish faith for millennia.
2. Many have fought over it.
Jerusalem remains one of the most-conquered and claimed cities in global history. It has fallen under the ownership and oversight of the Roman Empire, the British, and the Ottomans, amongst others.
3. It's an important city.
The city remains a crucial fixture in the Jewish faith. Jewish people pray towards the holy city, for example, daily.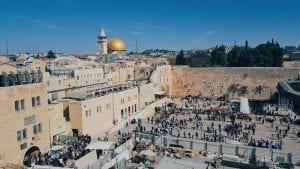 4. The oldest burial site on Earth?
Jerusalem is home to what remains the oldest burial site still in use to this day. It is thought that over 250,000 people lie in rest at the Mount of Olives, an important Jewish burial site.
5. Jerusalem got here first!
The Torah, the holy scripture of Judaism, states that the world's creation began with the holy city of Jerusalem. In fact, the Torah mentions Jerusalem over 600 different times.
6. It's evolved massively over the years!
The city is, of course, known for its ancient history and its religious importance. However, it has also taken on a life of its own as a high-tech hotspot for businesses and startups. In fact, several venture capitalism investment services are based here, as are several global brands and companies.
7. A towering bridge!
Jerusalem's Chords Bridge is its tallest structure, standing at up to 119m high. It's been in place since 2005, and was the brainchild of Santiago Calatrava, an architect known for creating stunning pieces all over the world.
Calatrava, in fact, states that Jerusalem planners specifically requested that he build the 'most beautiful bridge' he could. Millions agree that he succeeded!
8. Museums abound here!
Jerusalem is, naturally, extremely proud of its unique history. So much so, that you'll find there are over 60 different museums for you to head to and explore in the city.
9. It's a holy city to many different people.
Jerusalem is a city considered so holy, it crosses multiple faiths. Not only is it regarded as a holy city in the Jewish faith, it also has a firm place in the Christian and Muslim faiths, too.
10. It's got… a syndrome?
There is such a phenomenon reported called the 'Jerusalem Syndrome'. No one is quite sure what actually triggers it, but reportedly, several non-religious people have visited the city and have found themselves becoming self-proclaimed religious prophets. It's a rare phenomenon, but one that psychiatrists are actually taking seriously.
11. Visit the Biblical Zoo!
The city is home to the Biblical Zoo. It's here where visitors can meet animals and critters who feature prominently in the holy book.
12. They're big on wine!
Jerusalem is also well-known for its wine! In fact, there are over 25 different wineries producing local bottles, a popular port of call for many people visiting the region.
13. It's not as dry as you think!
The city and surrounding area is not all arid desert, either. In fact, there are over 1,500 different gardens and parkland attractions here. It's greener than you think!
14. It has an underground hospital.
The Shaarei Tzedek Hospital, based in the city, is notable for its curious operation room location. It's been a part of the city for almost 120 years, though its OR services are based completely underground. This, unfortunately, is as a result of terrorist threat. Jerusalem continues to come under threat from extremists, and as such, this hospital needs to keep its OR services protected from potential bomb attacks.
15. Citizens rarely leave!
The vast majority of people living in Jerusalem have been there for a long time. In fact, statistics show that up to three-quarters of residents have been living in the city for over two decades. Therefore, it is clearly a city where movers want to settle down. However, again, that doesn't stop the city from modernizing!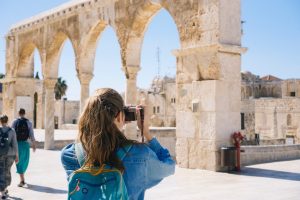 FAQs about Jerusalem
Is Jerusalem in Israel or Palestine?
There is currently a lot of tension regarding who owns Jerusalem. Currently, the city is administered by Israel, but both Israel and Palestine have claimed the city.
What is Jerusalem known for?
Jerusalem has a lot of historical and religious meaning, known primarily for being the place where Jesus Christ died and where he came back to life. It is also home to landmarks like the al-Aqsa Mosque, the Western Wall, and the Dome of the Rock.
Is it safe to travel to Jerusalem?
Jerusalem used to be considered to be a very safe place to travel to! However, at the moment, if you have to travel, it is best to remain cautious. Hopefully, it will be a safe place to visit again soon!
Sources
https://www.touristisrael.com/jerusalem/268/
https://www.britannica.com/place/Jerusalem
Do you know any fun facts about Jerusalem?  Share them in the comments below!
This page was last modified on August 2, 2023. Suggest an edit