14 Superb Facts about July
For many people in the Northern Hemisphere, July is one of the hottest and sunniest months of the year and is likely to be when many people book their holidays and vacations! In the UK, it also marks the start of the always-popular six-week school holidays, which extend into August.
July is also the midpoint of the year, starting the second half of the modern calendar. But what else is there to know about the seventh month? Here are some fun facts about July worth knowing.
1. July is UFO season.
July is likely when you will start seeing crop circles appearing! This has been happening for a very long time, no matter what UFO enthusiasts might tell you! It's thought that crop circles have been emerging in July since at least the 1970s.
2. The phones started ringing in July!
It was in July when the first-ever telephone call was made. It took place between Canada and the US in 1881. It really did mark the start of those long summer phone calls!
3. Are you a lion or a crab?
There are two zodiac signs which claim July as their host month – if you were born in July, you're either a Cancer (crab), or a Leo (lion).
4. The month is named after an emperor.
July's name comes from Julius Caesar, who was actually born towards the start of the month. It was originally known as Quintillis based on the ancient Roman calendar but was renamed in honor of the emperor.
5. It's a month of many odd holidays.
Plenty of US national holidays fall in July. For example, Americans are likely to take part in National Pickle Month, as well as National Ice Cream Month. Ever tried both at the same time? You're missing out!
Of course, it is a hugely important month in the North American calendar for obvious reasons. July plays host to US Independence Day, as well as Canada Day. France, too, celebrates Bastille Day in the same month.
6. What's your birthstone?
If you were born in July, your birthstone is the ruby, and the flower for the month is the water lily.
7. It tends to be peak pruning season.
July is the month that gardeners will generally have much of their work cut out for them. That's because bugs and pests are likely to come out in droves, putting vegetation and plants at risk. It's also the best time to start getting those weeds down, as if you don't pull them up now, they'll start seeding.
8. You'll also see plenty of hay in July.
Many people refer to July as the 'hay month'. That's because the heat at the height of summer is known to quash the grass, drying it out and turning it into hay. As all farmers know, hay is very handy indeed – and it's always less expensive for you to gather it yourself than to depend on suppliers!
9. President mortality seems to gravitate towards the summer!
Strangely, more US Presidents have died in July than in any other month.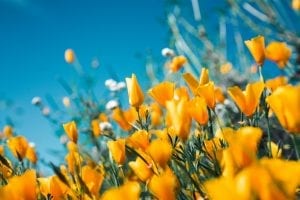 10. Many first names come from the month.
There are several names which derive from July, or Julius. While Julius is no longer a popular name, there are still many people called Julian or Julia, both of which stem from the same place.
11. How do you say it?
Up until a few hundred years ago, the way we pronounced July was altogether very different. It used to rhyme with 'truly'. Quite why this changed – who knows! It was once closer to the name 'Julie' in pronunciation!
12. And the weird celebrations continue.
There are plenty more strange celebrations and days which unfurl in July each year. For example, you're likely to celebrate National Moth Week, National Take Your Houseplants For a Walk Day, and World Emoji Day. Does the heat get to people's heads more than we think in July?
13. Look to the skies!
There are a handful of interesting astronomical effects to look out for in July. For example, the stunning Full Buck Moon occurs mid-month, and July is also the period where the Sun is furthest away from the Earth at any other point in the year. This occurs during aphelion, which takes place on US Independence Day, July 4th, every year.
14. It's the best time to be in Britain.
The UK generally sees the highest temperatures of the year in July, which makes sense as it is the middle month of summer. Some of the highest temperatures in UK records have taken place in July. Therefore – make sure to start freezing up some ice and to get those windows open!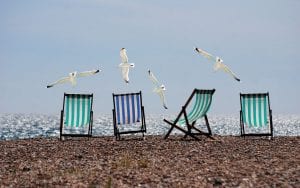 FAQs about July
What's so special about July?
For people in the Northern Hemisphere, it's the warmth - it tends to be the hottest month if you're north of the equator.
What does the month of July mean, spiritually?
Spiritually, July is supposed to signify big changes, growth, and defiance in the face of risk.
What animal represents July?
In the Western Zodiac, you'll find that Cancer the crab and Leo the lion represent July, whereas it's also represented by the ram or sheep in the Chinese Zodiac.
Do you know any fun facts about July?  Share them in the comments below!
Would you like to find out more about the months of the year? Look back with these facts about June, or forward at with these fun facts about August…
This page was last modified on July 26, 2023. Suggest an edit