10 Crown-worthy Facts about King Charles III
The world was shaken by the news of the passing of Queen Elizabeth II in September 2022. However, her passing brought the UK a new king, her son, King Charles III – previously known to millions as the Prince of Wales. Here are 10 fun facts about King Charles III!
1. When was King Charles III born?
King Charles III was born on 14 November 1948. He was born to parents Queen Elizabeth II (although at the time of his birth, she was still Princess Elizabeth) and Prince Phillip, the Duke of Edinburgh. He was born at Buckingham Palace, in London.
2. The King is well-educated.
Education is very important to King Charles III – he studied at the renowned Cambridge University from 1967 to 1970! He studied Anthropology, Archeology, and History. He earned a Bachelor's degree in the Arts and became the first British monarch to ever get a university degree.
3. The former Prince of Wales does speak Welsh!
Welsh is a famously difficult language to learn, but the former Prince of Wales did learn it! As he took up his Princely mantle, King Charles III thought it important that he did indeed speak Welsh – and to this day, he remains a fluent speaker.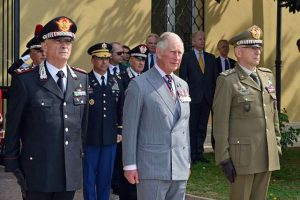 4. The King has also served in the military.
King Charles III served from 1971 to 1976 in the Air Force and Navy. He even commanded the HMS Bronington in 1976, a coastal mine hunter, for his last months in the service. Now, as King, he is the Head of the Armed Forces.
5. He's even spent time as a pilot!
During his time in the military, King Charles III trained to become a pilot. He learned to fly the Chipmunk aircraft while at Cambridge University. He is also a fully qualified helicopter pilot and a pretty decent driver by all accounts!
6. He's also a skilled painter.
Aside from being a royal and a pilot, King Charles III is also a painter! He is a particularly skilled watercolor painter, as well as a cellist and even a published author! Now that's a lot of strings to your bow!
7. King Charles believes in charity.
The Royal Family is known for their charity work and no one more so than King Charles III! During his time as the Prince of Wales, he founded nearly 20 charities!
8. He's one of the most prolific Royals on the box.
You may have spotted King Charles III on some of your favorite TV shows, and no, your eyes did not deceive you! The King famously appeared on shows such as Coronation Street and even BBC Weather!
9. He has several heirs of his own.
King Charles III first became a father on 21 June 1982 when his then-wife, Princess Diana, gave birth to their first son, Prince William. Two years later, on 15 September 1984, their second son, Prince Harry, was born. Prince William is now heir to the throne and will become King after his father passes.
10. Charles became King in late 2022.
King Charles III became king on 8 September 2022, following the death of his mother, Queen Elizabeth II. He became king at the age of 73, making him the oldest monarch to be crowned in British history!
FAQs about King Charles III
Will King Charles III wear the same crown as Queen Elizabeth II?
Yes, King Charles' crown is indeed the same crown that his mother, Elizabeth II, wore during her coronation, as indeed it was during all the monarch coronations over the past century. However, due to the sheer weight of the crown, Charles won't be wearing it as everyday dress!
What is King Charles III's wife known as?
King Charles' wife is now known as Camilla, Queen Consort of the United Kingdom. She became Queen consort on 8 September 2022.
What happens to British currency now King Charles III is reigning monarch?
British currency will change physically now that King Charles III has been named king. They will now feature his portrait as opposed to that of Queen Elizabeth II, though the Queen's currency will remain in circulation for some time to come.
Further reading
https://factcity.com/tag/the-royal-family/
https://www.royal.uk/the-king
https://www.bbc.co.uk/news/uk-59135132
Do you know any fun facts about King Charles? Share them in the comments below!
This page was last modified on July 28, 2023. Suggest an edit