11 Positive Facts about La Paz, Bolivia
Nuestra Senora de La Paz is located in the western part of Bolivia and is surrounded by mountains of the Altiplano. Here are 11 interesting facts about La Paz, a city filled with culture and history.
La Paz's main bus station, with its ceilings and archways, may be familiar to you as it was designed by Gustave Eiffel. He was better known for designing the Eiffel Tower in Paris.
As a part of the established safety program, cebritas (humans in zebra costumes) direct traffic in La Paz.
In La Paz, pubs and clubs are legally required to close at 3 am. However, some tend to pay the cops to keep open past this time. For the most part, the majority of the city is normally quiet after 11 pm, which is the complete opposite of what the city is like during the day.
To pay homage to Bolivia's heritage, a massive clock in the National Congress building that overlooks a large public plaza in the city is configured to run backwards.
In La Paz, there are more parades than days of the year. Do not be surprised if you see traditionally dressed dancers blocking streets when you visit any time of the year.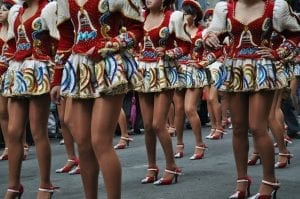 La Paz hosts several landmarks that belong to colonial times, which makes the city an important cultural centre of Latin America.
The largest prison in La Paz is San Pedro prison and is known for having a society within itself. Prisoners in San Pedro have jobs inside the community and often live with their families. A significant portion of the income comes from the sale of cocaine base to tourists that visit.
La Paz was the first city in South America to get electrical supply.
Located in Cerro Cumbre, the Witches' Market (also known as La Hechiceria and El Mercado de las Brujas) sells merchandise such as dried frogs, potions and medical plans.
Do you know any interesting or fun facts about La Paz?  Share them with us in the comments section below!
This page was last modified on April 21, 2021. Suggest an edit