🚣 38 Wonderful Facts about Lake Winnipeg
There's no joke – Canada is truly massive. You know what's almost as big as Canada itself? Its impressive lakeland! Lake Winnipeg is a true goliath as far as freshwater basins are concerned, and this particular lake remains a record-breaker for plenty of reasons. It's home to millions, and is a fascinating holiday spot for spying birds, fish, and taking part in sporting and angling festivals.
Did you know that Lake Winnipeg's major threats include algae – which is slightly more menacing than you think? Maybe it's news to you that there are still native communities who live along the area, having been here for centuries. Whether you've been to the lake before or are planning a trip soon, here's 36 fun facts about Lake Winnipeg to clue yourself in…
Lake Winnipeg is a freshwater body, situated 55 kilometers north of the City Winnipeg in the Province of Manitoba in Canada.
Lake Winnipeg is relatively shallow, with an average depth of only 12 meters.
The maximum depth of Lake Winnipeg is 36 meters.
Lake Winnipeg is ranked the 10th largest lake in the world.
Lake Winnipeg has a surface area covering 24,514 square kilometers. That equates to 9,465 square miles!
E-coli levels are monitored in Lake Winnipeg. However, while a mild resurgence of the bacteria arose some time ago, it is usually considered safe for swimmers.
Due to Lake Winnipeg having an overabundance of phosphorous, it has an above average level of 'algae blooms. These can affect the quality and clarity of the water.
The harmful algae can also have a negative impact on the tourist industry when beaches and fishing get curtailed.
During recent years, the color of the lake has changed – with hues of deeper blue and green as a result of algae, which also sometimes contaminates the beaches.
Lake Winnipeg is the 6th largest lake to be found in Canada.
Surrounding Lake Winnipeg are more than 1,000 miles of sandy white beaches.
It is also the second largest watershed in Canada, with a drainage basin of more than 1,000,000 square kilometers!
Lake Winnipeg traverses four states and provinces in Canada, total.
At its widest point, Lake Winnipeg measures 111 kilometers.
Winnipeg is noted for being the last remnant of the glacial body known as Lake Agassiz.
Of all the largest lakes in the world, Lake Winnipeg is on record as having the highest level of chlorophyll.
The name 'winipek', from which the lake's moniker derives, translates to 'Muddy Waters'.
The Lake Winnipeg area is home to around seven million people. However, only 0.3% of people actually live on the shoreline! This makes up around 25,000 people, at present.
The Nelson is the only river to flow out of Lake Winnipeg.
However, there are multiple rivers which flow in. These include the Dauphin, the Bloodvein and the Saskatchewan.
A fish sometimes known as the Winnipeg Gold Eye breeds most commonly in these waters – unsurprisingly!
Other species of fish to be found in Lake Winnipeg include blue fin tuna, white bass, rainbow trout and common carp.
The common carp and rainbow trout were introduced to the lake as they are not native to the waters.
Fishing on the lake contributes $30 million annually to the Canadian economy.
Lake Winnipeg generates electricity for users in the hinterland. It is the third largest reservoir and generates hydro-electric power.
On September 13th, 2010, the 'Canada – Manitoba agreement' was signed. This was an agreement put in place to ensure the area's wildlife, as well as human population, was to remain protected.
Lake Winnipeg is home to a phenomenon known as the 'set up' or 'wind tide'. This occurs when the wind blows from a certain direction across the surface of the lake, and places loaded waves against the shore. The sheer size of the lake and strength of the wind can make for some really dramatic sights
Several events take place annually on Lake Winnipeg. Amongst the most popular are boat races – the 'Dragon Boat Races', for example, are well-supported by private and corporate teams.
The 'River City Dragon Boat Festival' started in 1996 and has expanded massively. Up to 50 different teams are able to participate at present!
In 2011, a report was commissioned to consider the viability of laying sub marine electric cables in Lake Winnipeg. However, the report on the project found that it wasn't financially viable.
Winnipeg remains the tenth largest freshwater lake of its kind on the planet. Its size really isn't something you can overstate!
The Lake plays host to professional anglers and fishing fans throughout the year. In fact, more than a thousand annual commercial licenses are offered year on year!
Lake Winnipeg is still home to many native communities. One community in the Anishinaabe has been resident here for longer than any of us have been alive.
The lake was once hugely important for transporting people across Manitoba. In fact, it was only once rail travel arrived that it started dropping away as a major route for transport!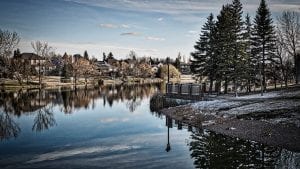 Commercial fishing in the lake, oddly, only really focuses on one or two different species of water-dwellers. While there are plenty of different fish in the lake, up to 90% of the trade surrounds whitefish and walleye.
There are multiple provincial parks and protected areas across the lake. Some you may have heard of include Winnipeg Beach, Hecla-Grindstone, Camp Morton, and Beaver Creek.
The lake and its shoreland are also hugely important for nesting birds. You'll often find the lake is awash with pelicans, as well as gulls, cormorants, and terns. There are even some endangered species here, too!
Europeans discovered the lake in around 1690, when it's thought British trader Henry Kelsey first came across it.
Do you know any fun facts about Lake Winnipeg? Share them in the comments below!
This page was last modified on November 16, 2021. Suggest an edit