14 Lovely Facts about Lancashire
Lancashire has a wild and vibrant history and is extremely popular with locals and visitors for its fantastic combination of coast, countryside and city pursuits. Certainly, there's a lot to do here over a small radius! It's also a county well-known for its rivalry with Yorkshire over the years, with both areas referring to themselves as 'God's Own Country'. Who has rights to the name? Probably best not to enter that debate!
Whether you've been to Lancashire before, or have only ever eaten a little bit of the local hot pot, there are plenty of fascinating things about the region which are well worth clueing up on. Here's 14 interesting facts about Lancashire which might just fascinate you.
Lancashire Day is an important date in the local calendar. It falls on the 27th of November each year, and it actually marks the date that the county first sent MPs to parliament. While this took place all the way back in 1295, it actually wasn't celebrated for the first time until 1996.
Lancashire has its own symbol and emblem which you will likely see a lot on your travels across the county. It's the Red Rose, which is traditionally the emblem of the House of Lancaster. Lancaster, as you might know, is the capital of the county.
Lancashire once had a population of over five million people back in the early 1970s, but it now stands at around 1.4 million. Why is this? It's thanks to the county splitting off some of its towns and villages. The county was split up into various boundaries after 1974, as Liverpool and Manchester split off into their own regions.
As well as the split-offs of Manchester and Liverpool, Lancs has also lost some of its land over in Yorkshire. It's safe to say this was probably a bit of a controversial move!
It's one of the biggest counties ending in 'shire' – as it covers, approximately, around 3,075 square miles. That's a lot of coast and country to explore!
Lancashire is actually one of the youngest counties in the whole of the UK. We know this because its name isn't present in surveys which took place in 1086. It was actually formed in 1182, and as stated, it was split up even further by the 20th Century. It's been through a lot of changes!
It's also thought to provide the exact centre of the British Isles as a whole. Specifically, the most central point in the country is Dunsop Bridge, which you will find down in the Ribble Valley.
There are only 30 different European Charter protected areas in Europe, and Lancashire happens to host one of them. Proudly, it's home to the stunning Forest of Bowland, which sees thousands of visitors each year.
The Forest of Bowland is truly huge – it's actually around the same size as New York City! It's over 800 square km in size and is truly unspoilt. No wonder it is so well-protected, then!
Much of Lancashire is actually rural. This goes some way to explain the relatively small population in comparison with the huge expanse of area. In fact, 80% of Lancashire is said to be rural – meaning that while there are plenty of city pursuits around the area, it's more likely you'll find yourself walking through greenery.
Lancashire is unique in that it's home to both the biggest and smallest towns in the UK. The biggest is Bolton, with a population of more than 260,000, and Bashall Town is the smallest.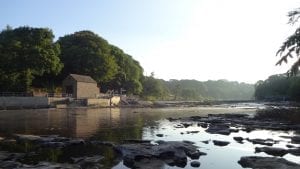 Lancs was also the epicentre of the Industrial Revolution, with the towns Burnley and Blackburn largely being responsible for kick-starting the era in the 18th Century. This was largely thanks to local mills.
Blackpool is one of the most popular seaside towns in the north of England, and it is of course home to its famous Tower. Blackpool Tower, believe it or not, takes approximately seven years to paint in full, and it took full inspiration from the Eiffel Tower over in Paris.
Blackpool's Illuminations, too, are hugely popular. This yearly lights display consumes over a million bulbs!
Do you have any interesting or fun facts about Lancashire that we've missed? Share them here in the comments section below!
This page was last modified on December 23, 2020. Suggest an edit