🇱🇺 16 Lighthearted Facts about Luxembourg
Want to increase your knowledge of the countries of Europe and your chances of being crowned the next pub quiz team winners? Start by learning these fun facts about Luxembourg!
1. It's a green and verdant country.
Luxembourg is a landlocked country with a landscape covered in forests and rolling countryside, located in Western Europe.
2. It's got lots of neighbors.
Its bordering countries are Belgium to the North and West, Germany to the East and France to the South.
3. Luxembourg is really tiny!
It has a total area of 998 square miles (2,586 square kilometers).
4. Finding Luxembourg with a compass?
The coordinates for Luxembourg are 49.6000° N, 6.1167°
5. Very few people live here.
Luxembourg's population was only 632,275 in 2020, making it the second least populated country in the European Union! (Only Malta has a smaller population).
6. The name's the same!
The capital is Luxembourg City, which has an area of 20 square miles (51.5 square kilometers) and a population of 94,034 (2011).
7. You can expect long lifespans out here.
The average life expectancy here is 82.45 years (2019).
8. What to spend, what to spend…?
The currency of Luxembourg is the Euro.
9. The wealth is well distributed.
Luxembourg had the 2nd highest GDP per capita in 2011!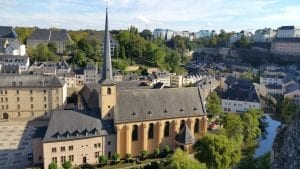 10. The vast majority of people in Luxembourg are readily employed.
Between 1982 and 2013 Luxembourg had the lowest unemployment rate in Europe at an amazing 3.3%!
11. It's the capital of European broadcasting.
This thriving country is home to RTL, or Radio Television Luxembourg, Europe's largest radio, television and production company. It controls 34 television channels and 33 radio stations across 12 countries, including Channel 5 in the UK!
12. In fact, it's the capital for a lot of things.
Many companies choose to have their European headquarters based here, including Amazon, Paypal, Rakuten, and Skype.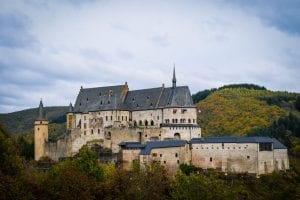 13. And that's not all…
It was the first country to be chosen twice as the European Capital of Culture, in both 1995 and 2007!
14. What do people speak in Luxembourg?
Luxembourg's official languages are Luxembourgish (a regional variation on German), French and German.
15. The country has a varied industry.
Luxembourg produces potatoes, barley, oats, wheat, and livestock products.
Its industry consists of iron and steel, banking, food processing and chemicals…and exports steel products, machinery and equipment, steel products, rubber products, chemicals and glass.
16. Here's how to call.
Want to call family or friends in Luxembourg? You'll need to use the international dialing code +352.
FAQs about Luxembourg
Is it expensive to live in Luxembourg?
Generally speaking, the cost of living in Luxembourg is comparable to that of France on average - it's not the cheapest.
Is it safe to visit Luxembourg?
Luxembourg benefits from very low crime rates as well as fantastic security standards - so yes, it's one of the safest countries in Europe to visit as well as live in.
What's the main religion in Luxembourg?
The main religion people in Luxembourg follow is Roman Catholicism.
Do you know any fun facts about Luxembourg? Share them in the comments below!
This page was last modified on February 7, 2022. Suggest an edit