13 Magical Facts about Mardi Gras
Mardi Gras, a holiday that you may also know as Fat Tuesday, happens every year in New Orleans (typically celebrated in January and February). Although the exact holiday is only one day (the 25th of February), the celebrations begin far earlier (as early as Three Kings Day (6th of January)). Here's another 13 fun facts about this exciting holiday.
The first Mardi Gras parade was held back in 1838 back in New Orleans.
There's more than one parade, as they are held in numerous neighborhoods throughout the city. They are organised by groups called krewes, and each krewe picks a new parade theme every year.
When they introduced floats back in 1857, the Mistick Krewe of Comus was credited with making New Orleans a popular destination for Mardi Gras parades.
During the carnival season, an estimated 1.4 million people visit New Orleans.
As long as you avoid the French Quarter, there are a few family-friendly celebrations uptown if you want to bring your child along to enjoy the carnival.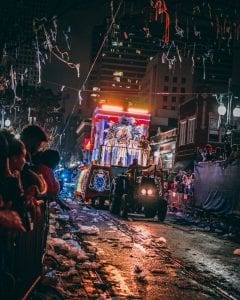 There is a wide history behind the colors as purple, green and gold are official Mardi Gras colors. To honor visiting Alexis Romanoff (the Russian Grand Duke), Rex Krewe selected those colors as they were the family colors of Romanoff.
Each color of the official Mardi Gras has a secret meaning. The purple color represents justice while the gold color symbolises power. In addition, faith is represented by green.
The bead-throwing tradition began in the 1880s. Although the beads used to be made of glass, they are primarily made up of plastic. It is estimated that 25 million lbs of beads are thrown into the streets every year in the city.
Although beads are the most common, the krewes offer various other trinkets to the crowds when they make their way down the street.
A golden coconut which is thrown during the Zulu parade is one of the most coveted trinkets to catch.
The law requires people on floats to wear masks. 23 riders that were unmasked were fined $100 back in 2018. There is a tradition behind people wearing masks. It was worn by people to escape society and class constraints.
It is a very pricey holiday, as some krewes have spent over $200,000 on their floats in the past. Since 1932, Kern Studios have been offering float building services to the paraders.
Although the street parades are extremely famous, each krewe also organises a Mardi Gras ball. These balls are typically considered the social events of the season.
Do you know any fun facts about Mardi Gras?  Share them in the comments below!