35 Massive Facts about Miami
If you've ever explored Florida's Sunshine Coast, there's a chance that you may have visited Miami before! The city is more than just sun and sand, however, as it's also well-known for its parkland and its incredible history. It's one of the most popular tourist resorts in the US, and it's also extremely well known for its strong financial sector, too.
Therefore – it certainly sounds like Miami has plenty going for it. That's why we've set up the following fact file – to run through a few facts and figures that might just surprise you! Just how many parks does Miami have in total? Which infamous crime boss once had a domicile on Palm Island? Which popular everyday product was invented here? And what are the winters like in Miami – worth wrapping up for, or not?
Let's find out – here is a stack of interesting facts about Miami which might just surprise you, whether you have visited the city and the surrounding coast before or not! Take a look through before you plan your next trip.
Miami is a city in the American state of Florida, situated on the Atlantic coast.
The city covers an area of 140 square kilometers, or 54 square miles.
Two main roads which cross the city divide it into four distinct sections. Miami Avenue runs from the north to the south, and Flagler Street runs from east to west.
The districts are therefore logically formed from the four zones of the north east, north west, south east and south west, so it's easy to follow directions in the city!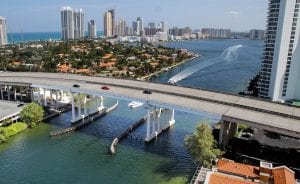 Also bisecting the city is the Miami River. This connected to a north western lake called Okeechobee, accessible via a canal.
The city is surrounded by the Metropolitan area of Miami. Home to 27 municipalities, this is also known as 'Greater Miami'.
Almost 12% of the population of Miami City, is non-Hispanic white people, whilst 70% are recorded as Latino.
Over 250,000 Cuban residents live here and their influence on the culture of the city is evident, particularly when it comes to food, drink, décor, and clothing.
Around 16% of the population in Miami are retirees.
Miami generally receives a nice climate, though its winters can be surprisingly wet, yet mild.
Water sports are a major feature of the area, with water skiing, fishing, sailing, and diving being popular with locals and visitors.
From 1970 to 2010, the population of Greater Miami almost doubled from approximately 1,267,792 to 2,496,435!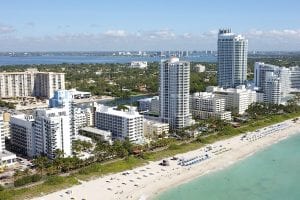 Miami actually started life as a mangrove swamp, at least long before human beings had anything to do with its development!
Greater Miami is known as a 'golfer's paradise', with over 40 courses to choose from!
The famous Sun Life Stadium in Miami is home to baseball games played by the Florida Marlins baseball team, and the NFL's Miami Dolphins.
The Orange Bowl Classic is one of the most popular annual events taking place at the Stadium – it really pulls in the crowds.
The National Basketball Association, or NBA, is based at the American Airlines Arena.
The Florida Panthers' professional hockey team play at Miami's nearby Sunrise, at the Bank Atlantic Centre.
Popular power boat races held at Miami's Biscayne Bay are often watched from the Marine Stadium located at Rickenbacker Causeway.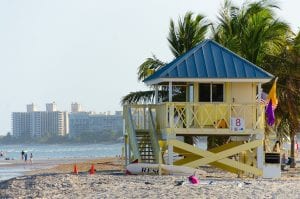 A planetarium can be found at Miami's Museum of Science – in fact, the area is rich with all kinds of museums, covering everything from classic and modern art to the history of guns and artillery!
Nowhere in the US is warmer than Miami during the winter. Better head here for your Christmas break if you're touring America!
The famous 'Orchid Jungle' of Miami, as well as the popular Redland Fruit and Spice Park, are located in the Homestead area.
As well sports activities, a number of the parks in Miami have been very popular for outdoor camping. However, the COVID-19 pandemic has sadly curtailed this side of the city's activities until further notice.
Miami is massive on art deco. It's said to be home to more art deco architecture and buildings than any other city in the world.
One of the most popular art deco sites in the city is the appropriately named Art Deco nightclub, which has a real twinge of the 1920s about it!
Historically, an overwhelming 60% of the economic activity in the area was generated by approximately 10 million visitors!
To look after that huge numbers of tourists and visitors, hotels, motels, restaurants, and other tourist facilities including those for sports, employ approximately 10% of the workforce in Miami!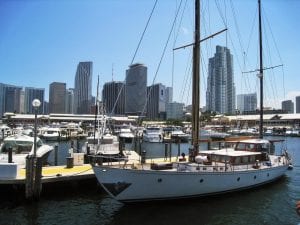 The largest number of international banks concentrated in one area of the USA is found in the Downtown District of Miami!
Miami was also known as the vacation refuge of Al Capone – he bought a property in Palm Island, despite protests.
Miami remains the only city in the US that was founded by a woman – Julia Tuttle, in 1896.
Miami's total number of parks is truly astonishing – there are more than 800 for you to explore!
Believe it or not, Miami is the birthplace of sun tan lotion. In fact, given the incredible sunshine here, that's probably not too hard to imagine.
What's even more unbelievable is the fact that the beaches across Miami often need to be topped up with sand. This is because the shorelines and beach locations are generally man-made!
What's more, shorelines which diminish and aren't topped up are at risk of storm damage – which, naturally, poses a risk to residents and beach visitors alike.
Miami is also known as the world's Cruise Capital. This is thanks to the incredible Port of Miami, which is said to oversee more than five million seafaring visitors per year. This is likely to have taken a hit in 2020, but who says these figures won't persist from after the pandemic?
Do you have any interesting or fun facts about Miami that we've missed? Share them here in the comments section below!
This page was last modified on November 4, 2021. Suggest an edit