34 Magical Facts about Mickey Mouse
'When people laugh at Mickey Mouse, it's because he's so human; and that is the secret of his popularity' – Walt Disney was so right! We all relate to his cheerful and yet mischievous character.
Mickey is easily identified by his round ears, red shorts, white gloves, and yellow shoes. How about his voice? Close your eyes and try to remember his falsetto voice! Are you getting the whole Mickey Mouse picture? To help you in this Disney character recollection here are some interesting facts about Mickey Mouse…
Mickey was created by Walt Disney and Ub Iwerks at the Walt Disney Studios in 1928.
He's an anthropomorphic mouse and one of the world's most recognizable characters.
Created as a replacement for a prior Disney character, Oswald the Lucky Rabbit, Mickey first appeared in the short Plane Crazy, debuting publicly in the short film Steamboat Willie (1928), one of the first sound cartoons.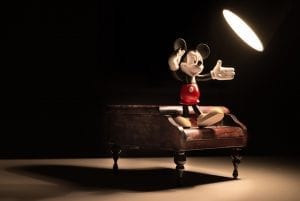 Disney lost the rights to Oswald in a dispute with a business partner at Universal. Oswald inspired the birth of Mickey Mouse. In fact, you won't miss the resemblance!
Walt Disney came up with Mickey Mouse whilst on a train from New York to Hollywood.
Walt Disney voiced Mickey Mouse – From 1928 to 1947, Walt was the man behind the mouse—literally. Even after the voice work was officially turned over to Jimmy MacDonald in 1947, Walt continued to do Mickey's voice for shorts on The Mickey Mouse Club.
Mickey was originally going to be named Mortimer. However, Walt's wife, Lillian, thought that Mickey sounded better.
Mickey has different names around the world. For example, he is known as Musse Pigg in Sweden, Mi Lao Shu in China, and Topolino in Italy.
Thinking that five fingers on Mickey's hand were "too many for a mouse" and would look like "a bunch of bananas," Disney decided to give him four fingers instead.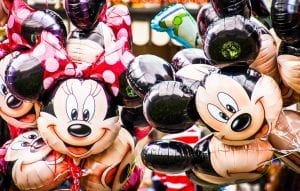 Disney, the studio saved millions of dollars because of the lack of an extra finger in each of Mickey's 45,000 drawings that make up a six-and-a-half-minute film.
Although Mickey laughed and squealed in his first eight films, he never said a word until his ninth film "The Karnival Kid" in 1929 when he exclaimed, "hot dogs!" before he did his hot dog dance.
Mickey wore his signature white gloves for the first time in "The Opry House" in 1929, and he hasn't taken them off since.
The first two Mickey Mouse movies cost $2,500 to make.
Beginning in 1930, Mickey has also been featured extensively as a comic strip character. His self-titled newspaper strip, drawn primarily by Floyd Gottfredson, ran for 45 years.
Mickey has also appeared in comic books such as Disney Italy's Topolino, MM Mickey Mouse Mystery Magazine, and Wizards of Mickey, and in television series such as The Mickey Mouse Club (1955–1996) and others.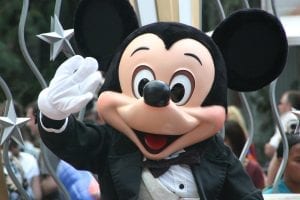 In 1932 a special Academy Award was given to Walt Disney for the creation of Mickey Mouse.
Mickey appeared in color for the first time in The Band Concert, which premiered on February 23, 1935.
Mickey Mouse appeared in over 130 films, including The Band Concert (1935), Brave Little Tailor (1938), and Fantasia (1940).
Mickey has starred in over 121 theatrical releases, including shorts and featurettes.
Mickey appeared primarily in short films, but also occasionally in feature-length films. Ten of Mickey's cartoons were nominated for the Academy Award for Best Animated Short Film, one of which, Lend a Paw, won the award in 1942.
In 1955, Mickey made his debut on television in The Mickey Mouse Club television show.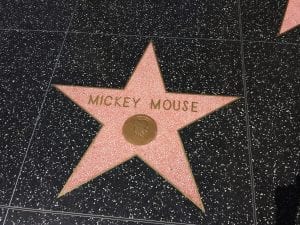 He also appears in other media such as video games as well as merchandising and is a character that you can meet at the Disney parks.
In the 1970s, Mickey released a disco album that went double platinum.
In 1978, Mickey became the first cartoon character to have a star on the Hollywood Walk of Fame.
Mickey Mouse is said to be more recognizable around the globe than Santa Claus.
Mickey generally appears alongside his girlfriend Minnie Mouse, his pet dog Pluto, his friends Donald Duck and Goofy, and his nemesis Pete, among others.
Although Disney said that Mickey Mouse and Minnie Mouse got married, there was never a wedding on screen. Interestingly, Wayne Allwine and Russi Taylor, the longtime voices of Mickey and Minnie, were also married to each other for 18 years.
Though originally characterized as a cheeky antihero, Mickey was rebranded over time as a nice guy, usually seen as an honest and bodacious hero.
In 2009, Disney began to rebrand the character again by putting less emphasis on his friendly, well-meaning persona and reintroducing the more menacing and stubborn sides of his personality, beginning with the video game Epic Mickey.
Mickey has defined Disney's financial success, and his status as an international pop culture icon has enabled his image to generate big business.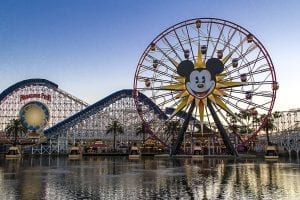 From Mickey Mouse-inspired clothing lines to a box of tissues with his face on it to Mickey Mouse Band-Aids! Needless to say, Disney's attempts to build empires with Mickey's image have proved to be a huge success.
Thanks to the revival of the 1950s Mickey Mouse Club, Britney Spears, and Justin Timberlake both got their big career breaks.
In designing and constructing a Disney theme park or adding the final touches to an attraction, Disney's Imaginers subtly "hide" Mickey Mouse silhouettes in plain sight. It later became a tradition known as Hidden Mickeys.
One of Walt Disney's most famous quotes about his accomplishments is: "I only hope that we never lose sight of one thing—that it was all started by a mouse".
Do you have any interesting or fun facts about Mickey Mouse that we've missed? Share them here in the comments section below!
This page was last modified on December 17, 2020. Suggest an edit