18 Interesting Facts about New Delhi
New Delhi, the capital city of India, is one of the biggest and busiest communities of its kind!  It's also home to some truly fascinating facts, and some incredible history.  Even if you've visited the city before, there may still be a few titbits that you're yet to learn about!  Here are just a few interesting facts about New Delhi to help you get started.
New Delhi and Delhi are actually two separate places! Delhi is a National Capital Territory, in which New Delhi is also the capital.
New Delhi is also technically one of 11 different zones within Delhi itself.
New Delhi wasn't established until the early 20th Century! As such, it may be one of the youngest capital cities in its general region.
However, its full inauguration into cityhood wouldn't take place until 1931.
India's main government seats position here, making it an important location for political decisions.
The main airport in New Delhi, named after Indira Gandhi, is said to oversee more than 40 million passengers each year.
New Delhi's National Museum actually started life as an exhibit of its own in London's Royal Academy. In 1949, a full museum was set up with its artefacts for hosting in India itself.
New Delhi is in fact the biggest city of its kind to the north of India. It's home to over 26 million people in the wider metropolitan area!
As a result, its population density is impressive. Statistics show there are around 16,000 people per square mile living here.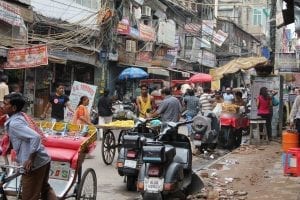 Have you ever seen the Arc De Triomphe in Paris, France? You may not find it surprising to learn that it was a major inspiration for New Delhi's famous India Gate.
The India Gate is a monument in New Delhi with incredible historical importance. It was built to honour fallen Indian soldiers, including those who fought as part of the British Raj.
The city is also very much a sporting community. New Delhi once famously hosted the Commonwealth Games in 2010, for example.
However, these games were hit by scandal, as allegations of corruption have prevented the city from hosting the Asian Games in recent years.
New Delhi is the Indian regional seat for many organisations, such as UNESCO, the World Health Organization and UNICEF.
New Delhi stands out amongst a green backdrop – as the wider Delhi area is at least 20% forestry!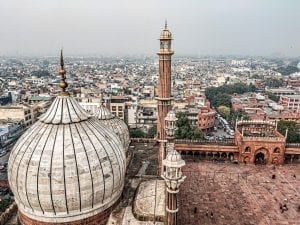 Believe it or not, New Delhi once split into seven different areas or zones!
Much of New Delhi was planned and designed by a British architect. The architect in question, Edwin Lutyens, gives his name to an alternative term for the city – Lutyens Delhi.
New Delhi is home to some fascinating hotspots and historical landmarks, but one of the most intriguing is the International Museum of Toilets! Visitors can take a look at toilets dating back millennia – and it's one of the largest bathroom collections on the planet.
Do you have any interesting facts about New Delhi we've not mentioned?  Share them here in the comments section below!