12 Nice Facts about New Mexico
New Mexico is easily one of the most intriguing states in the US! There's a reason why it's called the Land of Enchantment, but New Mexico's appeal is more than visual. There's tons of great history to dig into here, too. So, let's get to know the Land of Enchantment a little better together! Here are some fun facts about New Mexico you'll want to keep in mind.
1. It's U.S. state number 47.
New Mexico is the 47th state of the United States of America. It became so on January 6th, 1912.
2. New Mexico is also known as the "Land of Enchantment"
With the state's incredible landscapes, deserts, mountains, and canyons, it's a pretty fitting nickname. You really have to see it to believe it!
3. New Mexico is home to Santa Fe, the oldest capital city in all of the United States of America.
It is also the oldest European community on that side of the Mississippi. Santa Fe was inhabited from 1607 and officially founded between 1609 and 1610.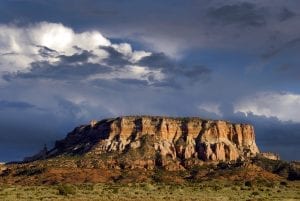 4. It's tribal land.
New Mexico is well-known for playing host to a rich Native American heritage. It currently has 23 Native American tribes residing in the state, including Navajo and Pueblo peoples.
5. Artists and opera fans find common ground in New Mexico.
Santa Fe is famous among creatives for having a vibrant art scene. In particular, it hosts numerous art galleries, museums, and the renowned Santa Fe Opera company, who attracts thousands of cultured visitors annually.
6. It's a lot of space for so few people!
New Mexico is pretty sizeable! In fact, it is the fifth-largest state in the US by land area alone. Yet, it has a relatively low population density – as of 2021, there were 2.116 million people living in the state, period.
7. It's gypsum city.
White Sands National Park, located in New Mexico, is the world's largest gypsum dune field! It spans 275 square miles or 712 square km. Gypsum is a mineral resource commonly found in architectural and sculptural mediums, though it's also used as fertilizer.
8. It's home to an extensive cave system!
If sand and gypsum don't really show up on your radar, then maybe you'd prefer a different natural wonder. Carlsbad Caverns National Park is home to one of the most extensive cave systems in the world, with over 119 different nooks for you to explore at your leisure.
9. Unfortunately, the infamous Los Alamos is situated here.
New Mexico is famously home to the Los Alamos National Laboratory. It is here where the Manhattan Project, during World War II, started to take shape. It's infamous for being the "birthplace" of the atomic bomb.
10. New Mexico is also known for its incredible wildlife.
It has a very diverse wildlife population, including black bears, cougars, elk, and pronghorn antelope, among many others.
11. Hollywood flocks to New Mexico regularly.
With such interesting landscapes, it should come as no surprise that New Mexico has been used in various films and TV shows over the years! These include "No Country for Old Men," "Breaking Bad," and "Indiana Jones and the Last Crusade." In fact, Breaking Bad and High School Musical take place in the same town in New Mexico, Albuquerque.
12. It's home to the world's largest hot-air balloon festival!
Speaking of Albuquerque, the Albuquerque International Balloon Fiesta is held annually for locals to look up and marvel at. It is the world's largest hot-air balloon festival – so if you've never traveled by balloon before, make a beeline for New Mexico!
FAQs about New Mexico
Why is New Mexico so famous?
New Mexico is well-known for its stunning landscapes, rich history, incredible festivals and more! And around the world, it is known for being the main location in multiple television series and films.
Why are New Mexico and Mexico different?
Although they share a name, Mexico and New Mexico are indeed different. The main difference between the two is that Mexico is a country in itself, whereas New Mexico is a state belonging to the US. However, landscape-wise, they are quite similar.
Is New Mexico a good place to live?
New Mexico is a very affordable place to live. And, as long as you enjoy outdoor activities and varying landscapes, there's lots likely to appeal to you here.
Further reading:
https://www.newmexico.org/
https://www.nm.gov/
Do you know any fun facts about New Mexico? Share them in the comments below!
This page was last modified on September 3, 2023. Suggest an edit