15 Captivating Facts about North Carolina
North Carolina is a pleasant and popular US state, found towards the South East of the country, and reportedly home to more than 10 million people at last count.
It's known by many as the 'Tar Heel State', and it has a fair amount of baseball history behind it.  But what else should you know about North Carolina that's worth repeating at dinner parties?  Let's have a close look at some interesting facts and figures.
North Carolina is home to the first successful powered manned flight. Brothers Wilbur and Orville Wright flew their plane successfully near Kitty Hawk, where you can still visit to view the brothers' memorial.
North Carolina is home to miniature and crazy golf! The world's first family-friendly course was set up in Fayetteville.
No one's really sure why the state earned its 'Tar Heel' nickname. The general theory is that the state has a strong legacy in tar production.  However, some may also refer to North Carolina as the Land of The Sky.
People hailing from North Carolina may refer to themselves as Tarheels as a result.
Asheville is home to more breweries per head than any other city or region in the USA. It's something of a craft beer haven, and a great pilgrimage for anyone who loves to crack open a cold one or two.
Babe Ruth famously scored his first-ever home run here in March 1914, specifically, again, in Fayetteville.
North Carolina is just as well-known for its sweet potatoes as it is its tar! Plenty of people over the years have backed plans to make it the official state vegetable.
North Carolina is the birthplace of many famous people. Soul legend Nina Simone, comedian and actor Zach Galifianakis, singer Tori Amos, TV evangelist Billy Graham and boxer Sugar Ray Leonard all hail or hailed from the state.
The state is also the birthplace of Pepsi, one of the most-consumed soft drinks on the planet. It was invented by local man Caleb Bradham, who branded his syrup-based drink 'Pepsi-Cola' towards the end of the 19th  It technically has its birthplace in New Bern.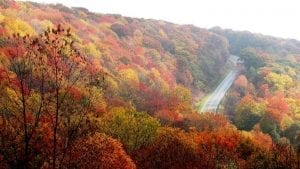 The state is a leading force in furniture production, with some even referring to the area as the 'furniture capital of the world'.
However, North Carolina is also a huge producer of brick and tobacco.
The state is also hugely popular for its incredible bodies of water. There are around 1,500 super-size lakes distancing 10 acres or more across the region.
Believe it or not, North Carolina regularly played host to Blackbeard, the nefarious pirate! He supposedly hid out on the coastline here while taking hostages and stealing treasure.  However, he was eventually brought to his knees in the early 18th Century.
North Carolina is also home to the Krispy Kreme brand, famous to producing some of the US' best-loved donuts.
Do you know any fascinating, fun or interesting facts about North Carolina that we've missed?  Share them here in the comments section below!
This page was last modified on November 26, 2020. Suggest an edit