16 Divine Facts about North Dakota
North Dakota is a US state found towards the Midwest of the country, and it is one of the most historically important, at least with regard to the ancient origins of the US!  But how much do any of us actually know this state and the settlement?
Let's take a closer look with these 16 fun facts about North Dakota
Despite its history, North Dakota in fact remains the least-visited state in the USA.
The word Dakota actually means 'ally' in Sioux.
The official state drink of North Dakota is milk.
North Dakota is home to the largest sheep research facility in the US! Hettinger's research station holds the honor of this accolade and is part of the North Dakota State University.
Despite Kansas holding the nickname of the Sunflower State, you will actually find more sunflowers growing in North Dakota than you will in any other state across the US.
North Dakota is famous for its farming. In fact, farmers may be able to produce enough crops to make more than 12 billion loaves of bread each year!
There is barely any forest in North Dakota. In fact, only 1% of the state could be considered forestry, which makes it the most devoid of such greenery in the US.
Famous explorers Lewis and Clark are thought to have spent more time here than in any other state in the US while on their famous journey. It's thought that they first came across the grizzly bear here, too.
North Dakota is famous for backing onto the Great Plains, a huge expanse of prairies, national parks and small communities. There are many Native American tribes still living in the region, though modern cities have also built up over time.
However, it's safe to say that dinosaurs once claimed this land as their own. In fact, the state hosts its own Dinosaur Museum, where visitors can see a full triceratops and explore ancient fossil collections.
North Dakota is in the mid-range states in terms of size, at around 70,665 square miles.
Some claim that North Dakota is, in fact, the precise centre of the US. The town of Rugby is famous for claiming that they are the geographical midpoint – however, it's thought that this honor belongs to Balta, a few miles South West.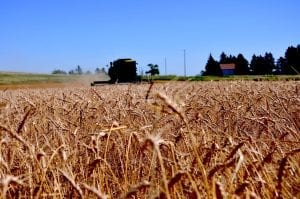 North Dakota is also home to many different wildlife refuges. In fact, with around 63 set up, it is thought to have more than any other state in the US.
US President Theodore 'Teddy' Roosevelt once said: "I never would have been President if it had not been for my experiences in North Dakota." The state has a national park named after the President.
Anyone visiting the South West highway may come across the curious Enchanted Highway collection, where you will find various scrap metal sculptures and creations scattered across a 32-mile run.
Do you know of any fun facts about North Dakota? Share them in the comments below!
This page was last modified on November 25, 2021. Suggest an edit