12 Outstanding Facts about Oklahoma
So, you've heard of the musical, but how much have you heard about the actual state of Oklahoma? Let's find out more about what makes this state great with some fascinating and fun facts about Oklahoma!
1. Where is Oklahoma?
Oklahoma is a state situated in the South Central region of the US. It is surrounded by Texas, Kansas, Missouri, Arkansas, New Mexico, and Colorado.
2. Capital facts!
When learning the US capitals, you'll find that Oklahoma's is pretty easy to remember! That is because the capital of Oklahoma is Oklahoma City! Who needs a fancy new name?
3. Millions of people call Oklahoma their Oklahome!
As of 2021, there were about 3.987 million people living in Oklahoma. And as you can imagine, people from Oklahoma are known as Oklahomans. Pretty easy to remember!
4. How big is Oklahoma?
Oklahoma covers an area of about 181037 km2. This makes it the 20th biggest state of the United States of America!
5. What are some of Oklahoma's most famous symbols?
The state flower is the Oklahoma rose, and the state tree is the redbud. The state bird is the scissor-tailed flycatcher, which is interestingly also known as the Texas bird-of-paradise! Pick a state, bird!
6. Oklahoma stars!
There are plenty of stars that were born and raised in Oklahoma! Some of the most famous Oklahomans include Brad Pitt, Lee Pace, Reba McIntire, Ron Howard, James Marsden, Bill Hader, Chuck Norris, and more!
7. More than just a name!
The name Oklahoma is actually from the Choctaw language. The word "Okla" means people, and "humma" means red. The Choctaw Nation Chief, Allen Wright, is said to have suggested the name back in 1866 during the treaty negotiations with the government and their use of Indian Territory.
8. There's no place like home!
Oklahoma is known for many things. One of the things it is most famous for is for being the tornado capital of the United States! This means that more tornados and major storms make their way through this state than they do in any other across the entire US!
9. A home to all!
Oklahoma is also home to more Native American people than any other state across the US! Native Americans make up more than 10% of the Oklahoman population.
10. Labor omnia vincit.
The state motto of Oklahoma is "Labor Omni Vincit." For those of us who didn't learn a dead language, this means "Labor conquers all! Now, we know they're hard workers in Oklahoma, but – wow!
11. Let's hear that guitar weep!
Oklahoma played a very important role in music history. It was, in fact, the birthplace of the electric guitar! This incredible instrument was invented back in the 1930s by George Beauchamp and Adolph Rickenbacker!
12. Anything from the trolley, dears?
We also have to thank Oklahoma for making our weekly shopping far easier! It was here that the shopping trolley was invented back in 1937 by supermarket owner Sylvan Goldman.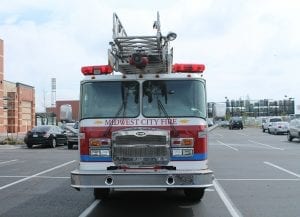 FAQs about Oklahoma
What is Oklahoma most famous for?
When many people think of Oklahoma, they tend to think of it as a cowboy state. However, it also has a rich Native American history, well-preserved natural lands, and multiple industries that keep the state running! You'll probably also recognize the name thanks to the world-famous musical.
What is Oklahoma known as?
Oklahoma is sometimes known as the Sooner State! This is due to the fact that during the 19th Century, settlers were permitted to race into the state and claim certain lands for themselves. However, some came to claim land before it was even open to them, and they were quickly nicknamed 'Sooners.' Hence, the state became known as the Sooner State!
Further reading
https://factcity.com/tag/usa
https://www.travelok.com/
https://www.visittheusa.co.uk/state/oklahoma
Do you know any fun facts about Oklahoma? Share them in the comments below!
This page was last modified on September 1, 2023. Suggest an edit