12 Facts about Pablo Picasso and His Art
Even those who don't dabble in the arts know the name Pablo Picasso. After all, he is the founder of the cubism movement and one of the most famous painters in the world.
Explore the colorful world of Pablo Picasso in these 12 facts about him.
The early life of Pablo Picasso
1. Pablo Picasso's real name is much longer
The world may know him by his two-word name, but he has one of the longest names in the art world (with 23 words). He was born Pablo Diego José Francisco de Paula Juan Nepomuceno María de los Remedios Cipriano de la Santísima Trinidad Ruiz y Picasso on 25 October 1881 in Malago, Spain.
Another little-known fact about Pablo Picasso's art legacy is that Picasso is not his real last name, but Ruiz. The Ruiz family was known in their town as glovemakers, and Picasso wanted to make a name as an artist. So he changed his last name to his mother's maiden name, Picasso.
2. His father was an artist, too
Pablo Picasso's father, Jose Ruiz, was also a painter who specialised in naturalistic illustrations of
animals
. Pablo was raised in the arts — apart from being a painter, his father was a professor of art at the School of Crafts and a curator of a local
museum
. Ruiz was a traditional, academic artist who believed in discipline and proper art training. And so Pablo became a master of form and
color
.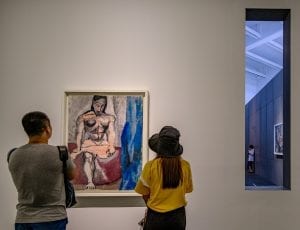 3. His first word was "pencil"
Picasso was seemingly born to be an artist. In fact, it's
interesting
to note that Pablo Picasso's first word was "piz", short for
lapiz,
the Spanish word for "pencil".
4. Picasso was a prodigy
When his family moved to
Barcelona
, Picasso was considered too young for advanced art classes. His father, aware of his talents, persuaded the School of Fine Arts' officials to allow Pablo to take an entrance exam. The process took students a month, but Picasso completed it in a week and impressed the jury. Picasso was then admitted at age 13 and studied alongside students who were years older than him.
5. Picasso often spent time alone
In school, Picasso often rebelled against authorities and found himself isolated. It wasn't an issue for him, though, because, like Van Gogh and other artists, he loved his time alone. "I liked it there [in solitude] because I took along a sketch pad and drew incessantly", he said.
Facts about Picasso's paintings and artistic work
6. He held his first exhibit at age 13
At 13, Picasso produced his first
oil
paintings, which he exhibited and sold on a small scale. He'd go to an umbrella shop and display his paintings behind the wares.
7. He sculpted and worked with ceramics, too
In his 78-year career, Picasso produced not only paintings but also sculptures. In fact, his art portfolio included 300 sculptures and ceramics. Instead of following traditional modelling sculpture, he focused on assemblage and construction. His first comprehensive sculpture exhibition was mounted in
1966
, when he was 85 years old.
8. He also wrote plays and poems
When he's not painting, Picasso writes. As a matter of fact, he penned over 300 poems and two surrealist plays between
1935
and
1959
. Most of his poems were untitled, bearing only the date and location where it was written. The story goes that Picasso predicted he'd be more famous for his poetry than his paintings.
9. He has a fashion staple
On most days, you'd find the artist clad in a Breton-striped shirt, which was the official uniform of French seamen in Brittany. Coco Chanel designed the particular Breton-striped shirt he wore.
Pablo Picasso's legacy
10. Picasso was suspected of stealing the Mona Lisa
In 1911, authorities brought in Picasso, then a young artist, for stealing da Vinci's
Mona Lisa
from the Louvre Museum, alongside a young poet named Guillaume Apollinaire. The French authorities suspected them because prior to the incident, Apollinaire's assistant stole two African sculptures from the Louvre and gifted them to Picasso.
Picasso allegedly broke down and cried during the court hearing, but the judge let him and Apollinaire free. The Mona Lisa was found years later in an Italian home.
11. Picasso's paintings are some of the most expensive
Picasso paintings are sought after by museums and private collectors. His paintings are worth anywhere from several million to hundreds of millions of dollars. His painting Les Femmes d'Alger was sold for $179.4 million in 2015, becoming the most expensive painting ever sold at an auction. It held the title until it was surpassed by da Vinci's Salvator Mundi, which fetched $450.3 million in 2017.
12. Picasso paintings are favorite targets of theft
=It's believed that more Picasso paintings are stolen than any other artist's. While no one has the exact number, art enthusiasts assume that over 1,000 Picasso works are missing.
---
Did we miss any important Pablo Picasso facts? Share them in the comments below.
If you want to delve deeper into the world of art, check out these facts about another master, Salvador Dali.
This page was last modified on July 17, 2021. Suggest an edit