10 Positive Facts about Prince Harry
Prince Harry – the former Duke of Sussex of the British royal family – is a figure most people will know by now! The younger son of the late, and ever-popular, Princess Diana, he's served in the British military seeing two tours of duty and is an active philanthropist. Here are some fun facts about Prince Harry you may not be aware of.
1. A Henry by any other name!
Prince Harry is not actually called Harry! His birth name is actually Henry Charles Albert David of Wales, and his official surname is Mountbatten-Windsor. However, he is commonly known as Harry – and according to certain rumors, he's known as Spike Wells to his friends and Scotland Yard protection officers!
2. He's served his country.
Prince Harry, or Captain Harry Wales as he was known, served in the British Army for over ten years, from 2005 to 2015 – and was the first member of the royal family to be in combat during this time since the Falklands War in 1982.
After his departure from the army, he has maintained a connection to the armed forces through his involvement in the Invictus Games, and various other official engagements.
3. Following in his mother's footsteps.
Harry is known for his considerable charity work. He has endeavored to raise awareness for causes such as mental health and has founded Sentebale: The Princes' Fund for Lesotho – a charity which helps children who have been orphaned by HIV and AIDs.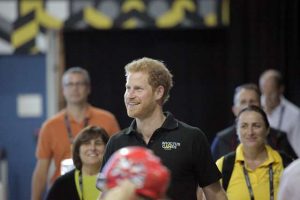 4. Harry had his own coat of arms!
In 2002, when Prince Harry turned 18, Queen Elizabeth II granted him his own Coat of Arms. Harry actually participated in the design of the crest, which includes elements from his mother's family arms.
5. Pole to pole!
In 2011, Harry joined a trip to the North Pole with the charity Walking With The Wounded. Then, in December 2013, he took part in the charity's 200-mile expedition to the South Pole, along with 12 injured servicemen and women.
6. He's been open about mental health.
Despite previously being known as the royal family's "wild child," Harry has recently shed his carefree public persona and has opened up about his struggles with mental health. In the show "The Me You Can't See" which premiered in May 2021, Prince Harry discussed his dream to use his fame and platform to help those struggling with mental health issues feel less isolated.
7. Harry and Meghan actually got married in private.
During their March 2021 interview with Oprah Winfrey, Harry's wife Meghan Markle made public the fact that she and Harry were actually married several days prior to their public wedding ceremony! They had a private ceremony before their official wedding at Windsor Castle. The Archbishop of Canterbury, Justin Welby, conducted the private ceremony in their backyard.
8. He's a big backer of the troops.
Supporting wounded veterans is a cause that Prince Harry is passionate about, which led him to create the Invictus Games in 2014. The Invictus Games are a spectacular annual sporting event modeled after the Paralympic Games specifically for injured servicemen and women.
9. Not so social!
Harry has gone as far as publicly announcing he "hates" Twitter! He has expressed that he would like to use platforms such as Twitter to advocate for the causes he cares about, but feels that the risks of having one's privacy invaded outweigh the benefits. As of the time of publication, neither Harry nor his wife are present on social media.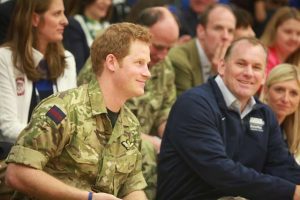 10. He's not a litterbug!
Harry has apparently picked up a couple of great planet-saving habits from his father King Charles. The eco-conscious prince has said that he was "made fun of" at school for picking up litter when he saw it. He also is mindful of energy consumption, allegedly routinely turning lights off around his home.
FAQs about Prince Harry
Who is Prince Harry's wife?
In May 2018, Prince Harry married American actress Meghan Markle. The couple retired from active royal duties in January 2020, and the couple now live with their two children in Montecito, California.
How does Prince Harry earn a living?
Much of Harry's income comes from a media company called Archewell Productions which Harry owns with his wife Meghan Markle.
Further reading:
https://factcity.com/tag/the-royal-family
https://sussexroyal.com/
https://people.com/tag/prince-harry/
Do you know any fun facts about Prince Harry? Share them in the comments below!
This page was last modified on July 28, 2023. Suggest an edit