12 Peculiar Facts about Pyongyang
Like to know a little more about the capital cities of the world? Take a look at these fun facts about Pyongyang, one of the most reclusive and mysterious states on the planet – let's dive in…
1. Where is Pyongyang, anyway?
Pyongyang is the capital city of North Korea.
2. How do I pronounce it?
Wondering how to say the name of this wonderful city? It's pronounced Pee-awng-yung.
3. It's a fairly large city.
The total land area of Pyongyang is 400 square miles (1,100 square kilometers)… that's slightly smaller than Greater Manchester, a district of northern England.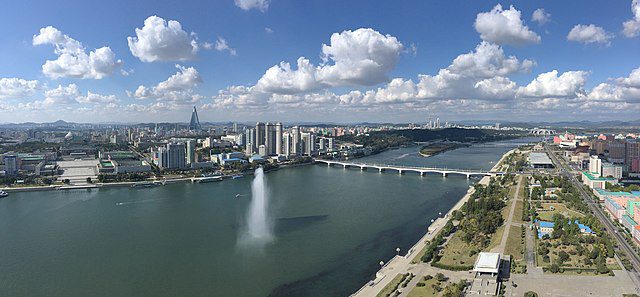 4. It's also relatively dense.
Pyongyang's population was 2,863,000 in 2015… that's roughly the same as Greater Manchester, and gives it a population density of around 7,158 residents per square mile.
5. Can you see the sea?
Pyongyang is located 125 ft above sea level.
6. What's the weather like?
Koreans living in Pyongyang enjoy a humid continental climate with a high temperature range (+98.9°F to -22.36°C!) and an average annual temperature of 51.3°F.
7. If you can charter a plane…
Looking to fly yourself to Pyongyang? You'll need the coordinates of 39.0392° N, 125.7625° E. That, of course, is if you're cleared to land!
8. Look to the sky!
Make sure you visit the Ryugyong Hotel if you're in Pyongyang; this impressive piece of engineering and architecture is 330m tall, houses 105 floors, and dominates the local skyline.
9. A great place for sports fans.
Pyongyang boasts the world's largest stadium with a seating capacity of 150,000!
10. What do people speak in the city?
The official language of Pyongyang is Korean.
11. Time to change up your cash?
North Korean Won is the official currency here – so make sure to visit a currency exchange.
12. Tourists do visit here… if they can!
North Korea welcomed around 3,500 tourists into the country in 2013, many of whom visited Pyongyang for its beautiful monuments, slick hotels and vibrant culture. However, North Korea is famously restrictive when it comes to tourism and citizen / tourist rights – with some countries advising against travel to Pyongyang altogether!
FAQs about Pyongyang
Can you visit Pyongyang?
There are some restrictions on visiting North Korea at all, but theoretically, it's possible to plan a vacation here. However, the state restricts visitors from South Korea, and prohibits journalist visits.
What industries does Pyongyang thrive in?
Can you travel through Pyongyang on your own?
Right now, North Korean law dictates that you must travel everywhere beyond your hotel with a guide - if not, you are punished under national law.
Do you know any fun facts about Pyongyang? Share them in the comments below!
Sources:
This page was last modified on July 29, 2023. Suggest an edit