16 Fun Facts about Quebec
Quebec is one of Canada's most fascinating historic cities, offering heritage seeping through every building and clear to see from street to street. In fact, many European visitors may feel quite at home as they walk around the city!
It's a beautiful place – but there's likely plenty that you might not know its history!  Here's a stack of fun facts about Quebec to clue you in…
1. Where does 'Quebec' come from?
The name 'Quebec' actually derives from Algonquin. The original word, 'kebec', is said to roughly translate as 'where the river narrows'.
2. It's a bit of a walled oddity.
There are no other walled cities north of Mexico outside of Quebec! The walls run all around the city, effectively enclosing it. Believe it or not, the walls here extend to around 4.6km in length. These enclose the Old Town, too, which is a UNESCO World Heritage site.
3. It's very continental!
The European stylings of Quebec aren't accidental. The look and feel of the city largely borrows from the original settlers, who came to Quebec before many other regions in North America. The city is more than 400 years old.
4.    There's a historic hotel here.
The most photographed hotel in history can be found in Quebec. Specifically, it's the Fairmont Le Chateau Frontenac. It's a true spectacle – and little wonder why people keep taking photos of it!
5.    Quebec is close to natural beauty.
Quebec is close to some of the most stunning natural waterscapes in Canada. In fact, the local Montmorency Falls are actually taller than the cascades you'll find out at Niagara! The falls here measure around 83 meters in height, making them a staggering natural feature.
6.    Ever tried poutine?
One of the most popular traditional dishes eaten in Quebec is poutine. Poutine is a popular comfort food option which consists of fries, cheese, and gravy. There's a similar phenomenon in the north of England, but it goes by a less eloquent name – cheesy chips!
7.    French is widely spoken in Quebec.
Most of the people in Quebec speak French as their first language. Only 5% of people settled here don't! What's more, it's thought that around 80% of people living in Quebec refer to French as their main language of choice.
8.    For Canada, Quebec summers are pretty warm.
Despite the area generally being known for its wintry days, Quebec summers tend to be pretty enjoyable, at least by British standards. The average temperature during summer in the city clocks in at around 25 degrees centigrade.
9.    But in winter, those Canadian temperatures kick in!
However, it's winter when you're really going to need to keep an eye on those temperatures. It's thought the average January temperature rolls in at around -7.8 C! That's pretty chilly even by the coldest of British standards!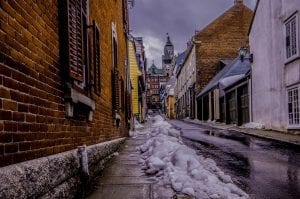 10. Much of Quebec is Irish.
Quebec is also home to a strong Irish population. You will find plenty of Irish businesses here, such as authentic pubs owned and operated by families over on the Emerald Isle. It's thought that around 40% of people in Quebec are descended from Irish heritage.
11. Snow falls regularly in Quebec.
Quebec is, as you might expect, well known for its snow. In fact, on around 149 days each year, you'll see the snow reach up to an inch high.
12. Montreal is not the capital of Quebec.
It's a common misconception that Montreal is the capital of Quebec as a province. As you might actually expect, the capital is Quebec City. In fact, be careful not to mix Quebec as a province and Quebec as a city mixed up, as they are two different things!
13. Quelle surprise!
Quebec remains the oldest community in North America that speaks French.
14. Quebec is a winter sports hotspot.
Many people choose to visit Quebec for skiing fun and other winter sports. That's because the famous Le Massif slopes are close by, as is Mont St Anne. Le Massif is massive by name and massive by nature, with a 770m altitude for you to ski and snowboard down at your leisure. Better take a deep breath!
15. Quebec has its own Notre Dame!
Paris might have the Notre-Dame Cathedral, but there's a Quebec equivalent, too. The capital city is home to the Cathedral-Basilica of Notre-Dame de Quebec. This is an important part of the Old Town UNESCO Site. It's also one of the oldest Roman Catholic properties north of Florida.
16. Quebec also has a 'Shepherd's Pie' variant.
Believe it or not, Quebec City has its own spin on shepherd's pie. It's called pate chinois, and it's a very similar recipe – however, for some reason, the name translates into 'Chinese pie'! Quite where they got this combination of words from, no one is quite sure!
FAQs about Quebec
Is maple syrup made in Quebec?
Yes! Quebec is the largest producer of this sweet treat in the world!
Which are the most popular cars sold and driven in Quebec?
Toyotas, GMs and Fords tend to be the most popular rides in Quebec right now.
Why did the French abandon Quebec?
The French eventually abandoned Canada as 'New France' due to the cost of keeping it as a colony!
Do you know any fun facts about Quebec? Share them in the comments below!
Are you fascinated with Canada? Check out these interesting facts about British Colombia…
This page was last modified on August 2, 2023. Suggest an edit