14 Quality Facts about Queensland
From the Great Barrier Reef to Mount Battle Free, Queensland is the home of some of the most spectacular vacation spots in the entire world! The state has a rich history – and it's just as famous for its wealthy export system, and being home to some friendly, outdoorsy people! And, when you learn more about the incredible landscapes, you'll understand why. With that in mind, here are fun facts about Queensland worth remembering if you ever feel like taking a trip down under.
1. One big state!
Queensland is the second biggest state in all of Australia! It follows Western Australia, which covers over 2.5 million square kilometers.
2. How big is Queensland?
Queensland covers an area of over 1,800,000 km2! That is around seven times the size of Great Britain! What's more, most of the state is natural and preserved landscapes.
3. A land of many names.
Queensland is also known as being the Sunshine State. This is because the weather there is usually very sunny! They have very hot summers and reasonably warm winters.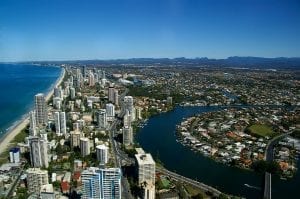 4. Every kind of landscape!
Queensland is known for its incredible landscapes – from beaches and rainforests to bushland and creeks, you'll be hard pressed to find somewhere that isn't worth photographing.
5. Nature is highly protected down here.
Natural life is very important to Queenslanders. In fact, there are over 200 national parks across the entire state! People from all over the world come to witness the state in all of its natural beauty, with the Great Barrier Reef being one of the most popular spots.
6. It's a highly fertile land.
Thanks to its varied, rich terrain, Queensland is known for growing and exporting many different natural resources and products! Some of the best local products include wheat, cotton, sugarcane, wool, citrus fruits, peanuts, bananas and pineapples.
7. Mine!
Queensland also has a rich mining industry. The state commonly exports coal and various metals excavated from its extensive mine network.
8. It's a very famous colony!
The British famously colonized Australia. Queensland specifically became a British colony on the 6th of June, 1859, when Queen Victoria signed the Letters Patent.
9. The Gold Rush down under!
In 1867, James Nash found gold on the Mary River. This led to the infamous Gold Rush, which influenced the state's economy at the time.
10. Older than it looks…
Queensland has a very rich history that stretches back millennia! In fact, there are archaeological sites that date back over 30,000 years!
11. Truly ancient stories.
Some of the state's tribes, specifically the Aboriginal people and Torres Strait Islander people, each have their own Dreaming stories. These stories recount the history of the area.
12. Life by the sea…
Queensland is home to over five million people, and most of them live on the coast! Less than half of the total population lives in the hub of the state, Brisbane. The coastline goes on for about 7400 km!
13. Natural Heritage is a huge deal down here.
The Scenic Rim National Parks, Riversleigh Fossil Fields, Fraser Island, Wet Tropics, and the famous Great Barrier Reef are all World Natural Heritage Sites. In fact, these are five of the 11 sites across Australia!
14. What's Queensland's state motto?
"Bold but faithful" is the state motto in Queensland. It perfectly represents the land and its people!
FAQs about Queensland
What is Queensland known for?
Queensland is particularly well known for its natural beauty, thanks to its stunning beaches, islands, mountains, and more! People jet in from all over the world just to take a safari around the varied terrain.
Where is Queensland?
Queensland is found on the east coast of Australia. It is surrounded by the Northern Territory, New South Wales, and South Australia.
How many tourists visit Queensland every year?
Queensland is a massive tourist hub! Over 22 million people, both from Australia and foreign countries, come to the state every year!
Do you know any interesting facts about Queensland? Share them in the comments below!
Further reading:
https://factcity.com/tag/australia/
https://www.queensland.com/us/en/home
This page was last modified on August 2, 2023. Suggest an edit