16 Refreshing Facts about Riga
Like to know a little more about the capital cities of the world? Take a look at these 17 interesting facts about Riga!
Geographical stats…
Riga is the capital city of Latvia.
Wondering how to say the name of this wonderful city? It's pronounced Ree-gah.
The total land area of Riga is 117 square miles (304 square kilometres)…
…that's roughly 3 times the size of Bristol.
Riga's population was 632,614 in 2019…
…that's just over 1.5 times the population of Bristol…
…and gives it a population density of around 6000 residents per square mile.
Riga is located 29 ft above sea level.
Residents of Riga are known as Latvians.
Latvians living in Riga enjoy a humid continental climate with warm and humid summers, cold and snowy winters and an average annual temperature of just 6.1°C.
Looking to fly yourself to Riga? You'll need the coordinates of 56.9496° N, 24.1052° E.
Make sure you visit Vērmanes Garden if you're in Riga; it's a beautiful park stretching to 12 acres within the city, making it a popular place for residents to relax, unwind and recharge. Boasting hundreds of rare and stunning plants, trees and bushes, plus many fascinating statues and sculptures, Vērmanes Garden is not to be missed!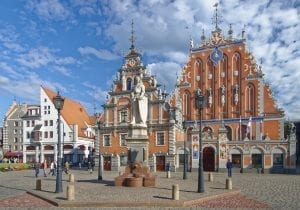 Social intricacies
The official language of Riga is Latvian.
Did you know that spy cameras were actually manufactured in Riga? German-based company Minox had their revolutionary subminiature cameras built in Riga before being used by real life spies and civilians alike!
Euro is the official currency here.
Latvia welcomed 1,843,000 tourists into the country in 2014, many of whom visited Riga for its beautiful architecture and vibrant nightlife.
Do you know any interesting or fun facts about Riga that we've missed? Share them here in the comments section below!