27 Speedy Facts about Route 66
Whether or not you're already an avid motorist, it's hard to avoid the majesty of Route 66! Possibly one of the most famous roads and routes in the west – if not the world – it's seen as an incredible road trip to end them all. This truly enormous stretch of road covers thousands of miles, and only the strong willed are able to take it all on in a few days! It's also a hugely popular filming location and has immense historical importance. It's likely you've read or seen people talk about it a few times!
But these titbits aside – how much do you really know about Route 66? Where does the 'Get Your Kicks' phrase come from? Just how long is Route 66, anyway? Keep reading, as we've got a full fact file for you to clue yourself up with before you strap on those seatbelts!
Route 66 is affectionately known as the 'Mother Road', after author John Steinbeck coined the nickname. He referenced the road seemingly 'beckoning' like a mother, in this case to migrants seeking a land of promise.
Route 66 is an iconic highway. It features in films, races, and novels, and is a huge tourist destination. It's even home to many people along the route, too. However, you'll generally find that the road along the way is altogether pretty sparse.
In 1946, songwriter Bobby Troup penned the words 'get your kicks on Route 66'. The slogan is still recognizable today, and it's largely seen on popular gifts and paraphernalia you can buy along the way.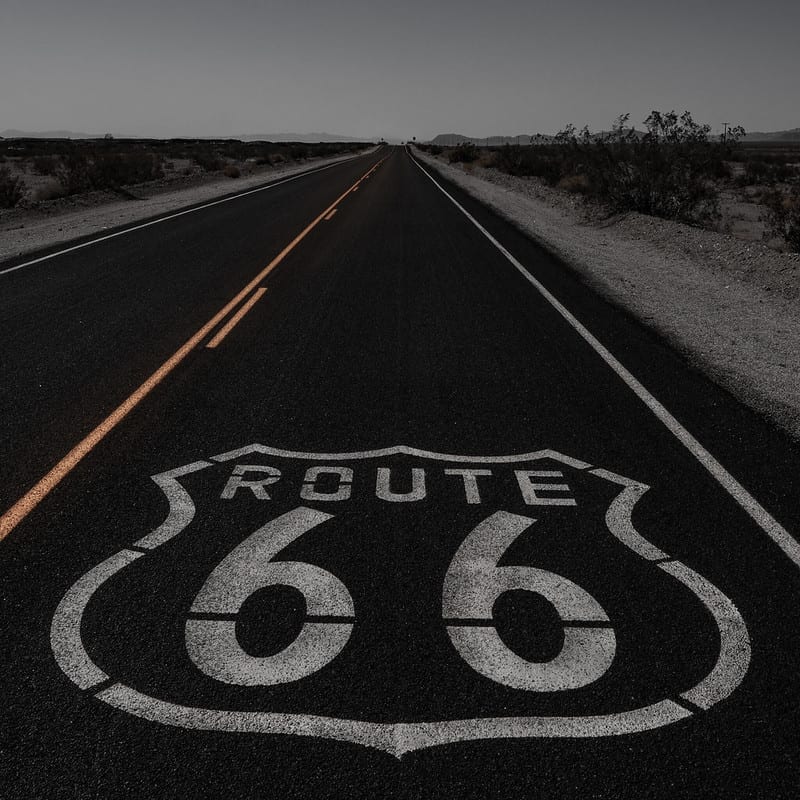 Many car and motorbike badge collectors flock to Route 66 to add a unique lapel to their collections. It's pretty easy to find Route 66 badges along the drive!
The annual 'Mother Road Rally', is held here every June. People flock from miles around – even from overseas – to experience and celebrate Route 66 for themselves.
Of course, it's also the major filming location for 'The Grapes of Wrath', directed by John Ford. Naturally, this is based on the book by John Steinbeck.
The original stretch of Route 66, which still exists, is 2,448 miles long. It's safe to say it's going to take you a few days to drive the whole way.
The original Route 66 started in Chicago, Illinois and ran all the way to Los Angeles in California. Not your average Sunday drive, then!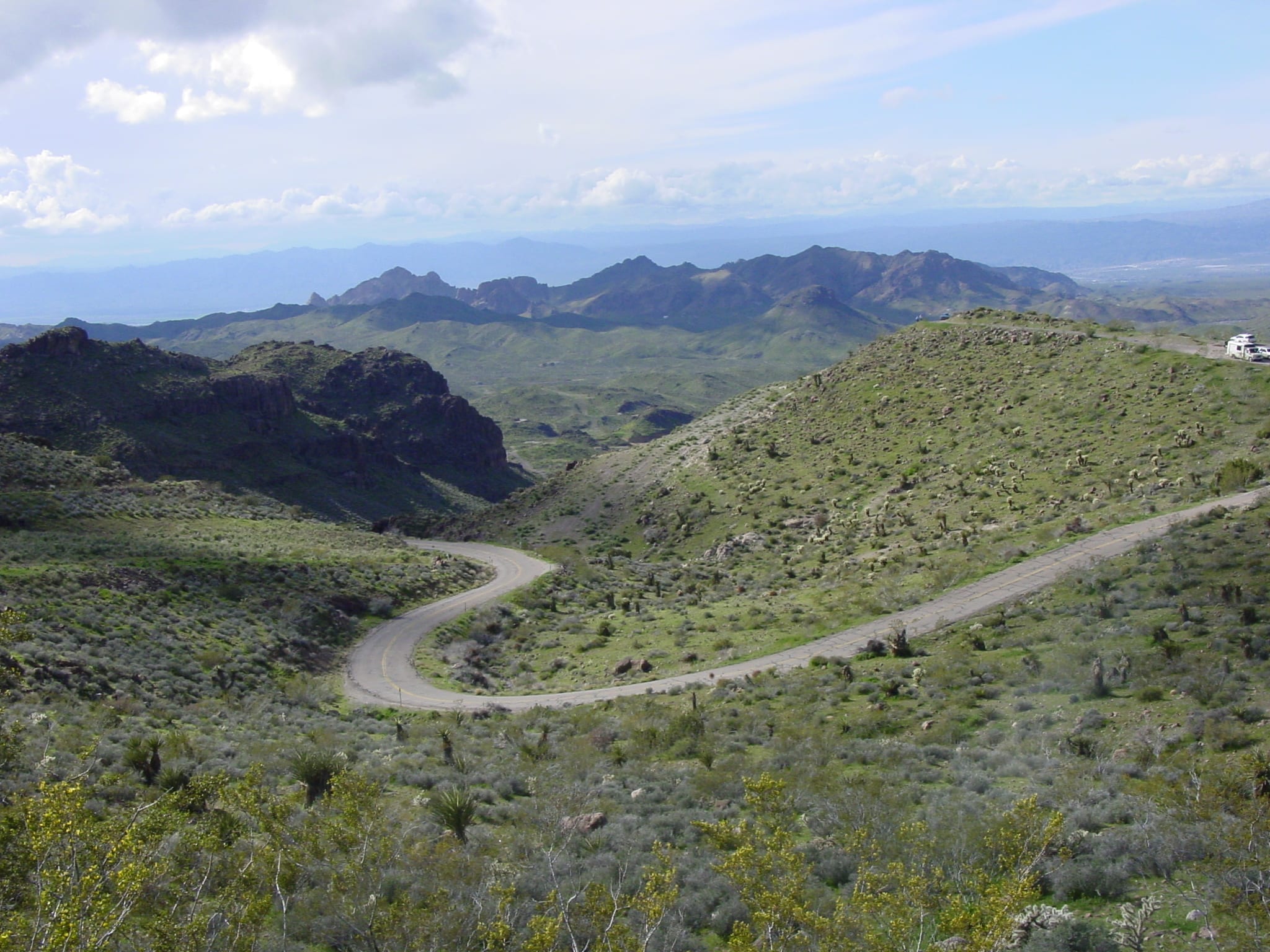 Route 66 now runs through three time zones, as it traverses eight states. Specifically, it runs through Kansas, Illinois, Texas, Arizona, California, Oklahoma, Missouri, and New Mexico.
Route 66 was officially established in 1926. It's set to celebrate its centenary in the next few years – hard to believe that the road is that young!
Two entrepreneurs are credited with having the idea to create Route 66. They were John Woodruff of Missouri and Cyrus Avery of Oklahoma.
Post-war, many major roads in the US had seriously deteriorated. To maximize on an opportunity for gainful employment, the government set about a period of renovation and reconstruction. Much work was done on Route 66, but in 1970, many sections of the original route were bypassed by a new highway with four lanes.
In 1984,the last section of the old road which remained in use was also bypassed by a new section of highway.
Route 66 is considered to be a major factor in the survival of many Americans. Wartime struggles meant many Americans were either displaced or had the desire to travel.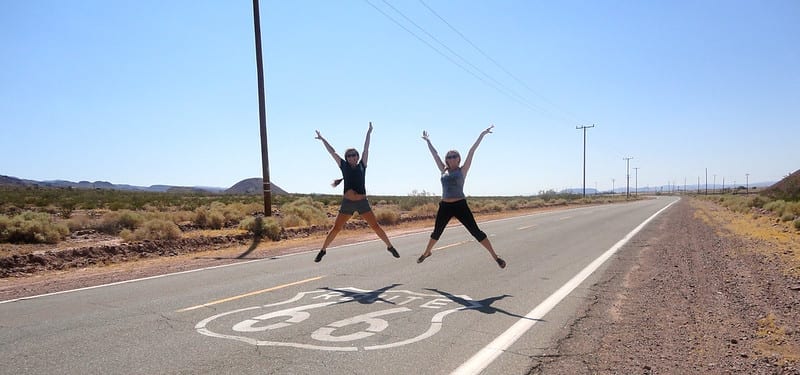 Route 66 became a symbol of freedom, adventure, excitement, and wonder. A possible route to find the 'American Dream'! Today, it is still marketed as such – one of many reasons why people all over the world head here as a priority whenever exploring the US for the first time.
'Williams' and 'Flagstaff' are both on the edge of Route 66 and ideally placed to offer great viewing spots of the Grand Canyon, one of the most dramatic natural sights on earth.
The town of Peach on Route 66 is close by the 'old loop' of the original road. It is also an ideal place to stop and visit the Grand Canyon.
In 2017, a group of enthusiasts announced their intention to plant over 3,000 oak trees along Route 66 to honor military veterans.
In October 2015,30 Bison were reintroduced to the Midwin Tall Grass Prairie along Route 66. They had not grazed there for over 200 years!
Route 66 runs through the Petrified Forest National Park. This is an area of significant historical importance and a haven for historians and artists alike.
The 'Wigwam Motel' at 'La Posada', Arizona, offers guests the chance to stay in authentic wigwams as they journey along Route 66. This hotel was even featured in the Pixar movie 'Cars'!
Route 66 gives travelers access to reach the Colorado River, in the Grand Canyon, via an access road at Peach Springs.
The only direct road to the bottom of the Grand Canyon is reached along Diamond Creek Road. It is here that travellers can enjoy a dip in the river to cool off while on the road trip of a lifetime!
The speed limits along Route 66 vary between 35 miles per hour and 65 miles per hour – but are currently most often 55 miles per hour.
Speed limits are strictly enforced, and patrol cars are notified of drivers exceeding the limit by 'observers' in other vehicles.
In 2017, an incident revealed this method was being used to catch drivers exceeding the limits when a speeding car drove past a truck and was later apprehended and fined. This created huge publicity for safer driving – it's said to have seriously helped slow down motorists speeding through the route!
Do you know any fun facts about Route 66? Share them in the comments below!
This page was last modified on July 28, 2021. Suggest an edit