🏉 25 Remarkable Facts about Rugby
Rugby was one of the most significant sports in the promotion of English and, later, British imperial manliness. Rugby was more than just a game. It turned boys into men through physical training and through the values of unselfishness, fearlessness, teamwork, and self-control.
Rugby was the game that developed the manly behavior of the elite. Since its creation rugby rapidly spread from its elitist origins and entered the lives of players and fans all around the world. Today there are nearly 800 million rugby followers across the globe.
Here's some fun facts about rugby to illustrate how the sport has evolved over the years and touched the hearts of many!
1. What is rugby, anyway?
Rugby is played with an oval ball by two teams of 15 players (in rugby union play) or 13 players (in rugby league play).
2. It started through rule-breaking.
In 1823 William Webb Ellis, a pupil at Rugby School defied the rules of football, picked up the ball, and ran with it, creating the distinct handling game of rugby.
3. It's named after an English school.
While the validity of the Webb Ellis story has been questioned, it is indisputable that the pupils of Rugby School shaped the game that we know and love.
The first written rugby rules were created by three of its pupils in 1845 and printed in a small, pocket-sized book. The game was encouraged at Rugby School by the influential headmaster Thomas Arnold (1828–42).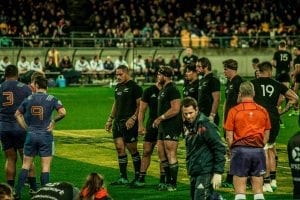 4. Clubs that played the game emerged in the mid 1800s.
Rugby clubs were formed in the mid-19th century, with one of the very first rugby clubs appearing at Blackheath in 1858.
5. Regional matches soon took place.
In 1863 the tradition of club matches began in England with Blackheath playing Richmond.
6. International meetings did, too!
The first international rugby match was played in 1871 between Scotland and England.
7. The first rugby cup emerged in the late 19th century.
The oldest International Rugby Trophy is the Calcutta Cup. On Christmas Day 1872, a game of rugby between 20 players representing England on one side and 20 representing Scotland on the other, was played in Calcutta, India.
8. There are plenty of unions.
The Rugby Football Union (RFU) was formed in 1871, and the Northern Rugby Football Union (NU) was formed in 1892.
9. Rugby was nearly a solid excuse to miss work!
By 1892, it was proposed that rugby players should be compensated for missing work to play. The proposed amount was six shillings, and this proposal was turned down by the RFU.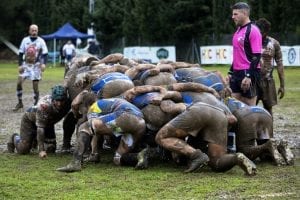 10. You could become a professional rugby player at the turn of the century.
Professionalism in rugby was allowed finally in 1898, but players still had to work regular jobs. Though players collected small amounts of money, open and unrestricted payments were not permitted yet.
11. Rugby isn't always a safe sport.
Rugby received bad publicity after a Richmond player was killed in a practice match in 1871.
12. What's the name of the Rugby Union World Cup?
The Rugby Union World Cup which is held every four years awards the Webb Ellis Cup to the winning team.
13. Rugby soon reached the US.
Rugby rules appeared in North America before the 1870s and were used in a famous game between McGill-University of Montreal and Harvard-University of Cambridge, Massachusetts in 1874.
14. Rugby balls used to be made of odd parts.
The first rugby balls were plum-shaped because they were made of pig bladders. In the late 1800s, they were slightly egg-shaped and made from rubber inner tubes. They have evolved to the oval shape of today, as oval balls are easier to catch, hold and run with.
15. We've only been singing at rugby since the early 20th century.
The very first time any national anthem was sung was at a rugby game. It happened in 1905 when Wales played New Zealand.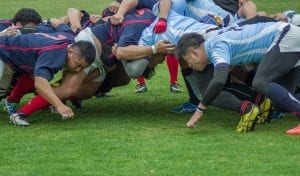 16. There's an ancient whistle used to mark Rugby World Cups!
Since 1905, the same whistle has been used to start the game at every Rugby World Cup. It is called the Gil Evans Whistle and is named after Gil Evans, who refereed the game between New Zealand and England in 1905.
17. Rugby is a rare Olympic sport.
Rugby has only been played as an Olympic sport six times. The first time was in 1900 and, up until recently, the last time was in 1924.
Rugby reappeared in the form of rugby sevens for the 2016 Rio de Janeiro Olympic Games. It was brought back again for the delayed 2020 Tokyo Games.
18. World Cups haven't been a thing for that long.
The Rugby World Cup didn't begin until 1987. Bizzarely, rugby wasn't officially fully professional until 1995.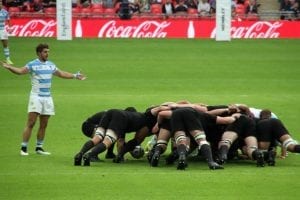 19. That's gotta hurt!
The highest number of points scored during the Rugby World Cup was 162 in 1995. Japan lost to New Zealand, 145 to 17.
20. Five become six!
Italy joined Rugby Union's Five Nations in 2000, changing it to Six Nations.
The Six Nations Championship is an annual international men's rugby union competition between the teams of England, France, Ireland, Italy, Scotland, and Wales.
21. England can hold its head high!
England is still the only team north of the equator to win a Rugby World Cup.
22. However, South Africa never pull their punches.
As of 2021, the current rugby champion is South Africa, having defeated England in the final of the 2019 tournament in Japan.
23. England REALLY loves its rugby.
Twickenham Stadium is the home of English Rugby. It's the largest dedicated rugby union venue in the world.
24. However, the sport is a global phenomenon.
Rugby is now a popular sport in many countries of the world, with clubs and national teams found in places as diverse as Japan, Georgia, Uruguay, Côte d'Ivoire, and Spain.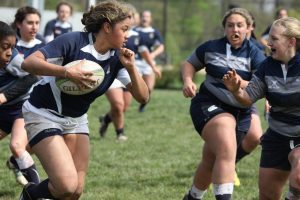 25. Why should men have all the scrums?
Women's rugby is one of the world's fastest-growing sports.
FAQs about Rugby
Is rugby more dangerous than football?
Yes - for the simple fact that NFL players wear protective gear - whereas there is minimal protection in rugby!
Why do rugby players tape their ears?
Many Rigby players choose to tape their ears to prevent 'cauliflower ear' - a painful condition where the ear folds in after trauma - something that can occur easily in rugby action!
Are rugby players bigger than NFL players?
On the whole, rugby players need to move around more and be quicker on the pass - which means you may often find the odd QB to be heftier than your average scrum half!
Do you know any fun facts about rugby?  Share them in the comments below!
This page was last modified on November 17, 2021. Suggest an edit