10 Sunny Facts about Sardinia
Italy remains one of the most fascinating European countries – and what's more, it's home to some truly stunning islands and holiday hotspots, too! One of the most popular, of course, is Sardinia. This sizeable vacationing retreat offers stunning beaches and greenery for visitors to explore. However, there is much more to Sardinia than just sunshine and sand alone. We're soon going to find out why – as we've set up a full fact file for you to explore right here!
Have you ever visited Sardinia before? Even if you visit the island regularly, there may still be a few facts and figures which really surprise you. Here are a few of the more fun facts about Sardinia which we've discovered during our research!
Did you know that the roots of the ancient legend of Atlantis seem to revolve around Sardinia? They do, at least, seem to relate to the Nuraghes, which are stone structures you'll only find on the island. These strange artefacts are, some propose, evidence that Atlantis once existed here. Of course, as far as things go right now, it is all speculation – but who knows quite what history once held here?
Take a look at that amazing coastline – it's more than 1,850km in length. Bizarrely enough, it's largely responsible for boosting Italy's total coastline. However, you'll also find that Sardinia is more than just extensive stretches of beach. There are rocky mountains and historical artefacts in abundance out here.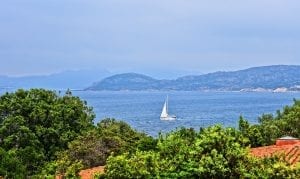 Mont'e Prama is home to giant statues which remain the biggest of their kind on the continent. They are also some of the oldest figures on the planet, too. They stand up to 2.5 meters tall and are thought to depict ancient warriors. That is, at least, one theory. The fact is, no one is quite sure what they represent, nor where they came from. They were only uncovered in the mid-1970s.
While it's easy to assume that much of Sardinia is beachland and rockery, around 25% of the island is actually national park territory. That's because of its unique, unspoilt wildlife and greenery. Sardinia is in a unique position in that it's barely affected by tectonic shifts and earthquakes. Italy's mainland is somewhat different in this respect – and what's more, Sardinia is much less built-up, too, which can lead to natural disasters. It's an altogether more laid back experience.
Sardinia is, in general, hugely important in our deeper understanding of our ancient history. It's thought that there are hundreds of artefacts here which date back more than three millennia. Therefore, it's long been a site of great fascination for archaeologists.
Italy is well known for its long and winding roads – after all, the Romans hailed from here! However, Sardinia is a bit of an oddity when it comes to public transport. That's because it's the only part of Italy to operate without any kind of motorway. Many people who drive around the island can enjoy doing so without the road rage you're likely to experience elsewhere.
Sardinia is a true behemoth in the Mediterranean. In fact, it's still the second biggest island in the region, and is even bigger than the entire nation of Cyprus! Only Sicily is bigger, and Sardinia is around 9,300 square miles in total area.
Sardinia is one of the best places in the world to live if you want to reach the age of 100! It's at the top of the list as far as centenarian populations go, as there are said to be around 22 people aged 100 or older per 100,000 people. Those life expectancy statistics are well worth holding out for, it would seem!
Believe it or not, there's an island just to the north of Sardinia where you will find a population replete with interesting-looking donkeys – in that they are completely white! Asinara is therefore known to many people as the island of albino donkeys – there are stranger things to be known for, of course!
However, let's sign off with a slightly creepy crawly fact – Sardinia is a haven for spiders. There are more than 495 different species of spider on the island, and more than 50 of these are completely unique to the area.
Do you have any interesting or fun facts about Sardinia that we've missed?  Share them here in the comments section below!
This page was last modified on November 16, 2021. Suggest an edit