24 Super Facts about Silverstone
Anyone who knows a thing or two about Formula One motor racing will surely recognize Silverstone as the British staple of the World Grand Prix, and as such, it's become a firm favorite with drivers and fans alike.
Silverstone is known to millions as the heart of motor racing for many people. Therefore, it's unsurprising why so many people make the trip here each year. It has an incredible history behind it, and it's the epicenter of some of the biggest and most important racing movements in the world.
Have you ever been lucky enough to watch a race at Silverstone? If not, there's plenty of time for you to make that change. In the meantime, here's a stack of fun facts about Silverstone to keep in mind before you visit!
1. Silverstone's named after a village nearby.
Silverstone's motor race track is close to a village of the same name in Northamptonshire, England.
2. It was once an airfield.
Originally built as an airfield in 1943, the original track used the two straights of runways as part of the race circuit.
3. It's evolved quite a bit!
The first motor races which took place there were hosted by a group of car enthusiasts – using bales of hay as markers! That was all the way back in 1947.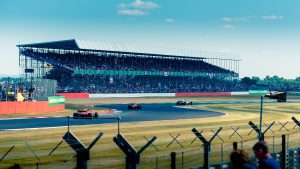 4. It became a race track out of necessity!
The RAC (Royal Automobile Club) selected Silverstone as a race track when other nearby facilities at Donnington Park and Crystal Palace were being used by the military for storage.
The RAC recognized the convenience of the location and the ability to join the runways to build an accessible circuit for long-term racing.
5. It's been raced at since the 50s.
In 1950, watched in person by the Queen, the first Formula One championship motor race took place at Silverstone.
It was won by an Italian driver, Giuseppe Farina, who drove an Alfa Romeo.
6. Jimmy Brown was a long-runner at Silverstone.
Jimmy Brown retired as the official head of Silverstone after an incredible 40 years of dedicated service.
Chosen by the RAC, Brown was given only eight weeks to pull together the format and layout of the track, including pit stops and a small administrative center, for the first-ever F1 race.
7. The RAC was only in charge here for a short time.
In 1952, The RAC handed over the running of Silverstone to the British Racing Drivers Club.
8. MOD ground helps make up the current track!
1966 saw the formation of Silverstone Circuits Limited. This was another major development – as, in 1971, they bought 720 acres of ground around Silverstone from the Ministry of Defense.
9. It's a speedy track!
Of all the Formula One race tracks, Silverstone is known as one of the fastest, due to long straights and stretches where drivers aim to race at maximum speeds.
A speed record was set in 1985 when Keke Rosberg reached a lap speed of 160 miles per hour – with a punctured tire! It's safe to say it's probably not worth trying that at home – he was a consummate professional!
10. It's been upgraded massively in years gone by.
Following much success with increasing numbers of spectators and increasing numbers of races Silverstone underwent many improvements to the track and facilities during the 70s and 80s.
One major change was made to increase accessibility to the track and ease the traffic flow – resulting in the opening of a four lane 'feeder' road to the circuit. This linked it directly to both the M1 and M40 in 2002.
11. More than just Formula One takes place!
It's not just about F1 here – as cars, motorbikes, and bicycles race at Silverstone. Probably not all at the same time, mind!
12. BRDC has a base here.
The home of the British Race Drivers Club is based at Silverstone. Membership is by invitation only – it's a very exclusive organization.
The BRDC was founded by J Dudley Benjafield in 1928.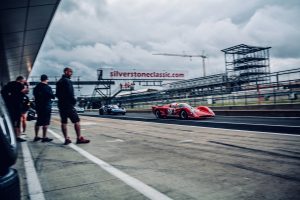 13. Could you join the Wall of Fame?
In 2014, Silverstone's management announced the construction of the 'Wall of Fame'. This is a stone wall which you can buy a slot on – if you're lucky enough to receive the invitation!
14. The pandemic affected Silverstone massively.
The Silverstone Formula One race for 2020 was held without spectators but was filmed live for television. It was the first of its kind.
In consideration of the constraints of many other Formula One race tracks, following the global spread of the coronavirus, Silverstone offered to host up to 12 other Grand Prix races.
15. Sir Lewis has won here many times.
Sir Lewis Hamilton won the 2020 Grand Prix at Silverstone. This was Hamilton's fourth win at the track.
16. It's home to Racing Point F1.
The motor racing team Racing Point F1 is based at Silverstone.
17. It's a really long track!
The race track at Silverstone is 5.891 kilometers, equivalent to 3.66 miles. It is currently the fourth-longest circuit in formula one racing.
18. Classic car fans love the track!
The world's biggest 'Classic Car Festival' is held at Silverstone.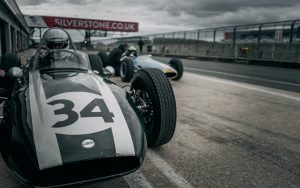 19. The late, great Murray Walker was honored here.
For his contribution to motor racing, the famous commentator Murray Walker was presented with a lifetime achievement award at Silverstone in 2018. Murray saw the first motor race held there back in 1948!
20. That's a photo finish!
There were only 0.14 seconds between the winner and second place in the 2019 Motorcycle Grand Prix. This was one of the closest finishes on record!
21. You can get here by chopper!
There is a helipad at Silverstone race track for anyone wishing to travel by helicopter.
22. It's a massive employer!
Over a hundred medically trained staff work at Silverstone. They are stationed at a special medical facility near the Pits, almost in the center of the circuit.
23. Hundreds of thousands of people visit Silverstone each year.
2019 was a record-breaking year for Silverstone when it was recorded that 351,000 spectators attended the Grand Prix. Two other circuits with record attendance were Australia with 324,100, and Mexico with 345,694.
24. It's also home to Aston Martin.
An announcement was made in 2018 that Silverstone would become the home for Aston Martin's new 'Testing and Development Center', where prototypes will be put through their paces.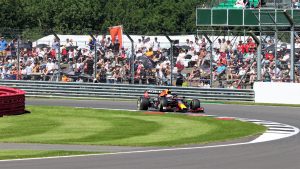 FAQs about Silverstone
Whereabouts in the UK is Silverstone?
Silverstone race track is based just outside the village of the same name, down in Northamptonshire.
Why were changes made to Silverstone in the 1990s?
Big changes were made in terms of safety to various F1 tracks across the world following the tragic deaths of Ayrton Senna and Roland Ratzenberger mid-race at Imola.
Why is there part of the Silverstone track called Maggots?
It's said to be named after Maggot Moor, a plot of land nearby.
Do you know any fun facts about Silverstone? Share them in the comments below!
This page was last modified on July 26, 2023. Suggest an edit