10 Fast-Paced Facts about Changi Airport
Although you may have never visited Changi Airport, you may very well have heard of it! As one of the most-visited passenger airports on the planet, you've likely seen the name flash up on departure and arrival boards in the past. But, just in case you don't recognize the name, here are some fun facts about Changi Airport to help clue you in!
1. Where is Changi Airport?
Changi Airport is situated in Singapore, in the area of Changi, hence the name. It is approximately 17.2 kilometers (10.68 miles) northeast of Singapore's city center, so it is pretty easy to find!
2. The Grand Opening!
Changi Airport officially opened on July 1, 1981. It has since developed into one of the world's most awarded airports for several reasons – keep reading, we'll explain how…
3. Everything you could want… even flights!
Changi Airport is known for having almost anything you could want from an airport – and more. It has exceptional amenities and services, including luxurious lounges, gardens, entertainment areas, and a wide array of shopping and dining options. Perfect for your flight day!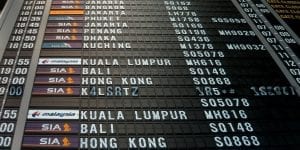 4. What is T1, and why is it so special?
Changi Airport's main terminal, Terminal 1 (T1), features a unique design inspired by the traditional Malay architectural concept of a "walled city." It has a distinctive butterfly roof and a central skylight that provides ample natural light.
5. Pick a terminal!
However, it's not just T1 that you should be interested in! Changi Airport has three other passenger terminals: Terminal 2 (T2), Terminal 3 (T3), and Terminal 4 (T4). Each terminal has its own unique design and facilities.
6. The (literal) jewel of the airport!
Jewel Changi Airport is a lifestyle resort of sorts based right at the heart of the building. Opened in 2019, it features the world's tallest indoor waterfall, lush gardens, shopping outlets, and dining options. It really looks like something out of a sci-fi movie!
7. It's won plenty of awards!
Changi Airport has been consistently ranked as one of the best airports in the world by Skytrax, a leading air transport rating organization. It has won the "World's Best Airport" title multiple times.
8. There's really no need to get bored here.
If gardens and restaurants aren't quite what you're looking for, then you'll be glad to know that Changi Airport offers a range of entertainment options! For example, there are free movie theaters, interactive art installations, and the Butterfly Garden, which houses over a thousand butterflies! So, you shouldn't really get bored during your time there!
9. Boring layover? Forget about it.
One of the worst things about a layover is feeling stuck at the airport. However, Changi Airport provides a 24-hour, free Singapore tour for passengers with a layover of at least five and a half hours, allowing them to explore some of the city's highlights during their wait!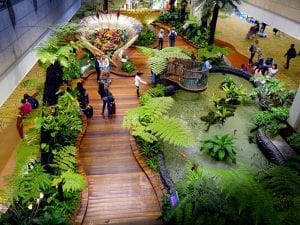 10. It's expanding further!
Changi Airport is continuously expanding and upgrading its facilities. The upcoming Terminal 5 (T5) is a major development project that aims to further increase Changi's capacity and solidify its position as a leading global aviation hub – and we're likely going to see the fifth terminal come to life by around 2035. Hold on tight!
FAQs about Changi Airport
What is Changi Airport in Singapore so famous for?
Changi Airport is famous for its stunning architecture and its incredible luxury amenities to suit any guest. It is also highly efficient, making it a favorite among travelers.
Can I sleep in Changi Airport?
Yes, you can sleep at Changi Airport. There are transit hotels, sleeping lounges, and plenty of comfortable chairs to choose from for a good night's sleep or just a quick snooze while you're stuck on layover.
Is Changi Airport the best in the world?
Changi Airport is indeed an award-winning airport, and many consider it to be the best in the world for its size, efficiency, added features, and comfort. The airport is still constantly advancing, meaning that it will likely be one of the best airports in the world for a long time – the rest of the industry had better start stepping its game up!
Further reading
https://factcity.com/tag/aviation/
https://www.changiairport.com/en.html
https://www.visitsingapore.com/travel-guide-tips/travelling-to-singapore/changi-airport-singapore/
Do you know any fun Facts about Changi Airport? Share them in the comments below!
This page was last modified on September 18, 2023. Suggest an edit