✈️ 31 Fun Facts about Changi Airport
There are many airports around the world, which are exceptional and unique. Singapore's Changi Airport is one of them. Voted as the best airport in the world, this gem of Singapore offers amazing free things for all tourists and travellers within its transit areas. Great shopping and dining options are also available for those who are literally "grounded".
Whether you're in Singapore for a layover or spending a week in the tropical paradise, Changi Airport is bound to enchant the moment you land. Here are some interesting facts about Singapore Airport and what you'll experience here…
1975 marked the start of the development of Changi Airport. It cost $1 billion and was the single largest public project at that time.
The construction of Changi Airport began only in 1977. The foundation was completed in 1979.
Changi Airport then began official operations on 1 July 1981. The first flight to arrive at the new airport is SQ101 – an SIA flight from Kuala Lumpur carrying 140 passengers. The first departing flight is SQ192 – another SIA flight bound for Penang.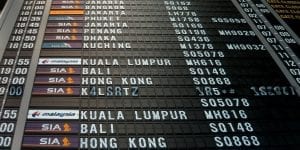 Changi Airport was one of the first few airports in the world to introduce the aerobridge.
Changi Airport introduced the aerobridge, the sheltered walkway that links us from the terminal building to the aircraft and back.
It quickly surpassed 10 million visitors, and that marked the commencement of building Terminal 2.
In 1986, development for Terminal 2 began in earnest as Terminal 1 was no longer able to serve all its visitors.
Changi Airport received its first "Best Airport" award in 1988.
Terminal 2 was officially opened in 1991, 10 years after Changi Airport was officially opened. The Prime Minister, Mr. Goh Chok Tong, opened Terminal 2.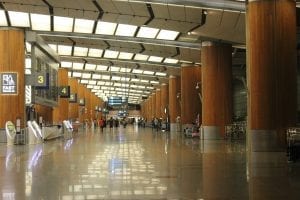 With the opening of a new terminal, a quick and easy mode of transport was provided to connect passengers and visitors from T1 to T2 seamlessly. The SkyTrain was introduced to create that seamless connection.
The late Princess Diana visited Singapore and toured Changi Airport in 1993. Changi was awarded the 6th "Best Airport" award by the Business Traveller UK Award and Princess Diana personally presented the award to the Permanent Secretary (Transport) Mr. Tjong Yik Min.
In 2006, Changi Airport was awarded the "Airport of the Year" title by Skytrax for the first time. It was made even more joyous as it coincided with Changi Airport's 25th anniversary.
Changi Airport Terminal 3 opened in 2008. It houses superb shopping and dining options outside the transit areas and amazing free activities beyond the transit gates.
The T3 terminal roof is equipped with 919 solar reflectors, which simultaneously dissipate heat without allowing the room to cool, and help illuminate the terminal with natural light. The electric light is activated only at night and in cloudy weather.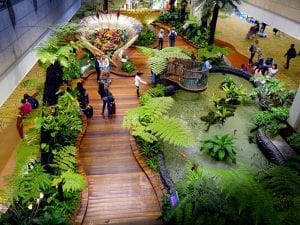 Singapore Airport also offers a Sunflower garden. It's one of the most beautiful things in the airport.
Those using Terminal 1 will have to console themselves with a cactus garden (featuring 40 species and a cocktail bar), a rooftop swimming pool and a jacuzzi (from which you can watch planes taking off), and a water lily garden.
Terminal 2 treats travellers to a collection of rare orchids, 500 bright yellow sunflowers, decorative mosaic sculptures, and the Entertainment Deck, home to Xbox 360s, and a free 24-hour cinema.
There's also a cinema, a koi pond, and a 12-meter high slide in Terminal 3.
Handling kids while traveling is the biggest nightmare, so here at Changi, they have dedicated an entire lounge to children, where they can enjoy the slides for free.
All travellers enjoy free Wi-Fi (since 2002) and free city tours (if they are waiting for a connecting flight).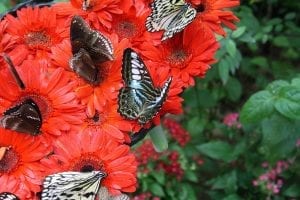 You can save your picture to the Social Tree. Almost 9 meters tall, the Social Tree is surrounded by eight touch-screen booths that allow you to upload your photos and videos to share onto 64 giant screens – and even retrieve them next time you visit.
More than 70 airlines operate flights to or from Changi, including long-established carriers like Air France, Air New Zealand, Delta, Emirates, and KLM, as well as lesser-known ones like Druk, Scoot, Firefly, and Air Niugini (based in Papua New Guinea, in case you were wondering).
To fly there directly from Britain, you will have to fly with Singapore Airlines, Eva Air, or British Airways.
If you've got at least 5.5 hours to spare at Changi airport, you can join a free 2.5 hour guided tour of Singapore.
For those who want to take time to rest on a long layover, Changi Airport has the Aerotel Airport Transit Hotel in Terminal 1 and the Ambassador Transit Hotel in Terminals 2 and 3. Both hotels can be booked by the day or the hour.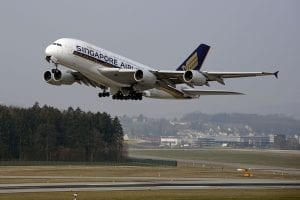 The airport has a moving, hypnotizing sculpture called Kinetic Rain. Made in 2012, the sculpture, found at Terminal 1, is composed of 1,216 bronze raindrops.
Changi Airport won Skytrax's World's Best Airport for 5 consecutive years – from 2013 to 2017!
At the end of 2017, Terminal 4 started operating. And at the end of the next decade, terminal T5 will be opened, which will be greater than the combination of T1, T2, and T3.
In 2016, the airport received 66 million people. As of 2025, Changi's capacity is planned to increase to 135 million passengers per year. This figure is almost the same as the complete Russian population.
Do you have any interesting or fun Facts about Singapore Airport that we've missed? Share them here in the comments section below!
This page was last modified on November 16, 2021. Suggest an edit