12 Surprising Facts about Somerset
Somerset remains one of the most popular counties in the UK for tourists from all over to flock to. Not only does it have beautiful landscapes, wonderful cider, and music festivals to rock your socks off, but it also has a rich history that has influenced various industries up and down the country. From cheese to literature, this county has given a lot to the UK and the world beyond! So, let's get to know the area a little better together. Here are 12 fun facts about Somerset!
1. Location, location, location!
Somerset is located on the south west side of England. It is surrounded by Gloucestershire, Bristol, Wiltshire, Dorset, and Devon. This makes it the perfect holiday location for the 13 million people that visit the county every year!
2. Take a seat!
The country town, i.e. the seat of the county, is Taunton. It also happens to be the very first town in Somerset to have electric street lighting. Taunton lit up in 1881 and remains well-lit to this day, thankfully!
3. Natural beauty all around.
Somerset is well-known for its natural beauty. In fact, it currently has 36 English Heritage Sites and 19 National Trust sites! So, remember to take your walking boots if you ever fancy visiting!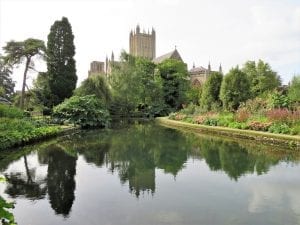 4. Fancy a game of skittles?
The game of skittles actually originated in Somerset. That's why you'll still find plenty of pubs with skittles alleys outside! It is also believed that skittles (the candy) came from the game, too.
5. Strike!
Did you know that we have skittles to thank for bowling? One of the world's most popular games, ten-pin bowling, came from skittles – it's a scaled-down version for sure, but you can see the similarities!
6. It's alive!
One of the biggest horror books of all time was also inspired by an occurrence in Somerset. The electricity experiments that Andrew Crosse engaged in were partly what inspired Mary Shelley's Frankenstein.
7. Why did the chicken cross the bridge?
It is believed that the oldest working bridge in Britain is in Somerset. It is the Tarr Steps and goes all the way back to about 1,000 BC!
8. Get ready to rock!
One of the biggest music festivals globally takes place in Glastonbury! The festival first occurred in 1970 and was launched by a dairy farmer named Michael Eavis. This explains why the festival still takes place in the fields!
9. Cider, anyone?
Somerset is known for its taste in cider! There are more cider-makers in Somerset than in any other county in the UK – in fact, there are currently 480 cider makers in this county alone!
10. A land of stars.
There are plenty of famous celebrities to come from Somerset, many of which you may know. British baking guru Mary Berry, comedian Bill Bailey, Monty Python's John Cleese, stand-up star Russell Howard, F1 legend Jenson Button and former MP Ann Widdecombe, all come from Somerset!
11. You'd cheddar believe it…
We all have Somerset to thank for one of the nation's favorite cheeses – cheddar! Cheddar originally comes from Somerset, from a small town formerly known by the same name.
12. No bones about it!
The oldest complete skeleton in the world was found in Somerset. Discovered in 1903, the Cheddar Man was found in Cheddar and is believed to be about 9,000 years old! You can still see it today in the Natural History Museum in London.
FAQs about Somerset
What is Somerset famous for?
Somerset is well-known for its rich history, fantastic cider, the Glastonbury festival, and, of course, cheddar cheese! This great county has certainly given a lot to the world.
How big is Somerset?
Somerset is quite a large county. It precisely measures about 4,171 square kilometers and has a population of just over 560,600 people.
Where does the name Somerset come from?
The name Somerset actually comes from Old English. The word "Sumorsæte" means "the people living at Sumortūn" or "the people dependent on Sumortūn", i.e., Somerton.
RESOURCES:
https://www.visitsomerset.co.uk/
https://www.britannica.com/place/Somerset-county-England
Do you know any fun facts about Somerset? Share them in the comments below!
This page was last modified on August 3, 2023. Suggest an edit