16 Sensational Facts about South Dakota
South Dakota may be one of the least-populated states in the US, but that doesn't make it one of the least interesting.  In fact, it's home to several major monuments which are world-famous, as well as wild and natural land which pulls in visitors and tourists year after year.
Here's our complete fact file on South Dakota to help you learn a little bit more about this state in the Midwest.
South Dakota is famous for a sparse landscape, largely dominated by farmland, Lakeland and prairies. You'll also find mountains and ranches across the state.
Therefore, the state is well-known for its contributions to agriculture. However, the tourism trade here is actually booming, with around $2 billion entering the state through visitors each year.
The state has the nickname 'The Mount Rushmore State' for a fairly obvious reason – it's home to Mount Rushmore, the famous monument to several Presidents of the US.
Mount Rushmore supposedly cost around $1 million to build in 1927, and it's around 6,200 feet tall.
Mount Rushmore is said to host up to two million tourists and visitors each year.
South Dakota is also home to several national parks, including those out in the Badlands and at Wind Cave.
You will also find parks and monuments to two very different sides on US history. Both the Crazy Horse Memorial and Custer State Park can be found here.
Custer State Park, in fact, is home to a huge herd of bison, around 1,500 of which are roaming free.
South Dakota is also home to a unique collection of fossils and bones – in that they have not been changed or moved since their initial discovery.
While Mount Rushmore may be large, it's thought that a long-building sculpture of Chief Crazy Horse may overshadow it once it finishes production. It's been in the building since 1948.
Famous people to hail from South Dakota include wrestler Brock Lesnar, Wizard of Oz author L Frank Baum, Native American chiefs Sitting Bull and Crazy Horse, actress Cheryl Ladd, and TV host Bob Barker.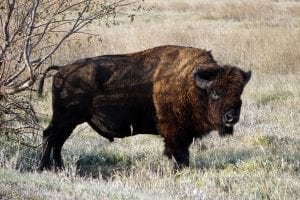 South Dakota is home to one of the world's three largest caves. There are more than 180 miles to Jewel Cave in the Black Hills.
Believe it or not, the South Dakota Governor's Office once produced a campaign to convince residents to stay residing in South Dakota rather than colonise Mars! "Why die on Mars when you can live in South Dakota," a slogan read.
Outside of the Rockies, Harney Peak is the tallest point in the Eastern US. It's around 2,208m above water.
Ever heard of Mashed Potato Wrestling? Now you have.  The world's epicentre of the sport is in Clark, South Dakota – a huge potato importer!
Do you know any interesting or fun facts about South Dakota that we've missed?  Share them with us in the comments section below!
This page was last modified on October 15, 2020. Suggest an edit