13 Sensational Facts about South Dakota
Even if you're not a US citizen, you'll likely have seen Mount Rushmore before – and it's right here in the heart of South Dakota. This super-sparse state is fantastic for festivals, rugged landscapes, and notable native history. Let's take a closer look at what sets south apart from north, with some fun facts about South Dakota.
1. Where is South Dakota?
South Dakota is a Midwestern US state. It joined the Union as the 40th state on November 2, 1889 – making it one of the very last to become part of the golden 50 we know today!
2. What does "Dakota" mean?
South Dakota may sound strange as a name in English, but its origin is actually quite beautiful! The state is named after the Dakota Sioux, tribes who call the area home – and the name actually means "allies" or "friends."
3. Check out those Presidential portraits!
Of course, South Dakota is known for being the home of the iconic Mount Rushmore! This National Memorial features the faces of four US presidents: Thomas Jefferson, George Washington, Abraham Lincoln, and Theodore Roosevelt.
4. What's good about the Badlands?
South Dakota is also home to the Badlands National Park. But don't worry, "badlands" is just a name! The park is world-famous for its unique rock formations and fossil discoveries – meaning it's a real treat for anyone looking to dive deep into natural history.
5. There's lots of indigenous interests across South Dakota.
South Dakota has a rich Native American heritage, with several tribes residing in the state. These include the Lakota, Dakota, and Nakota Sioux tribes.
6. What are the Black Hills?
The Black Hills come together to form a mountain range located in western South Dakota. The area is considered sacred land by Native American tribes and is home to significant cultural sites.
7. Start revving up your engines!
Are any two-wheeler fans out there? The city of Sturgis, South Dakota, hosts its world-famous motorcycle rally, which remains one of the biggest motorcycle gatherings in the world, bringing thousands of riders and enthusiasts together!
8. Remembering Crazy Horse.
South Dakota is also the official home of the Crazy Horse Memorial, a monumental sculpture in progress that honors the Native American warrior of the same name. Once completed, it will allegedly be the largest sculpture in the world! However, professionals anticipate part of it only being finished by 2037!
9. What's the capital of South Dakota?
South Dakota's capital city is Pierre. It is the second smallest capital city by population in the United States, covering an area of only 33.8 square km (around 13 square miles)!
10. Farming brings home the money!
Agriculture is very important in South Dakota. It is a leading producer of wheat, corn, soybeans, and cattle! It's within the top ten states across the country for agricultural commodity production, with a huge array of large farms to help cope with demand.
11. There's gold in them hills!
South Dakota has a strong connection to the gold rush era. The town of Deadwood became famous for its mining and Wild West history. And yes, it's also where the popular TV show was set!
12. Stormy weather ahead!
South Dakota has a continental climate known for its cold winters and hot summers. It is also known for its frequent thunderstorms.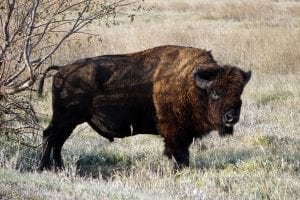 13. You can stretch your money further
It's zero income tax in South Dakota – just one of the few states that abolished income tax completely. However, residents are still responsible for paying federal income taxes, so don't ditch your tax calculator completely!
FAQs about South Dakota
Is South Dakota a good place to live?
South Dakota is actually considered to be one of the happiest places to live in the US! It's a popular state to live in, too, because it has competitive tax breaks for small businesses – and has a thriving economy as a result.
What languages are spoken in South Dakota?
English is the official language spoken in South Dakota. However, there are also people who speak Spanish and German in the state. And as you can imagine, there are also official indigenous languages spoken by indigenous tribes. For example, O'ceti Sakowin is commonly spoken by tribes across the state.
Why is South Dakota so cheap to live in?
Many are surprised by how affordable South Dakota is! Thanks to its relatively low cost of living and zero income tax, it remains hugely popular with young professionals and families alike. It's only one of nine US states to abolish income tax completely.
Further reading:
https://www.factcity.com/tag/usa
https://sd.gov/
https://www.travelsouthdakota.com/
Do you know any fun facts about South Dakota? Share them in the comments below!
This page was last modified on November 14, 2023. Suggest an edit