35 Blissful Facts about St Barts
Saint-Barthélemy, also known as St. Barts, is an island of the Lesser Antilles in the eastern Caribbean Sea.  The island is small but incredibly beautiful! What it lacks in size, it makes up for in everything it offers. Accredited with the internationally renowned French 'art de vivre', this Caribbean jewel is much more than a secret haven or a temple of laid back subtlety, it's a lifestyle beyond compare.
No doubt one of the most breath-taking islands in the world! Take a peek into this peace of heaven on Earth, with these 35 interesting facts about St Bart's…
The island, 11 miles (17.5 km) long and 2.5 miles (4 km) wide, is 120 miles (200 km) north of Guadeloupe's main islands.
Like most islands, St. Barts was formed from a volcanic eruption. While there are no active volcanoes on the island, there are still a few mountains, despite the small land area.
The earliest records of inhabitants on the island are from 1000 B.C. when the Ciboney people, originating from Cuba, attempted to settle.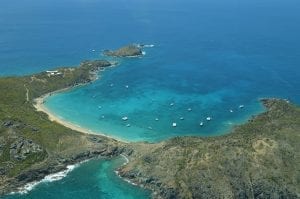 Saint Bart's was originally called "Ouanalao" by the Arawaks (original island inhabitants) in 1493.
The island was discovered in 1493 by Christopher Columbus who named it after his brother Bartolomeo.
Barthelemy was first settled by the French in 1648.
In 1784, the French sold the island to Sweden, who renamed the largest town Gustavia, after the Swedish King GUSTAV III, and made it a free port.
Gustavia, the picture-postcard capital, is an enchanting little harbor town, easy to explore on foot.
The island prospered as a trade and supply centre during the colonial wars of the 18th Century.
France repurchased the island in 1878 and placed it under the administration of Guadeloupe.
French is the official language, but English is widely spoken.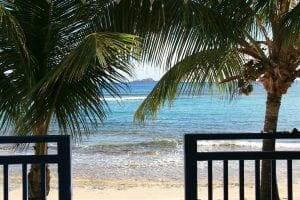 Barthelemy retained its free port status along with various Swedish appellations such as Swedish street and town names, and the three-crown symbol on the coat of arms.
In 2003, the populace of the island voted to secede from Guadeloupe and in 2007 the island became a French overseas collectivity.
Bart's has made a great recovery since being hit in September 2017 by hurricane Irma, which was named as the most powerful Atlantic storm in a decade.
The solidarity on the island was remarkable. Islanders came together as a community and supported one other. It was this unity that helped St. Bart's get back on its feet so quickly.
These days, St. Bart's is like an extension of France, but with a laid-back island atmosphere.
The food on the island is incredible, the shopping is divine, and the scenery is stunning.
St Bart's has an arid landscape, which kept it from being a part of the sugar economy, but it did become a large trading post.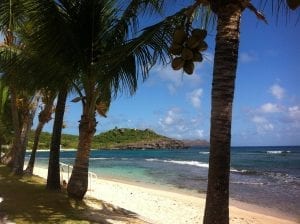 There is an abundant amount of marine life found in the shallow waters of St. Bart's coast. Just grab a mask and snorkel to see the array of colorful reef fish, sea turtles, and other sea life living below the ocean's surface.
Even though St. Bart's is painted as a glamorous beach getaway and many celebrities travel there, it's completely accessible to all who visit.
There is a reason celebrities flock to the island, and it's not because it's exclusive. On the contrary, all of St. Bart's beaches are open to the public, but it's their beauty that makes them so attractive.
Crystal clear turquoise waters beckon beach lovers to jump in. Loungers layout on the white, powdery sand for an afternoon of total relaxation. And those looking for a drink or a bite to eat have plenty of options only a few steps off the sand.
St Bart's was rated one of the top ten beach destinations in the world by the Travel Channel.
Bays and rocky islets shape the island's coast and also provide seclusion. Saline Beach is so private that, even though nudism is illegal, you'll see some rebels showing skin there.
Bart's has a 'laissez-faire' lifestyle. There are no dress codes, the beaches are public, and you can stay there for reasonable rates.
Leave the calorie counting at home and live a little! St. Bart's is known for its world-class dining and has Michelin-starred chefs on the island.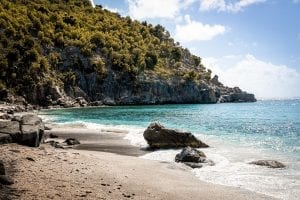 Bart's is dedicated to helping support coral reef restoration. By giving to the country's economy, you are also giving to their natural resources.
Have you ever watched a crazy plane landings? You've likely seen the runway on St. Bart's, one of the shortest in the world. The runway ends at the beach, meaning many sunbathers have the opportunity to watch newcomers land on the island.
Shopping has long been a part of St. Bart's history. While pirates were the original consumers, these days, anyone can get in on the duty-free luxuries found on the island.
If you're looking for designer clothes and accessories, St. Bart's has them. And if you're looking for locally made items, those boutiques exist, too. In fact, with over 200 shopping options, you're certain to find the item you're looking for.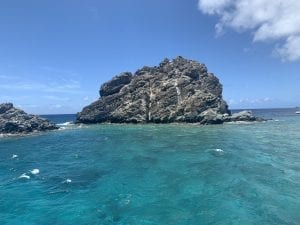 Don't forget to take advantage of the duty-free shopping – diamonds are a girl's best friend, after all!
USA and Canadian citizens need a passport to enter St. Bart's. If you're flying in, you'll need to present your return or on-going ticket.
Citizens of the European Union need only an official photo ID to visit the island, but passports are always recommended.
The climate of St. Bart's is ideal: dry with an average temperature of 72°F to 86°F (22°C-30°C).
Do you know any fun facts about St Bart's? Share them in the comments below!
This page was last modified on November 22, 2021. Suggest an edit