10 Intense Facts about Tennessee
Tennessee is one of the most famous states in the US thanks to its whisky, its musical scene, and its rolling landscapes. That, of course, is just the tip of the iceberg – and we're here to fill you in on all you need to know about Nashville and beyond!
How much do you know about the Volunteer State? Here are some fun facts about Tennessee!
1. It's the Volunteer State.
You may know Tennessee under a few different nicknames, including the Volunteer State. This is due to the fact that soldiers from the area stood up to the plate during the Battle of New Orleans in the early 1800s, gaining the entire state that nickname!
2. Elvis was here!
One of the most famous areas in Tennessee is the home of the King of Rock n' Roll himself, Elvis Presley! His estate, known as Graceland, can be found in Memphis. It attracts tourists from all over the world every year, who are desperate to get that little bit closer to the King!
3. It's all in the name.
It is believed that the state name is of Cherokee origin. It comes from a tribe in a village known as Tanasse, or Tanasi. It is also believed to relate to the state's main river, although that's a little more unclear!
4. That's a lot of county borders!
Tennessee is divided into 95 different counties. This biggest one is Shelby County, followed by Davidson and Knox.
5. Head to Nashville!
Nashville is known worldwide for its music scene and especially for being the world capital of country music! Many musical artists hail from Nashville, including Dolly Parton, Miley and Billy Ray Cyrus, Sheryl Crow, Kelly Clarkson, Johnny Cash, Chris Stapleton, and Taylor Swift!
6. Time to get up the Great Smokies.
Tennessee is also home to the most visited national park in the entire country and one of the most visited in the entire world! Great Smoky Mountains park is known for its stunning landscapes and incredible hiking trails. It's definitely worth seeing for yourself!
7. Surrounded on all sides!
If you were ever planning on stopping somewhere to explore the US, Tennessee would be a pretty good choice! It is bordered by eight states, making it seriously landlocked! The states around it include Kentucky, North Carolina, Virginia, Georgia, Alabama, Arkansas, Mississippi, and Missouri!
8. It's home to the atomic bomb.
Well, it's the birthplace of the A-bomb, anyway! More specifically, it was first designed in Oak Ridge, which remains a research hub to this day. Don't worry – there's unlikely to be any UXBs beneath Nashville you need to worry about!
9. The state played an interesting role in the Civil War.
During the Civil War, Tennessee was the last state to break away from the Union. And, during the war, it was the first to join the Union again at the fall of the Confederacy! At least they were clear about picking a side!
10. Sweet treats galore!
While many people will associate Tennessee with whisky and other rich spirits, it's also the birthplace of a few sugary treats, too. For example, you'll find it's the home of cotton candy, moon pie, and even Mountain Dew!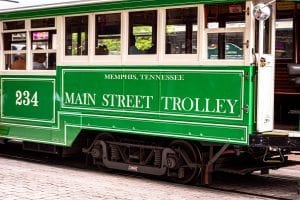 FAQs about Tennessee
What is Tennessee famous for?
Tennessee is known for many things, including its roots in country music, wild horses, and stunning landscapes. But, of course, people from all over the world get a taste of Tennessee whenever they drink nice and smooth Tennessee whisky!
What do you call people from Tennessee?
Given the lengthy name of the State, you'd think that the general public would have found an easier way to name the people from Tennessee. But, no, to keep things "simple," people from Tennessee are known as Tennesseans.
What kind of climate does Tennessee have?
Tennessee has a temperate climate. This means that it enjoys warm summers and generally mild winters!
Further reading:
https://factcity.com/tag/USA
https://www.tnvacation.com/
https://www.visittheusa.co.uk/state/tennessee
Do you know any fun facts about Tennessee? Share them in the comments below!
This page was last modified on July 26, 2023. Suggest an edit