17 Thrilling Facts about Tennis
So you want to learn some new facts about tennis, right? Maybe you already know who the best players are these days and even know a reasonable amount of tournament history, however these fun tennis facts will definitely add to your repertoire:
1.    The Wimbledon pineapple has a purpose
There is a pineapple on the Wimbledon trophy. Apparently it represents the tradition of English sailors who put pineapples on their seats when they returned from a long journey. I'm not sure how tennis was associated with long sea voyages, but this reminded me of the importance of avoiding scurvy.
2.    John Pius Boland is an accidental tennis champion
The first person to win Olympic gold in tennis basically just arrived and won.  John Pius Boland was on vacation in Athens during the Olympics, and his friend, who was on the organising committee, enrolled him in singles tennis. Boland won, then went into doubles with the guy he defeated in the singles first round, Friedrich Traun of Germany, which they also went on to win.
3.    Jimmy Connors may-be the best all-round player of all time
The iconic tennis player Jimmy Connors is well respected as being the tennis player to have won the esteemed US Open on three distinct surfaces: grass in Forest Hills in 1974, clay in Forest Hills in 1976 and hard court in 1978 in Flushing Meadows.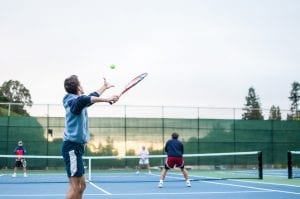 4.    A 13-year old entered Wimbledon!
In 1907, the Austrian tennis player Mita Klima became the youngest player in Wimbledon. She was just 13 when she participated in the prestigious tournament. Unfortunately, she lost in the first round. This is a record that has stood for over 100 years.
5.    Tennis never used to have rackets!
In the 12th century tennis was initially played with just the hands. It was called "jeu de paume" – palm game.  Presumably people's hands became rather sore playing this game.  It wasn't until the 16th century that rackets were introduced.
6.    2010's Wimbledon first round went on forever…
In 2010 a Wimbledon game in the first round between John Isner and Nicolas Mahut lasted 11 hours and 5 minutes. It continued over three full days while the players struggled to stop their extraordinary services. Isner eventually won the grueling battle.
7.    …while 1922's women's final was over in a blink!
The shortest tennis match ever happened at the 1922 Wimbledon Final, of which Suzanne Lenglen (a tremendous athlete who won 8 Majors) defeated Molla Mallory (a star who had 8 US Open titles) in just 23 minutes! Mallory actually took two games in the first set, but ultimately was quickly eliminated at the end!
8.    Federer is a tennis ace – but not the top
Roger Federer has scored over 11,000 career aces up until now, ranking third on the list of most experts, while Ivo Karlovic tops the rundown with over 13,000 aces.
9.    Djokovic has the Midas touch
Novak Djokovic tops the male tennis players in terms of highest amount of prizes achieved, with over $143 million in winnings!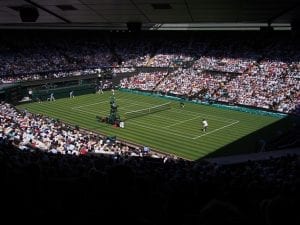 10. The Williams sisters made tennis history
The first sisters to win Olympic gold medals in tennis were Venus and Serena Williams.
11. Yes, someone measures tennis 'grunts'
During Wimbledon in 2009, Maria Sharapova made the loudest recorded grunt – it reached about 105 decibels!
12. Wimbledon's been around since the 19th Century
Wimbledon is the oldest tennis competition on the planet and is additionally viewed as the most esteemed. Wimbledon 's first matches were played in 1877.  It is additionally the first of the four "Grand Slams" to be established.
13. There's an exact size and weight to a tennis ball
According to the stipulation of the International Tennis Federation, the weight of a tennis ball should be between 56 and 59.4 grams.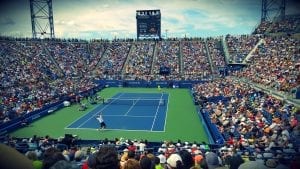 14. Tennis balls have only been yellow since 1986!
Tennis balls were initially white. However, In 1986 yellow balls were introduced to Wimbledon.
15. Arthur Ashe broke down boundaries in the sport
Arthur Ashe became the first African American to win the US Open. He won the tournament just once, in 1968.
16. Ball boys and girls serve an important purpose
The average age of the 'ball boys' (and girls) serving in Wimbledon is 15. Each year, 250 of these children are selected to serve in the tournament.
17. Some servers are amazingly fast!
The fastest tennis serve ever was achieved by Sam Groth at the Busan Open, South Korea in 2012.  It was recorded at an incredible 263 km/h (163.4 mph)!
FAQs about Tennis
Who holds the record for the fastest ever tennis serve?
The fastest serve ever made in tennis was a 263.4 km/h or 163.7mph blast from Sam Groth, back in 2012.
What's Roger Federer's fastest ever serve?
Roger Federer's fastest serve so far hit at around 230 km.h, or 143mph.
What's the most watched tennis match of all time?
To this day, the Men's Singles Final at Wimbledon 2012, between Andy Murray and Roger Federer, remains the most-watched - with around 17 million people tuning in.
Do you know any fun facts about tennis? Share them in the comments below!
Are you fascinated with sport? Check out these interesting facts about rugby…
This page was last modified on August 1, 2023. Suggest an edit