15 Alluring Facts about The Algarve
To many British holidaymakers – and to those across Europe – The Algarve remains a massively popular tourism hotspot towards the south of Portugal. Famed for its sun, sand, and traditional streets, it's remained a rugged and intriguing vacationing staple for decades.
As such, there is always something interesting and intriguing to discover down here – in fact, how much do you really know about this region? Let's take a look through these interesting facts about the Algarve to clue you in on what to expect the next time you visit.
The Algarve has a relatively small population, at least compared to the sheer number of tourists it welcomes every year. At last count, it is thought to be home to more than 400,000 permanent residents.
It's home to a variety of popular holiday destinations, many of which are easy to fly or sail to through major UK ports. For example, holidays in Albufeira and Lagos remain some of the most popular with tourists.
The Algarve boasts a stunning amount of coastline, stretching across 125 miles. Therefore, it's little wonder why so many beach lovers head here in the height of summer.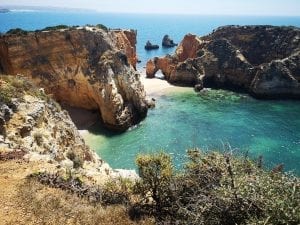 What's more, the region is also well-known for boasting some of the best beaches in the Mediterranean, perhaps competing against the likes of Cyprus for the gold medal. Amazingly, for a relatively small region, the Algarve is home to at least 85 beaches with Blue Flag status, meaning that you are all but guaranteed to find a clean, pristine, and stunning beach to sun yourself on when you visit.
It should take you less than three hours to reach the Algarve from the UK, meaning that you can get there and back four times a day – if you really love plane travel that much!
Portuguese is the main language of the Algarve for obvious reasons. However, continuing tourism largely means that many people on the resort can speak English, too. It's thought that around a third can speak the language, which means it's still worth brushing up on the local lingo before you depart.
The Algarve was home to a famous cat. Specifically, Mr No Ears, a popular moggy on Facebook who still commands over 20,000 followers. It's not too clear what happened to Mr No Ears, as he went missing some time ago.
The Algarve is one of the sunniest tourist destinations on the planet. In fact, there are only two months in the year where you won't get to experience intense sunshine. Better grab the lotion and head on down!
Portugal is well-known for its world-leading cuisine. However, much of the Michelin Star talent is based in the Algarve! It's home to at least five Michelin Star eateries.
The Algarve is thought to be one of the oldest settlements on the continent, meaning that people have been visiting and staying here for thousands and thousands of years. As well as being rich in sunshine, sand and stunning scenery, there is also lots of heritage and history to dive into.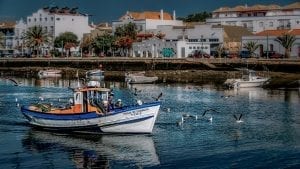 Despite the Algarve's popularity and status as one of Portugal's hottest spots, it is one of the sparsest regions in the area. Once again, the population here is surprisingly low for an area of its size. On the whole, you can expect to find around 76 resident for every square km. However, this only takes into account residents – not the tourists!
The Algarve is not just home to beaches – it's home to thermal springs, too! Specifically, you should head out to Caldas de Monchique if you want to sample the natural hot waters of the region's waterfalls.
Bacalhau is the most popular dish in the Algarve, though it is amazingly diverse and can be cooked in over 360 different ways. Have you tried all the variations? Better start sampling it!
The alcohol in the Algarve is also hugely popular with British tourists. Here, it's likely you'll pay half of what you'd expect for a pint of beer in the UK. It's no wonder so many people travel here on party holidays!
Despite the intensive sunshine, the Algarve is actually pretty mild for the Med! Do take a look at the temperatures before you travel.
Do you know any fun facts about the Algarve?  Share them in the comments below!
This page was last modified on September 13, 2021. Suggest an edit