14 Fab Facts about The Beatles
Any true fan of pop music will likely know of The Beatles – John Lennon, George Harrison, Paul McCartney, and Ringo Starr. The 'Fab Four' only made music for a few years in the 60s and 70s, but they left an amazing mark on entertainment for decades to come. Here are some fun facts about The Beatles worth remembering.
1. Who played what?
John Lennon composed music on a piano but was seen on stage most frequently playing rhythm guitar. Paul McCartney played bass guitar, George Harrison played lead guitar, and Ringo Starr played drums.
2. McCartney is ambidextrous.
Paul is left-handed and plays mostly left-handed, but can play right-handed too!
3. What set them apart fashion-wise?
The band's management sought to set them apart from other popular bands of the time. They dressed in identical made-to-measure dark suits initially – typically collarless, the suits were stylish enough to set them apart – and the band wore crisp white shirts and dark ties alongside.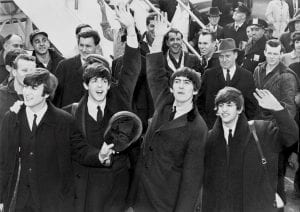 4. Vladimir Putin is a massive fan.
The Russian President has made public that he likes the music of the Beatles! He has declared his favorite song to be 'Yesterday'.
5. We… like the new name better, honestly.
'Yesterday' was originally known as 'Scrambled Eggs' – McCartney had worked out the melody first, but really needed to iron out the lyrics…
6. The Cavern Club has a firm place in Beatles history.
The Cavern Club opened its doors in 1957. It is now a 'living museum' and is sometimes known as the birthplace of rock and roll! The Beatles famously played here, but it's also played host to The Rolling Stones, The Kinks, The Who, Stevie Wonder, and Queen.
7. What's the reason for the name?
The Beatles were inspired to choose their name as a play on Buddy Holly and his band, The Crickets! Paul McCartney would later collaborate with The Crickets in the 1980s.
8. McCartney is pretty generous.
Paul McCartney is connected to a number of charities. In 2021, the star auctioned a beautiful guitar and donated the proceeds to Music Rising, a charity for musicians falling on hard times. The value of his generosity was a whopping $471,000!
9. Lennon's marriages were famous.
John Lennon was married twice. His first marriage was to Cynthia Lennon in 1962, lasting until 1968, and his second marriage was to Yoko Ono from 1969 until his death in 1980.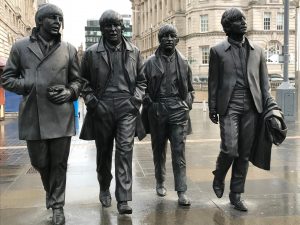 10. Lennon left us too soon.
Lennon was shot by Mark David Chapman in 1980 – he left behind Yoko Ono and two sons, Sean and Julian. Chapman is said to be coming up to release from jail, more than 40 years since he murdered Lennon.
11. A multi-talented foursome!
All four of The Beatles wrote lyrics and music – but it was predominantly Lennon and McCartney who got the most recognition. In fact, their album 'A Hard Day's Night' was the first to purely contain songs written by the duo.
12. How many different ways can you record it?
More than 3,000 different artists have covered and re-recorded 'Yesterday' over the years – can you find and listen to them all? Now that's a challenge…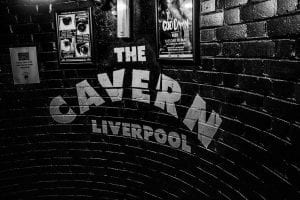 13. They created plenty more music apart.
All four of The Beatles went on to have solo careers in one shape or another.
14. Immortalised in yellow!
Three out of the four Beatles recorded voices for The Simpsons, acting as themselves. McCartney recorded a secret backwards recipe for lentil soup on the song 'Maybe I'm Amazed', which played out the episode 'Lisa The Vegetarian'.
FAQs about The Beatles
Which Beatles are still alive?
As of January 2022, both Ringo Starr and Paul McCartney are surviving members of The Beatles.
What's Ringo Starr's real name?
Starr's real name is Richard Starkey - he's the only Beatle with a pseudonym.
Are Paul and Ringo talking to each other?
Yes - while they don't get much time to work together, both McCartney and Starr remain friends, and McCartney has appeared on Starr's albums in the past.
Do you know any fun facts about The Beatles? Share them in the comments below!
This page was last modified on August 3, 2023. Suggest an edit